Reward & Recognition Winners - 2015
| | | |
| --- | --- | --- |
| January | February | March |
| | | |
| April | May | June |
| | | |
| July | August | September |
| | | |
| October | November | December |
| | | |
MIA TRIO NAMED EMPLOYEES OF THE YEAR FOR RECOVERING LOST TRAVEL DOCUMENTS


(Miami, December 18, 2015) – Miami International Airport employees Bart Allen, Leonte Guerra and Sergio Morgalo were named MIA's 2015 Employees of the Year at the airport's Annual Rewards and Recognition Year-End Gala yesterday. The Miami-Dade Aviation Department employees helped a couple from Indianapolis recover their passport, identification documents, money and credits cards from the backseat of a taxi cab in 45 minutes – not knowing the taxi cab company, vehicle number or driver's name – so they could still make their flight back home.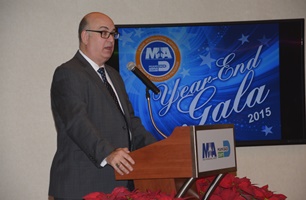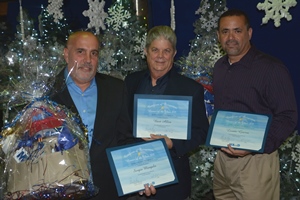 From left to right: MDAD Director Emilio T. González welcomes employees to MIA's Annual Rewards and Recognition Year-End Gala. The 2015 Employees of the Year Sergio Morgalo, Bart Allen and Leonte Guerra.
Hi-res images available upon request.
After enjoying themselves on a cruise, Mr. and Mrs. Rob Weisbach took a taxi cab from PortMiami to MIA. Upon exiting the taxi cab, Weisbach left his travel document packet in the backseat and did not realize it until the vehicle pulled away. Landside Operations Senior Agent Allen saw the grief-stricken look on Weisbach's face and came to his rescue by jumping into action with the only information Weisbach had about the taxi cab – that the driver was an older gentleman who used a tan seat pillow.
Despite the odds, Allen consulted with fellow Landside Officers Guerra and Morgalo, who began the search for the taxi cab. After diligent and speedy research, Guerra and Morgalo identified the taxi cab driver, who was now at PortMiami; contacted the company and asked him to return to MIA. During this time, Allen kept the Weisbachs updated and escorted them to their security checkpoint until the taxi cab driver returned. All of this transpired in 45 minutes, which allowed the Weisbachs to pass through security, board their flight on time and return home to Indiana.
"I cannot thank MIA, Senior Agent Allen and Officers Guerra and Morgalo enough. Knowing I was monopolizing his time, I tried to get him to resume his normal duties which he refused to do," said Rob Weisbach. "With this experience, I look forward to flying in and out of MIA again."
"MIA's customer service philosophy is that each traveler should be cared for as if they were your own family. The actions of our Landside Operations employees' exemplify their dedication to ensuring our passengers have the best airport experience possible, even under the most stressful situations. That's why they are so deserving of being named Employees of the Year," said Miami-Dade Aviation Director Emilio T. González. "I also want to acknowledge all of our monthly nominees from 2015, who keep one of the world's busiest airports running smoothly around the clock."
# # #
Miami International Airport offers more flights to Latin America and the Caribbean than any other U.S. airport, is America's second-busiest airport for international passengers, boasts a lineup of 100 air carriers and is the top U.S. airport for international freight. MIA, along with its general aviation airports, is also the leading economic engine for Miami-Dade County and the state of Florida, generating business revenue of $33.7 billion annually and welcoming 70 percent of all international visitors to Florida. MIA's vision is to grow from a recognized hemispheric hub to a global airport of choice that offers customers a world-class experience and an expanded route network with direct passenger and cargo access to all world regions. MIA is committed to sustainable practices. Learn more at www.MIAefficiency.com. For up-to-the-minute departure and arrival information, airport maps and details on shopping, dining, transportation and more, visit www.miami-airport.com. Follow us on Facebook, Twitter and Instagram.

Meet the R&R Winners from 2015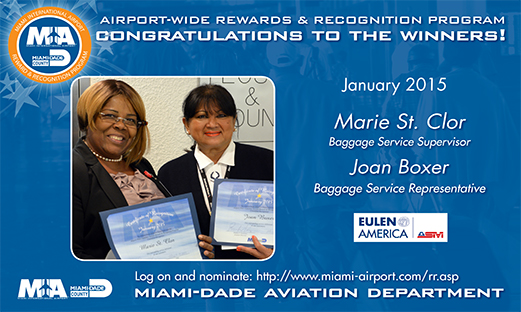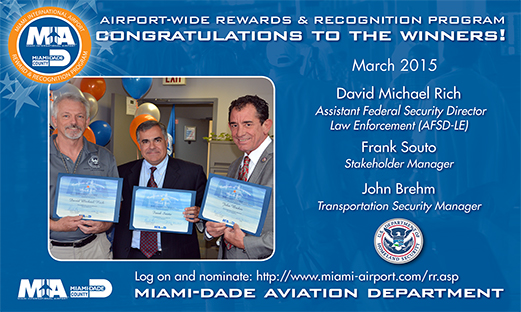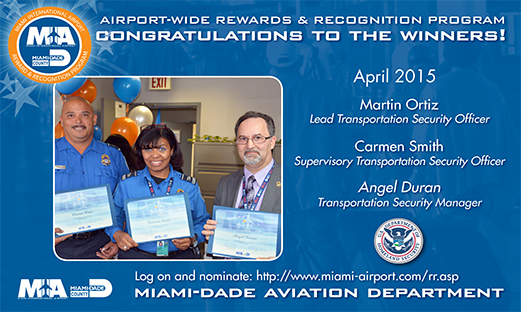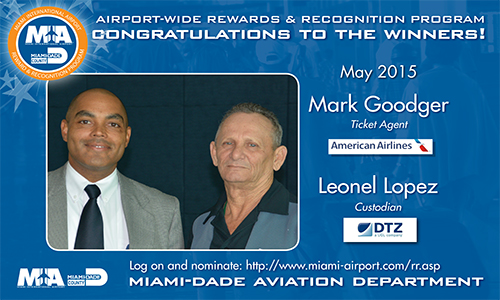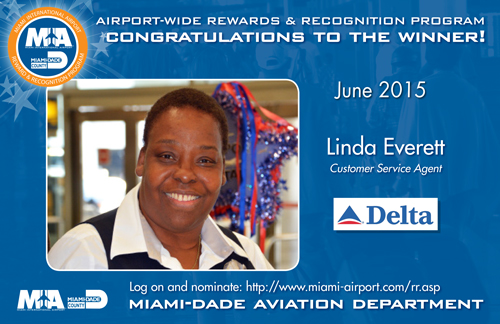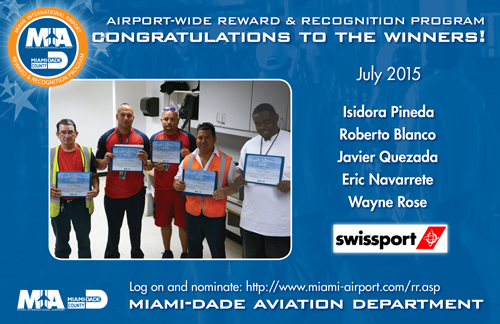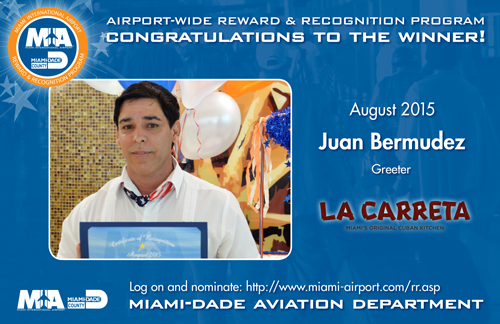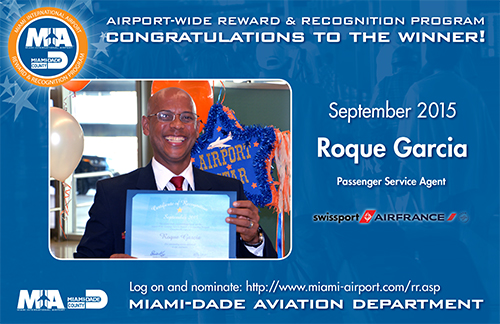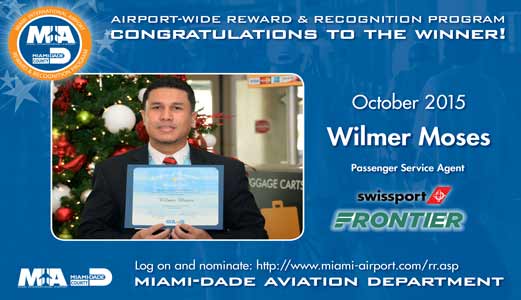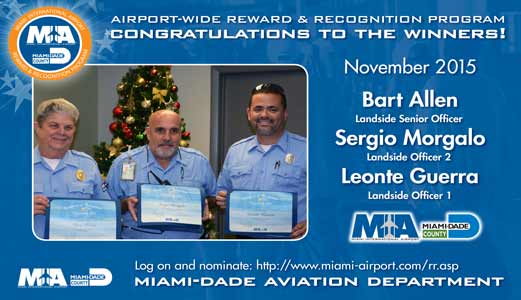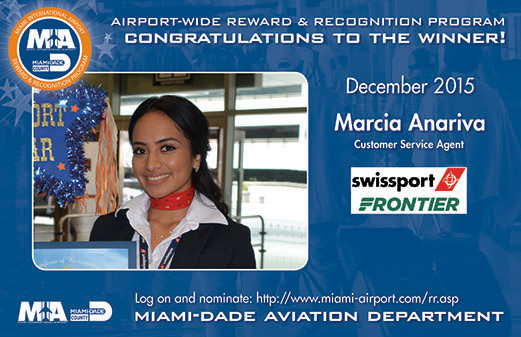 Meet MIA's Winners!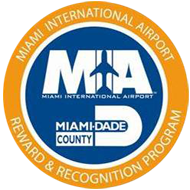 Shopping and Dining
MIA Volunteer Ambassadors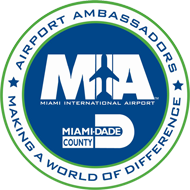 Meet the Leaders
Director / Deputy Director / CFO
Assistant Directors
Division Directors