MIA Connections E-Magazine - Spring 2010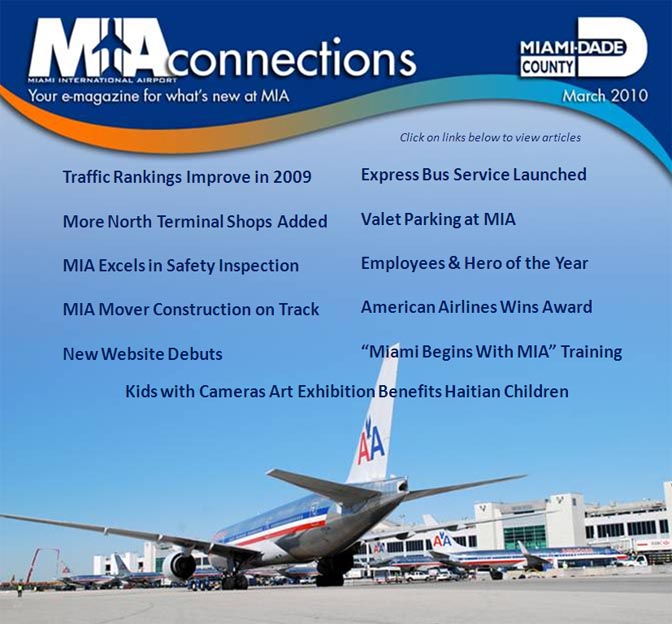 MIA Connections: Fall 2009 - Spring 2010 - Summer 2010 - Fall 2010

MIA IMPROVES RANKINGS AMONG U.S., STATE AIRPORTS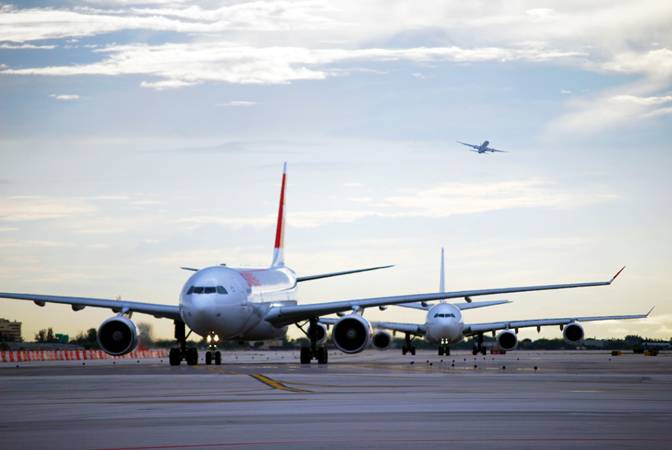 Miami International Airport's steady passenger traffic in 2009 despite a full-year of economic recession worldwide made it the busiest airport in Florida and the second-leading airport in the U.S. for international passengers. MIA was one of the few U.S. airports to maintain stable passenger traffic levels last year, serving 33.9 million passengers in 2009 - down only half a percentage point from 2008.
MIA's steady traffic moved it ahead of Los Angeles as the second-leading airport in the U.S. for international passengers after JFK. MIA also regained its top spot as the busiest airport in Florida after trailing Orlando the last five years. MIA continues to be Florida's leading international gateway, handling 69.5 percent of the state's arrivals from abroad – more than all the other airports in Florida combined.
MIA retained its domestic market, serving 17.9 million domestic passengers in 2009 – the same number as 2008. The airport also only lost one percent of its international passengers from the previous year, serving nearly 16 million passengers from abroad.
MIA's strength as the leading gateway to Latin America and the Caribbean continued to attract new and expanded air service in 2009 and more is expected in 2010. American Airlines has committed to adding 20 more flights in June. In March, Lufthansa is scheduled to begin three-times-a-week service from Munich and Air Europa will begin offering four weekly flights from Madrid. French low-cost carrier CorsairFly has announced passenger and cargo service from Paris in June. Transaero has tentatively scheduled passenger service from Moscow to begin May 31 and Alitalia will begin passenger service from Milan in June.

MORE STORES, RESTAURANTS IN NORTH TERMINAL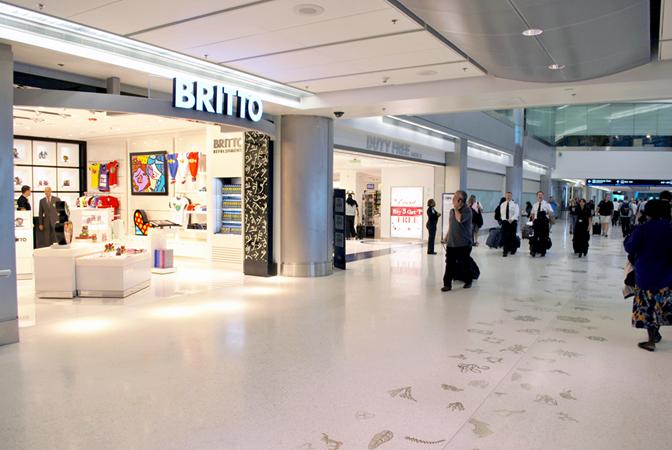 In addition to a new check-in and baggage claim area that opened in November, dazzling new stores and restaurants are now available in MIA's North Terminal as well.
New concessions that have opened since November are: Au Bon Pain; Bijoux Terner; Boca Bons; Shop Britto; Coco Bay; Coffee Beanery; Corona Beach House; Inmotion Entertainment; Johnston & Murphy; Pizza Hut; Starbucks; StarFire Designs jewelry; two Sunglass Hut locations; and Sushi Maki. North Terminal, which serves American Airlines passengers, currently has more than 40 dining, retail and duty free concession locations. For the locations of all North Terminal stores and restaurants, go to http://www.miami-airport.com/shopping_map.asp.
Phase II of North Terminal, scheduled for completion in September, will include: the opening of 39 additional stores and restaurants; 25 new or renovated passenger gates, including the re-opening of the former Concourse A; American Eagle's new two-gate Regional Commuter Facility; and the one-mile-long, four-station Skytrain people mover system, which is capable of transporting 9,000 passengers per hour from one end of North Terminal to the other.

MIA EXCELS IN FAA SAFETY INSPECTION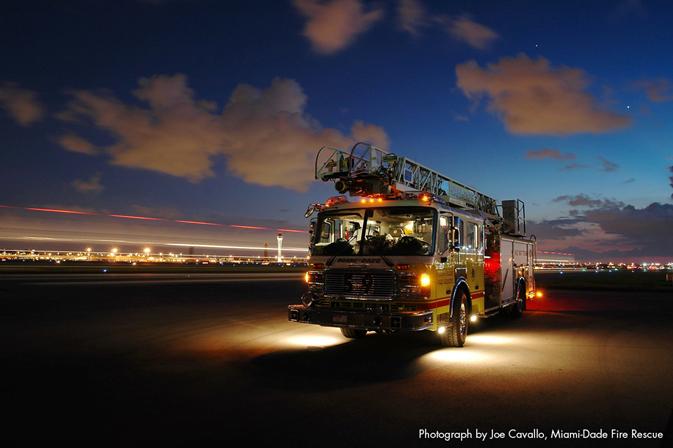 In March, MIA received for the 13th consecutive year a zero-discrepancy rating in the Federal Aviation Administration's (FAA) annual Part 139 inspection – the highest rating possible.
The annual inspection certifies MIA to operate as a commercial airport and measures compliance with FAA safety regulations regarding: airport markings; pavement (runways and taxiways); lighting systems; fueling operations; training programs; record-keeping; clearance zones; emergency procedures; and response time in a simulated emergency. In all categories, MIA was found to have zero discrepancies in non-compliance.

MIA MOVER CONSTRUCTION ON TRACK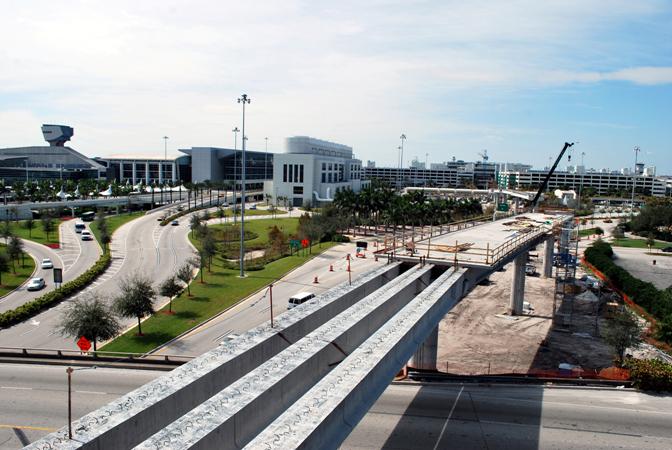 In case you were wondering what those elevated tracks at the entrance of MIA are, you guessed correctly – a train to MIA is being built. Last February, Parsons-Odebrecht Joint Venture (POJV) broke ground on the MIA Mover, a one-mile-long people mover system that will have the capacity to transport more than 3,000 passengers per hour between the airport and the Miami Rental Car Center (RCC). Scheduled to open in May, the RCC is a four-level car rental shopping mall that will be served by 20 rental car companies. MIA Mover construction is progressing rapidly toward completion in September 2011.
Shuttle bus service will be provided between MIA and the RCC until the MIA Mover is completed. Once operational, the MIA Mover will reduce curbside traffic and green house gas emissions at MIA by 30 percent.
Please pardon the dust and inconvenience while MIA Mover construction continues.

NEW MIA WEBSITE DEBUTS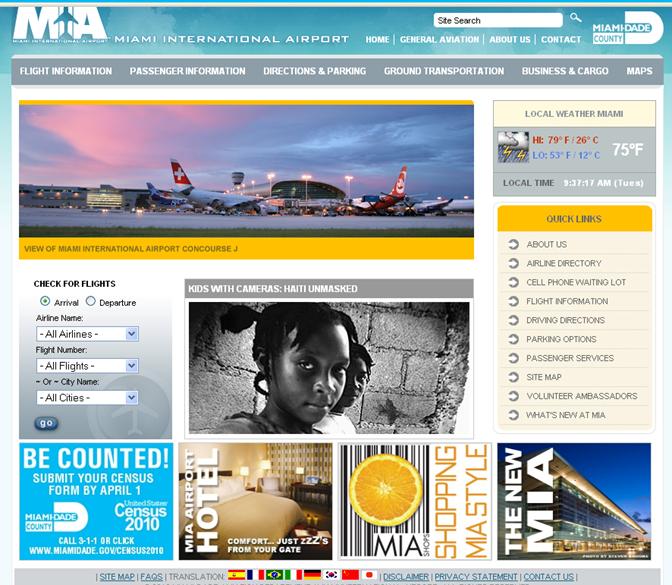 In December, MIA launched a new interactive, user-friendly website that provides a wide array of new features. Aside from the new look and feel of the site, new features include: intuitively organized drop-down menus; detailed maps of MIA's ticket counter, baggage claim, parking garage and shopping areas; a flight arrival/departure search box on the homepage; interactive driving directions; a "What's New" section with weekly news items; a page dedicated to the "New MIA" showcasing MIA's North and South terminals; a user-friendly site map; a "frequently asked questions" section and much more. For everything you want to know about MIA, visit www.miami-airport.com.

MIA-MIAMI BEACH EXPRESS BUS SERVICE LAUNCHED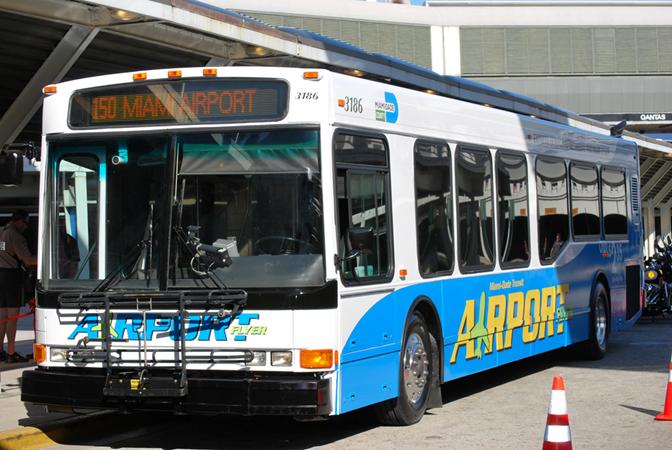 In December, Miami-Dade Transit launched The Route 150 Airport Flyer, a new express bus route providing service directly from MIA to 41st Street and Alton Road on Miami Beach. The route then continues south on Collins Avenue to 16th Street.
The Airport Flyer operates from 6 a.m. to 11 p.m. seven days a week, making only one stop between MIA and Miami Beach at the Earlington Heights Metrorail station, for a fare of just $2.35 each way.
Each Airport Flyer bus is equipped with luggage racks, comfortable seating and special branding for easy identification by the public. The service is being fully funded by a grant from the Federal Transit Administration.

DON'T FORGET THAT YOU CAN VALET AT MIA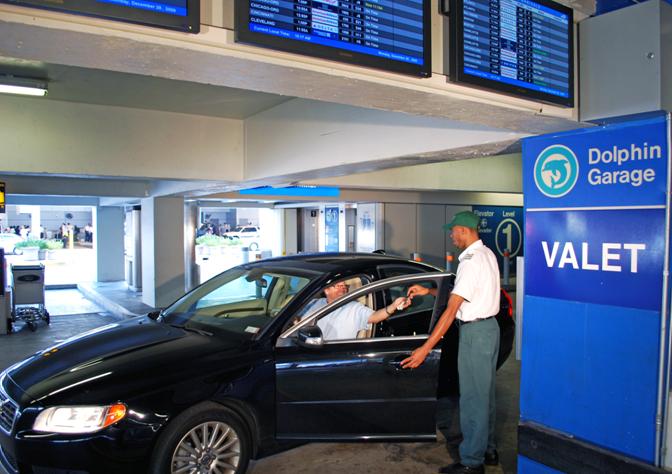 In a rush to find a parking space and check in for your flight? Look no further than the Valet Parking Lot at MIA, located in the Dolphin long-term garage directly across from the new American Airlines check-in area on the departures level. Attendants park your car, leaving you free to get to your flight. Just drop off your vehicle, leave your keys, get your valet parking ticket, and walk directly across to the North Terminal or take the third level moving walkway to the Central or South Terminal. Be ready to tell the parking attendant when you plan to return.
Returning passengers can simply call the number on their valet parking ticket to alert the parking attendant that your flight has arrived, and your vehicle will be ready as soon as you get there.

MIA NAMES EMPLOYEES AND HERO OF THE YEAR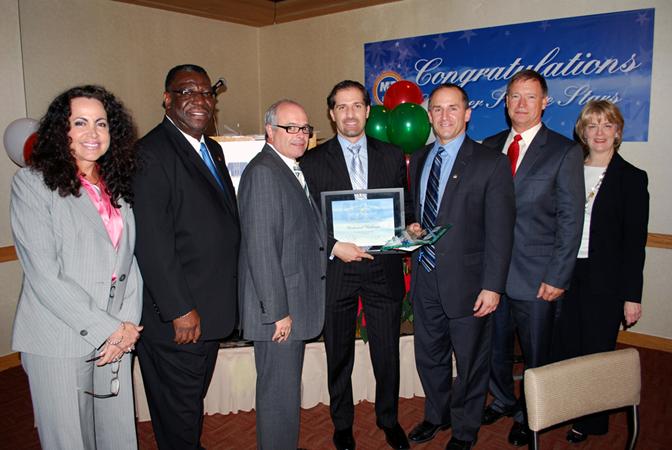 Pictured with MIA Hero of the Year Award winner Mohamed Badenjki (center) are, from left: Miami-Dade Assistant Aviation Director of Operations Lauren Stover; Miami-Dade Fire Rescue Airport Division Chief Levi Thomas; Miami-Dade Aviation Director José Abreu; American Airlines Customer Service Director Jim Moses; Miami-Dade Police Department Airport Division Major Daniel Llano-Montes; and Miami-Dade Aviation Division Director of Terminal Operations and Customer Service Dickie Davis.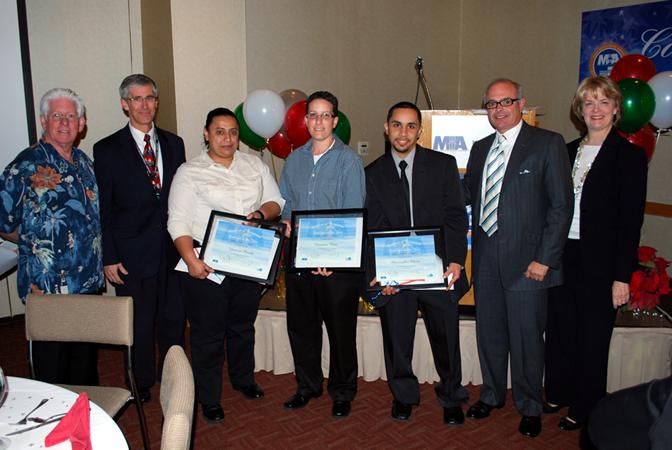 Employees of the Year Award winners Yomara Pineda, Veronica Ruiz and Christopher Maria (center) receive their awards from: Greater Miami Convention and Visitors Bureau President and CEO Bill Talbert; TSA Assistant Federal Security Director Rob Mclaughlin; Aviation Director José Abreu; and MDAD Terminal Operations and Customer Service Division Director Dickie Davis.
Three Transportation Security Administration (TSA) officers shared Employees of the Year honors and an American Airlines Customer Service Manager received the first-ever Hero of the Year award in December at Miami International Airport's annual Rewards and Recognition Awards Ceremony.
TSA officers Yomara Pineda, Veronica Ruiz and Christopher Maria were recognized as Employees of the Year for reuniting an elderly woman in March with her husband after the husband went to rent a car at the airport, became disoriented and was reported missing for a whole day. The three officers notified law enforcement agencies and contacted the woman's family in Philadelphia to get photos of her missing husband so flyers could be circulated around the airport. They stayed with the distressed passenger hours beyond their shifts to calm her down and help to book her a hotel room for the night. Thankfully, officers spotted the woman's husband wandering the airport the next day and reunited him with his wife.
MIA's Hero of the Year doesn't have a medical degree and works at an airport, not a hospital, but Mohamed Badenjki, American Airlines Customer Service Manager at Miami International Airport, is now known as "Dr. Mo" for performing CPR on the spur of the moment on three different passengers within four days, helping to save the life of one.
"Mohamed is a true hero for not only using his CPR training with these passengers, but for going far above and beyond the call of duty to show the passengers and their loved ones extreme care and compassion," said Dickie Davis, Miami-Dade Aviation Department Terminal Operations and Customer Service Division Director. "We are proud to recognize him as MIA's Hero of the Year."

AMERICAN AIRLINES AT MIA WINS CUSTOMER SERVICE AWARD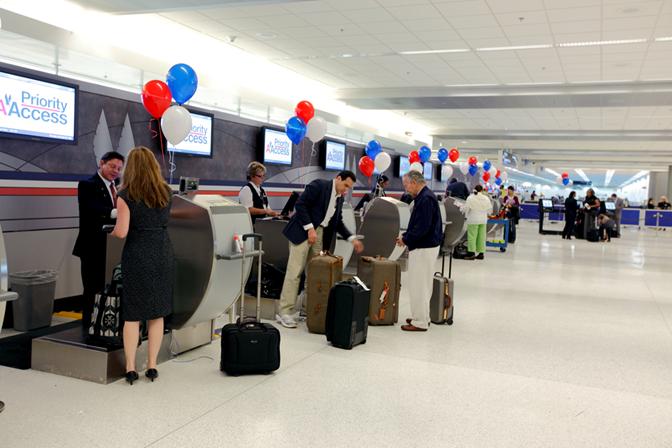 American Airlines' Miami Operation in January received the Customer Experience Cup, the company's highest achievement in customer service.
Among all their U.S. operations, American's Miami hub had the greatest improvement in customer service surveys in the fourth quarter of 2009 compared to 2008 – the busiest travel time at MIA.
AA Miami Operation employees improved in 12 out of 13 areas, most notably in "Overall Airport Experience" and "Overall Onboard Experience.
"Our operation improved more than all the other hubs and major cities in the fourth quarter," said American Airlines' MIA hub Vice President George Hazy. "This is a huge accomplishment. Everyone should be proud of their efforts."

"MIAMI BEGINS WITH MIA" PROGRAM PUTS CUSTOMERS FIRST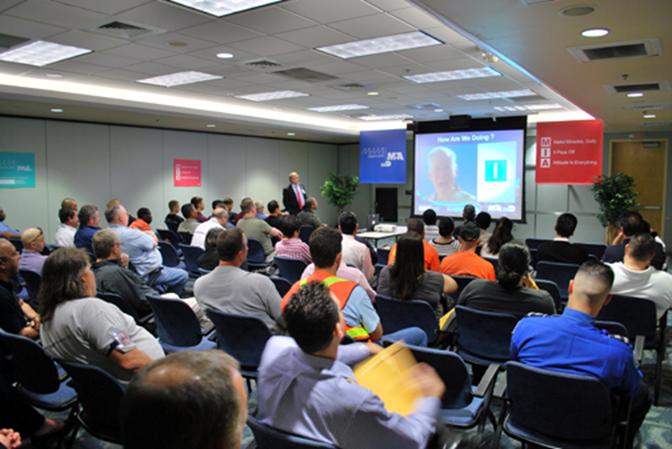 In December, employees at Miami International Airport began participating in "Miami Begins with MIA," a specialized customer service and hospitality training class developed by the Miami-Dade Aviation Department, the Greater Miami Convention and Visitors Bureau (GMCVB), the Miami Beach Visitor and Convention Authority and the Miami-Dade College Center for Service Excellence.
Before receiving their airport identification badges, all 35,000-plus employees at MIA will now be required to undergo the training course, which emphasizes how each airport employee plays a key role in the visitor experience from arrival to departure. MIA is the front door for Greater Miami and the Beaches, welcoming 95 percent of all visitors to the area each year.
This is the first partnership at a large U.S. airport combining local aviation and tourism agencies and an academic institution to provide customer service training to an entire airport workforce. "Miami Begins with MIA" is a component of the GMCVB's "Miami Begins with Me" program.

KIDS WITH CAMERAS ART EXHIBITION BENEFITS HAITIAN CHILDREN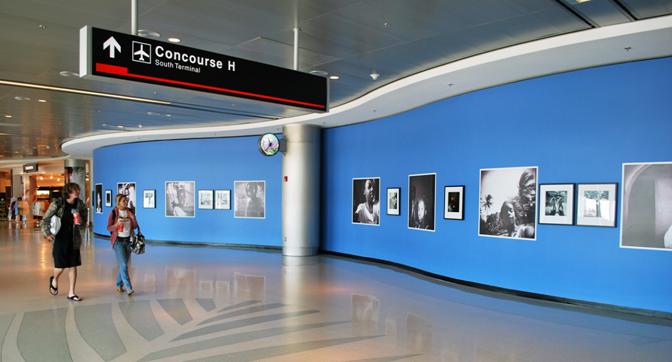 Now on display in Miami International Airport's South Terminal, Kids with Cameras: Haiti Unmasked is a collection of photographs taken by 12 children from the Foyer Maurice Sixto, a school for child domestic workers located in Carrefour near Port-au-Prince.
Under the guidance of documentary photographer Gigi Cohen in January 2005, these children took self portraits, documenting their home lives and the annual celebration of Carnival. The images were presented in an exhibition in Jacmel during Carnival in 2006, where the children and their work were celebrated by their community.
Through the exhibition of this work, Cohen hopes that the greater community will "see themselves through the children's photographs," she said. "These impressive images mirror Haiti beyond its sadness, bravely showing beauty, creativity and joy. I hope these images will influence the idea that children should not guarantee labor, even in the face of misery and absolute poverty."
In view of the recent tragedy in Haiti, Kids with Cameras is donating 100 percent of the proceeds from this exhibit to the Foyer Maurice Sixto to help support the children of Haiti. To learn more about this exhibition, visit www.kids-with-cameras.org/haiti. The whereabouts of the children pictured are unknown at this time.
Kids with Cameras: Haiti Unmasked is on display through August in South Terminal's concession hall past the security checkpoint between concourses H and J.
MIA Connections: Fall 2009 - Spring 2010 - Summer 2010 - Fall 2010