Site Specific - Armed Forces Corridor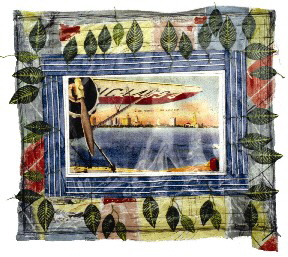 From the Land of Sun and Fun
Collages by Dina Knapp


, level 2, Armed Forces Corridor
Open to the Public
Dina Knapp is a pioneer of the 1970's Art-to-Wear movement. Following her move to Florida about 30 years ago, her work changed and evolved radically – from dark, time-consuming pieces to these unique, mixed-media collages. The collages preserve and compress history and culture through a layering of objects and images, often juxtaposing the tropical paradise of the past with present-day South Florida and Cuba. The work incorporates many needlework techniques, painting, crochet and sewing, with nostalgic postcards, vintage fabrics, tourist souvenirs, silk plants, found objects, yarns and various popular culture artifacts. They are worked into commentaries on daily life and locale, echoing her affection for the collage process and the place where she lives. The works depicted in this exhibition are from the Miami Beach series.
Dina Knapp is a nationally-recognized artist and is a recipient of a National Endowment Grant and a Florida Arts Council Fellowship. She is included in museums and private collections throughout the United States.
For more information, please contact the Division of Fine Arts and Cultural Affairs at 305-876-0749.