Art & Exhibition News Clips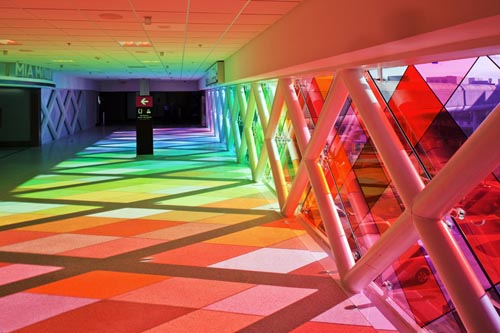 Harmonic Convergence - Christopher Janney, 2011

The primary mission of the Division of Fine Arts & Cultural Affairs is to humanize and enrich the airport environment through the commission of contemporary artwork and the presentation of exhibitions that communicate culture, environment and art resources of an international scope with special emphasis on those areas served by Miami International Airport.
News Clips
January 28, 2016
December 01, 2015
Airport art that's super trippy (CNN)
September 03, 2015

Art in the Airport, a Garden of Obedience (el Nuevo Herald)

July 10, 2015
Nine American Airports for Art Lovers (Travel + Leisure)
January 21, 2015

Terminals turned into galleries at Miami International Airport (Local10.com)

June 2
Airport entertainment eases travel stress (CNN)
April 16

Journey of Giants, Exhibit in Mexico City & Miami (EXPLORATIONS – A Lindblad Expeditions Blog)

September 30
MIA Treats Passengers to Live Jazz Performance (MDAD Press Release)
September 18
Airports for Art Lovers (The Wall Street Journal)
August 21
¡Bienvenido a Miami! (El Nuevo Herald)
Aug/Sep, 2013
MIA Unveils Haiti Legacy Exhibit (South Florida Times)
July 19, 2013
Dancers Perform in MIA Boarding Areas (Passenger Terminal Today)
June 28, 2013
America's Most Luxurious Airport Layovers (CNN Travel)
June 19, 2013
Airport Museums - We Are Museums Too @MIA (Airport Hub)
May 7, 2013
15 Airports with Awesome Art Collections (Complex Art Design)
July 4, 2012
Art on the Fly: Airport Galleries Take Off (CNN)
June 27, 2012
Public Art Project at MIA Selected Among the Nation's Best (Americans for the Arts)
April 12, 2012
Airport Art Worth Checking Out As You Rush to Your Gate at MIA (Jaunted)
February 1, 2012
MIA Art Program Featured in Global Traveler Magazine (Global Traveler)
November 21, 2011
Miami Beach Getting Ready for Art Basel Dec. 1-4 (CBS News)
September 4, 2011
Art at Miami International Airport Adds a Cultural Dimension to Travel (The Miami Herlad)
May 14, 2011
The Sound of Music: An Afternoon at MIA (The Miami Herlad)
May 15, 2011
Miami Symphony "Flash Mobs" MIA (CBS Miami)
March 17, 2011
In a Stressful Setting, Artistic Treatment for the Traveler (The New York Times)
March 11, 2011
Bon Voyage! Random Acts of Culture at Miami Intl Airport (Knight Arts)
January 10, 2011
Miami International Airport: A Trip of Its Own (Miami Art Zine)
December 23, 2010
Five Airports with Art Worth Seeing (CNN)
November 7, 2010
Barbara Neijna's Extraordinary 'Foreverglades'at MIA Wins Prestigious Award (The Miami Herald)
June 6, 2009
Miami International Airport Saves Iconic JFK Murals (USA Today)
For more information about Miami-Dade Aviation Department's Division of Fine Arts and Cultural Affairs, email us or call 305-876-0749.