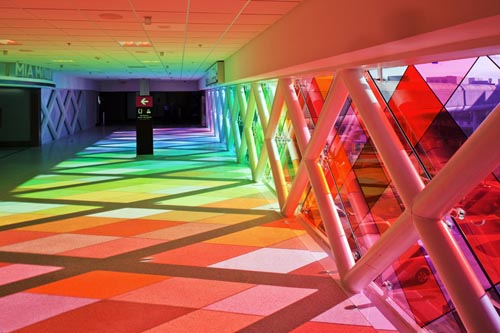 Harmonic Convergence - Christopher Janney, 2011

The primary mission of the Division of Fine Arts & Cultural Affairs is to humanize and enrich the airport environment through the commission of contemporary artwork and the presentation of exhibitions that communicate culture, environment and art resources of an international scope with special emphasis on those areas served by Miami International Airport.
News Clips
May 19, 2016
10 Airports to Experience Art At
March 8, 2016
8 of the World's Best Airport Amenities
January 28, 2016
December 01, 2015
Airport art that's super trippy (CNN)
September 03, 2015

Art in the Airport, a Garden of Obedience (el Nuevo Herald)

July 10, 2015
Nine American Airports for Art Lovers (Travel + Leisure)
January 21, 2015

Terminals turned into galleries at Miami International Airport (Local10.com)

June 2
Airport entertainment eases travel stress (CNN)
April 16

Journey of Giants, Exhibit in Mexico City & Miami (EXPLORATIONS – A Lindblad Expeditions Blog)

September 30
MIA Treats Passengers to Live Jazz Performance (MDAD Press Release)
September 18
Airports for Art Lovers (The Wall Street Journal)
August 21
¡Bienvenido a Miami! (El Nuevo Herald)
Aug/Sep, 2013
MIA Unveils Haiti Legacy Exhibit (South Florida Times)
July 19, 2013
Dancers Perform in MIA Boarding Areas (Passenger Terminal Today)
June 28, 2013
America's Most Luxurious Airport Layovers (CNN Travel)
May 7, 2013
15 Airports with Awesome Art Collections (Complex Art Design)
For more information about Miami-Dade Aviation Department's Division of Fine Arts and Cultural Affairs, email us or call 305-876-0749.
Community Projects
It's Our World
Created by L.E.T.S. Draw students: Aaron Ashe, Dominique Byrd, Aesha Coleman, Charlotte Graham, Khyree Joseph, Kheyana Joseph and Nathaniel Perverdera.



South Terminal H, 2nd level
mia Galleries