OO-Sing ART
John Chen 15- June 20, 2017
Central Terminal Gallery
Artist couple John and Jean Chen, collectively known as John Chen, have devoted their life teaching and creating art. The title of this show, OO – SIANG ART is their personal art philosophy and embodies them both.
OO – SIANG ART literally translates as "Formless Art." It originated from "concept and form" and "concept without form." Its ultimate goal is the combination of the Chinese Philosophy of Yin and Yang, harmony between Nature and Human Beings. Part of their creative process involves painting on the same canvas, and is highly imaginative.

Consisting of Chinese ink wash, watercolor and acrylic on handmade rice paper, these works created between 1986 and 2015, emphasize the remarkable artistry of traditional Chinese brush and ink paintings. John Chen's work integrates "traditional Chinese art methodology with Western style by emphasizing the tint and color into abstract varieties. Yet, at the same time maintaining the brush paintings with 'Zen' influence." The artwork in this exhibition represents a coming together of Eastern and Western art traditions.

John and Jean Chen live and work in South Florida.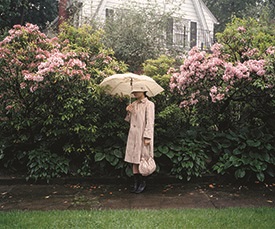 March – September 2016
Camera Works Gallery, North Terminal, Gate 22



Kanako Sasaki, Still Standing, 2004, archival pigment print, courtesy Dina Mitrani Gallery
In her series Wanderlust, Kanako Sasaki (Japanese, 1976) explores her own imaginative world influenced by traditional Japanese novels, Ukiyo-e paintings and childhood memories. Within her surreal and eccentric settings, Sasaki's characters, usually herself, evoke ideas of isolation, escape and uninhibited freedom. The juxtaposition of bleak emotion within a fantastical landscape leaves the viewer mesmerized with wonderment. Sasaki's work also comments on issues such as the female experience, loss of innocence, hopeless romance and how Japanese culture is viewed from the outside.

Kanako Sasaki was educated at the Royal College of Art in London and received her MFA from the School of Visual Arts in New York. She has had solo exhibitions in the US, Japan, Bolivia and Hungary, and has been included in many international group exhibitions. She has participated in artist residencies in Austria, Iceland, Paris, Estonia, Vienna and New York, and has been awarded many fellowships and grants. She has also taught photography at CUNY Staten Island, NY and the International Summer School of Photography in Latvia. She lives and works in Japan.
Olympic Waves
North Terminal, Gate D30
opens August 4th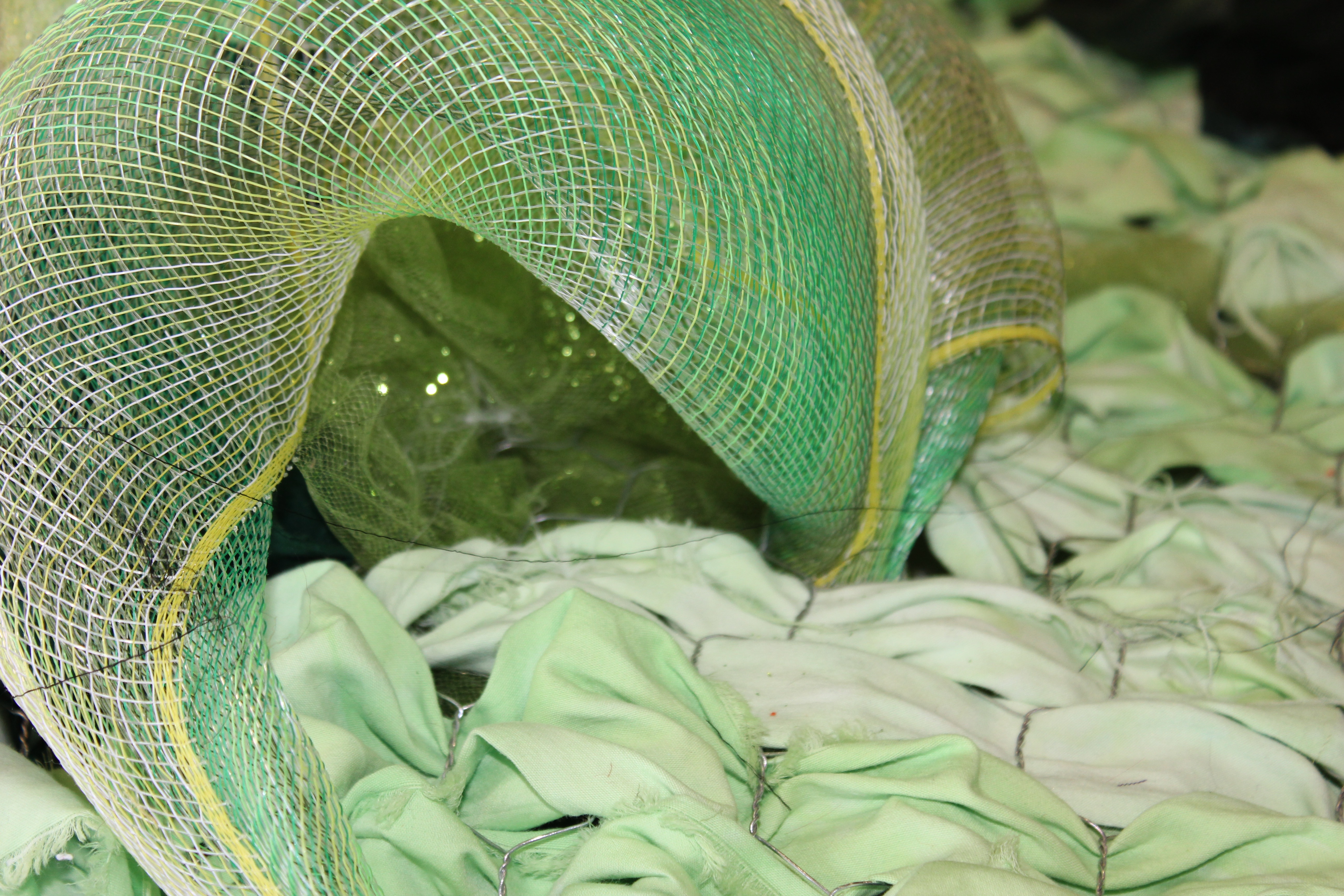 Olympic Waves is an installation celebrating the 2016 Olympics in Rio de Janeiro, Brazil, specifically designed and constructed by a Special Projects fiber class from Florida International University for Miami International Airport. Olympic Waves features an upcycle, conservationist ethos, reflecting a 21st century regenerative design culture in which waste is prevented by using existing materials. Piles of discarded cloth of various types are gathered and then are spun to create a gigantic yarn. The resulting colorful and textural woven material is finger-knitted to create the large interrelated curves, referencing the rings of the Olympic logo. The intensely bright colors reflect the light spectrum, as they transition from one to another. The roadmap of the installation follows the mathematical principle of the Lissajous-curve – a family of mathematical curves creating beautiful harmonic patterns - and provides the structural integrity for the work. Although the process of constructing Olympic Waves uses traditional craft strategies, the resulting artwork is contemporary in its positioning, humor and transformation of materials.

Participants
Mayra Arias • Gabby Carabalto • Gianna DiBartolomeo • Danielle Horgan • Akelian Ivy
• Nancy Jimenez • Susan La •Evelyn W. Politzer • Qishan Song • Barbara C. Valenzuela Sanchez
• Max Werner • Leandra Arvazzetti, Instructor • Pip Brant, Project Supervisor
Celebrating the 100th Anniversary of our National Parks
Photography by Clyde Butcher
South Terminal, Meeter and Greeter Lobby, Third Level
Opens November 2015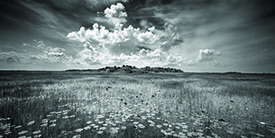 Clyde Butcher, Conservation #5, 2004, archival pigment print
Considered one of America's Best Ideas, the United States National park Service celebrates its 100th anniversary in 2016. Here in Miami we are fortunate to have three National Parks that are just minutes away: Everglades National Park, Biscayne National Park and Big Cypress National Preserve.
Distinguished photographer Clyde Butcher has captured the essence of these wild and beautiful public lands that are owned by the American people.
For more information on this exhibition, please contact the Miami-Dade Aviation Department's
Division of Fine Arts and Cultural Affairs at 305-876-0749.
Imagination Creation: Dreams and Illumination
E-D Connector past security checkpoint
February 11 – May 12, 2016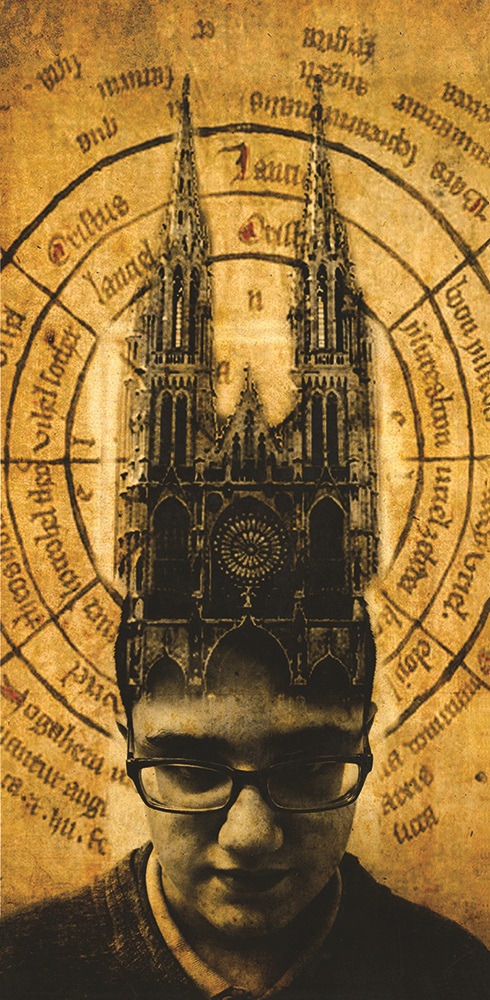 Before the invention of printing, books were laboriously written by hand. Known as manuscripts, initially penned on parchment or animal skins, these texts were made even more precious by "illumination." This term comes from the Latin word meaning to "light up" or "to enlighten" and refers to the use of bright colors and gold to embellish initial letters or borders, or to depict entire scenes in miniature. Sometimes the design was purely decorative, but often the composition served to highlight important passages in the text, or to enhance or comment on the meaning of the text. Unlike the mass-produced books of our time, an illuminated manuscript was a unique, handmade object, bearing the mark of several artisans, from the parchment maker to the scribe to the decorator or "illuminator." In this exhibition, students were invited to consider story-telling through illuminated imagery, using dreams and imagination as their inspiration.
You Are Here
Ken Nintzel
Opens November 2015
South Terminal Gallery, 4th floor Mezzanine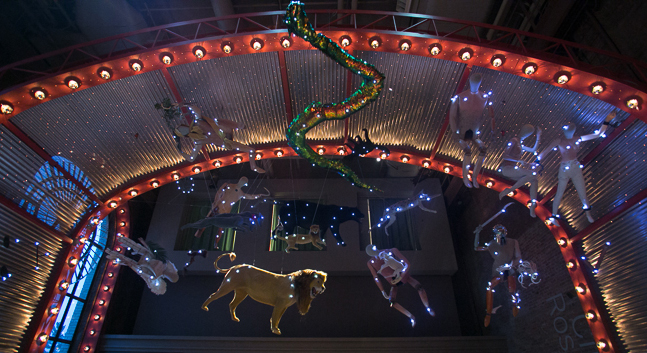 Born in 1968 and raised in New Jersey, Ken Nintzel is a New York City based multidisciplinary artist who creates work in a variety of media including theater, installation, performance, sculpture, exhibition, photography and video. You Are Here, is a mixed media sculptural installation that recreates the constellations of the night sky in physical form, studding them with starlight and suspending them overhead to create a life-size stellarium. The animal constellation figures have been created through a kind of craft-taxidermy, using flocking for fur and sequins for scales among other materials. The human constellations have been cobbled together from tailor and dress forms, wig heads, boot trees and mannequin parts, to represent generic lay figures that the viewer can project onto, placing themselves in the center of this fanciful universe.

You Are Here was inspired by my first look at a celestial atlas and its detailed illustrations of the constellations in corporeal form, a menagerie of wild and domesticated animals, reptiles, insects, creatures of the sea, birds in flight, symbolic objects, heroines, heroes and mythological beasts, all posed in a celestial tableau. The more I looked at these illustrations the more I wanted to be among these stellar constellations, surrounded by their physical presence.
Enclosed
Wendy Wischer
Central Terminal Gallery
Opens December 2015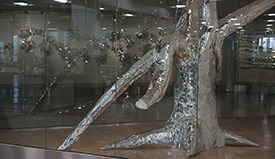 Enclosed is a site-specific installation of a large tree inspired by the old Buttonwood trees native to Southern Florida. The branches can span over 100 feet, often grazing the ground for support.

The tree, with a reflective mirrored mylar surface, is seen in fragments within the enclosed cases of the MIA Gallery, making reference to a preserved specimen while simultaneously acting as a cage as if to prevent further growth.

With our shifting landscape as a result of ever-increasing development, growing numbers of rare and endangered trees are found across the planet. Even those trees not endangered have a limited life span, as often they are not free to grow to their full potential. As a result, we will be left with traces, fragmented specimens and memories.

With Enclosed, it will be the reflecting light that escapes through these transparent cases of the gallery as it expands outward into the space connecting with the viewers both in reflections of light and within the tree itself as the mirrored surface of the piece reflects the surrounding colors of the architectural environment, including the viewers.

This piece alludes to containment and the blurred distinction of preservation and entrapment and how our collections of fragments distort the whole, leaving gaps in our memories. It is only the light that has no boundaries.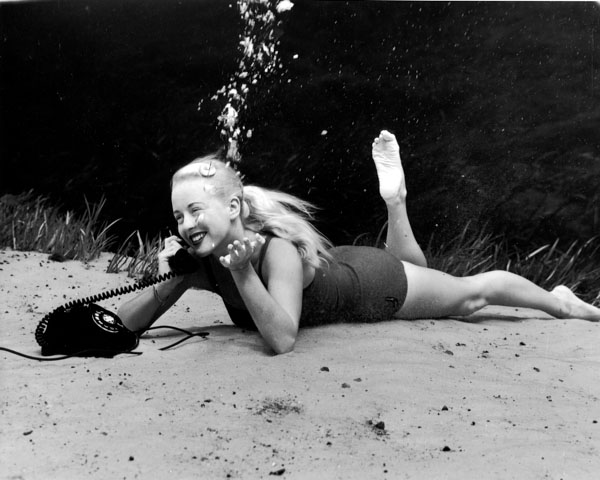 Silver Springs
Photographs by Bruce Mozert
opens August 2014
North Terminal, near Gate D31
Bruce Mozert (b. 1916) created some of the most memorable kitsch photography in the era of Florida's tourism marketing boom of the 1950s. A true innovator in underwater photography, his staged images of beautiful models in crystal-clear waters were sent out on wire services from the 1940s through the 1970s, enticing snowbound northerners to become snowbirds and experience Silver Springs as Florida's premier tourist attraction.
Photographer Gary Monroe has selected some of the best underwater photographs that capture those heady times in all of their whimsical glory. As Bruce Mozert's photography comes to light, his best work will likely be recognized as iconic images of the State of Florida's recent cultural past while becoming integrated into the broader world of photographic aesthetics.
"Rock Flower"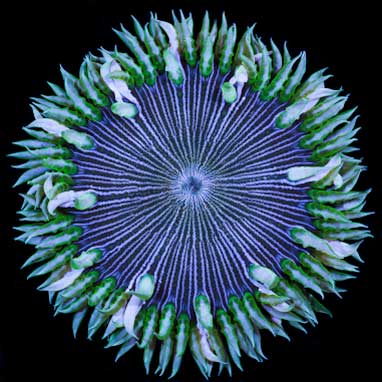 CORAL MORPHOLOGIC

Opens July 2014
North Terminal, near Gate D31

Coral Morphologic is as an art-science hybrid comprised of marine biologist Colin Foord and musician Jared McKay. Together they present coral reef organisms as both alien and archetypal life-forms through multi-media and site-specific artworks. Coral Morphologic finds itself firmly rooted in the present time and place of Miami: a city built primarily from limestone that has been recycled from thousands of years of local reef-building, and home to a diverse cultural community that mirrors its colorful aquatic ecosystems. Years of scientific observation in both the wild and the lab have led Coral Morphologic to identify metaphors applicable to both coral reef life and the urban human condition. We have concluded that there is an inseparable affinity between Miami and the reef, and seek to illuminate this relationship through our works.

The fluorescent soft corals featured in this photographic exhibit are all native to the coral reefs in and around Miami.

Learn more: www.coralmorphologic.com
Twitter/Instagram: @coralmorph

Photo courtesy Gregg Woodard
For more information on this exhibition, please contact the Miami-Dade Aviation Department's
Division of Fine Arts and Cultural Affairs at 305-876-0749.
Origins and Destinations
Laena Wilder
Opens September 2015
North Terminal, Gates D21 – Gates D30

Laena Wilder photographed and interviewed over 200 passengers at MIA for this project, opening a
dialogue and creating a thought-provoking record. The generosity of the participants was exquisite.
No two interactions were alike. The resulting exhibition aims to shift the context in which nameless
and unfamiliar faces are often seen. Making the invisible - visible. Thinking of each person as an
individual thread, with an origin and destination, this exhibition explores the ever-changing tapestry of
humanity surrounding us at any given moment.

Laena Wilder uses photography and oral history as tools for gathering cultural information, making art
and facilitating exchange within diverse communities. She holds an undergraduate degree in fine arts
and earned a Master of Fine Arts from the University of North Carolina at Chapel Hill. Wilder's efforts
have earned her a prestigious Rockefeller Fellowship Grant and her visual research has taken her
around the world. For more information visit www.OriginsAndDestinations.com
Latin America: Celebrating the Joy of Life
Terminal D
Opens April 2015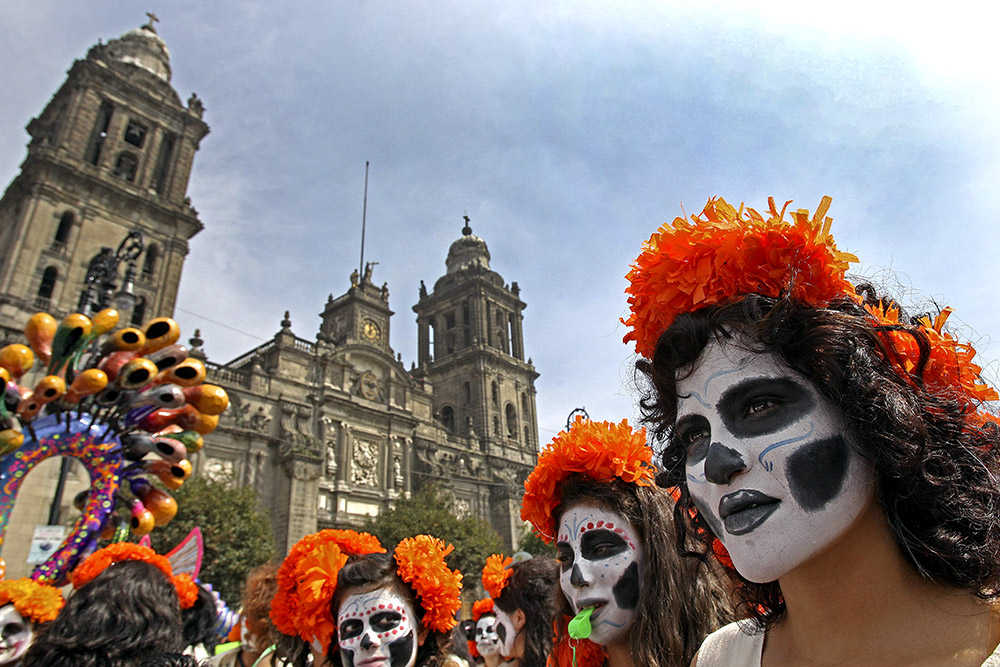 Women participate in the 5th edition of the Alebrijes Monumentales Parade, one of the events in the Day of the Dead
celebrations.
México D.F. ,México, October 20, 2012. Photo credit: Alex Cruz
Latin America celebrates and honors its history and folklore through its popular festivals or fiestas. From carnival season to the well-known Day of the Dead, each country joyfully commemorates its unique identity through an explosion of vibrant color, spirited music, all with unequaled passion and intensity. These festivals are truly an expression of the diverse and fertile mythical and historical influences that enrich Latin America.
The images featured in this exhibition, captured by EFE photographers, are examples of the daily work of thousands of journalists who provide the media with hundreds of news articles, photos and videos reflecting the everyday reality of the Americas.
As it commemorates its 75th anniversary, EFE takes pride in being the world's largest Spanishlanguage news agency and in upholding its brand which is synonymous with prestige, credibility and editorial independence.
Scott Weber
The Orchid Series 2006-2011
Palladium-toned Van Dyke Photographs
opens May 2015
North Terminal, Gates D22 – D25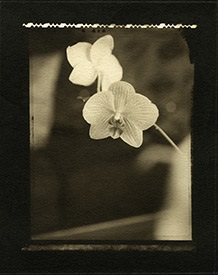 Scott Weber, Orchid #24, palladium-toned Van Dyke photograph
Process has always been a central component in my work. As the photographic world turns toward the electronic image for its speed and convenience, I have begun to reevaluate how I picture the world. The Van Dyke print is created by hand coating a sheet of fine art paper with a solution of iron and silver. The negative is placed in direct contact with the paper and exposed to sunlight. After processing the image, it is toned with palladium, a precious metal, which gives its warm color. I am attracted to the unique and authentic process of making an image by hand. This is also one of the most permanent image-making processes known because of the use of precious metals. I enjoy making photographs that speak with a soft voice, that reflect simplicity in both composition and content. - Scott Weber

Born in Los Angeles, California, Scott Weber earned both the Master of Fine Arts and the Bachelor of Fine Arts in Photography at the San Francisco Art Institute in San Francisco, California. His photographs have been collected by museums and used to illustrate documentary projects for historical purposes as well as exhibited in galleries. The use of the view camera and traditional photographic techniques helps define his personal style. Recently, he has begun to use historical processes such as platinum/palladium and Van Dyke printing and has exhibited these new images in Europe and North America. Weber is an Associate Professor of Photography in the Department of Fine Arts at Barry University in Miami Shores, Florida.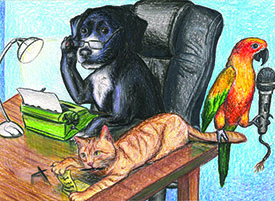 Artist: Fabio Fernandez
Title: Working in the Office
School: South Miami Middle School
Teacher: Cheryl Goodman

Imagining Animals in Art: Creatures of HABIT-at…

Throughout time and cultures, animals, both real and fictional, have been portrayed in art. Their depiction dates back to prehistoric times when they were first illustrated in cave paintings. Animal scenes were portrayed in Egyptian papyri, carved in Mesopotamian palaces, painted on ancient Greek pottery and pre-Columbian vases and bowls, to name a few.
In both art and literature, the animal kingdom has been endowed with human qualities and abilities – i.e. The Tale of Peter Rabbit by the author/illustrator Beatrix Potter and Lewis Carroll's Alice's Adventures in Wonderland illustrated by Sir John Tenniel. Illustrated books inspired 20th century artist Henri Rousseau to depict wild, exotic animals and Frida Kahlo painted her self-portraits surrounded by numerous pets and even portrayed herself as a deer (The Wounded Deer, 1946). This exhibition explores the context of animals with human qualities in imaginary settings and fanciful environments.
For more information on this exhibition, please contact the Miami-Dade Aviation Department's
Division of Fine Arts and Cultural Affairs at 305-876-0749.
Impressive Views: Eyeing Impressionist Landscapes
Children's Art Gallery, E-D Connector past security checkpoint
Opens May 2015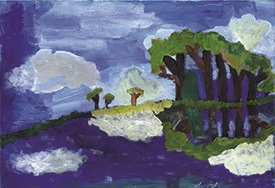 Artist: Julian Mesa
Title: Monet Inspired
School: David Fairchild Elementary
Art Teacher: Melissa Maxfield-Miranda

Impressionism originated in France in the 1860's and was characterized by the idea of creating images that captured a visual impression of a moment in time, as it pertained to the shifting and ever-changing effects of light and color. Impressionist painters, such as Claude Monet, Pierre-Auguste Renoir, Albert Sisley and Camille Pissarro, rejected established styles of painting, and were interested in a new way of seeing. These painters deviated from the clear depiction of nature and linear perspective, experimenting with loose paint handling, bold color and unconventional compositions. It was an art about atmosphere, immediacy and movement, a shift away from form to an interest in the properties of light. Impressionism was a precursor to later avant-garde art movements.
DEMI: In the Eyes of a Child
Central Terminal Gallery
opens August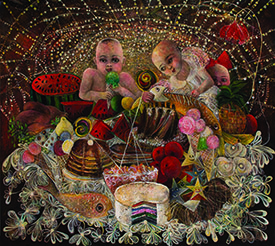 DEMI, Lemon Gelato, 2014, acrylic on canvas, 48" x 55"
Miami International Airport presents the work of DEMI, one of the most critically acclaimed Cuban-American artists working in the United States. Rooted in her past and personal experience, DEMI's work depicts a vibrant and intimate universe centered around children. Created between 2007 and 2015, the works on display are large, complex and meditative works that are bittersweet images from the inner depths of her painful youthful memories. The paintings, as well as her entire oeuvre are "about the balancing act between meaning and nothingness, good and evil, agony and joy." - Alejandro Anreus, Ph.D.
Hands of Korea
Curated by Chunghie Lee and Yolanda Sánchez
Opens June 2015
South Terminal Gallery, 3rd floor and 4th floor Mezzanine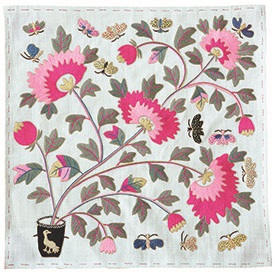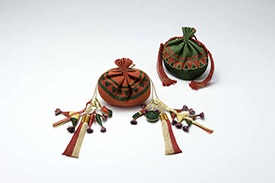 Heesoon Kim, Peony Bojagi, 2013; Jaeeun Kim, Quilted Duru Joomoni, 2011
The 2015 Hands of Korea exhibition at Miami International Airport presents Korean craft culture through a range of traditional objects and contemporary reinterpretations in a variety of media. An array of tradition‐based Korean fiber/textiles in the form of embroidery works, antique and contemporary Bojagi (wrapping cloths), traditional and contemporary Norigae (knotted ornaments), and Joomchi (traditional Korean method of papermaking) are represented by 28 Korean artists. Other mediums include hand sewing, hand/machine embroidery, natural dyeing, digital printing, tapestry weaving and quilting.
Recognized for its innovative design and creativity, Seoul, Korea was named "World Design Capital" by UNESCO in 2010. Since then, the arts have continued to flourish, firmly establishing Korea as a leader in the contemporary art world. Our goal is to deepen an appreciation of Korean culture and increase awareness of the richness of Korean arts.
R.F. Buckley: Forging Aluminum
Central Terminal Gallery
opens April 2015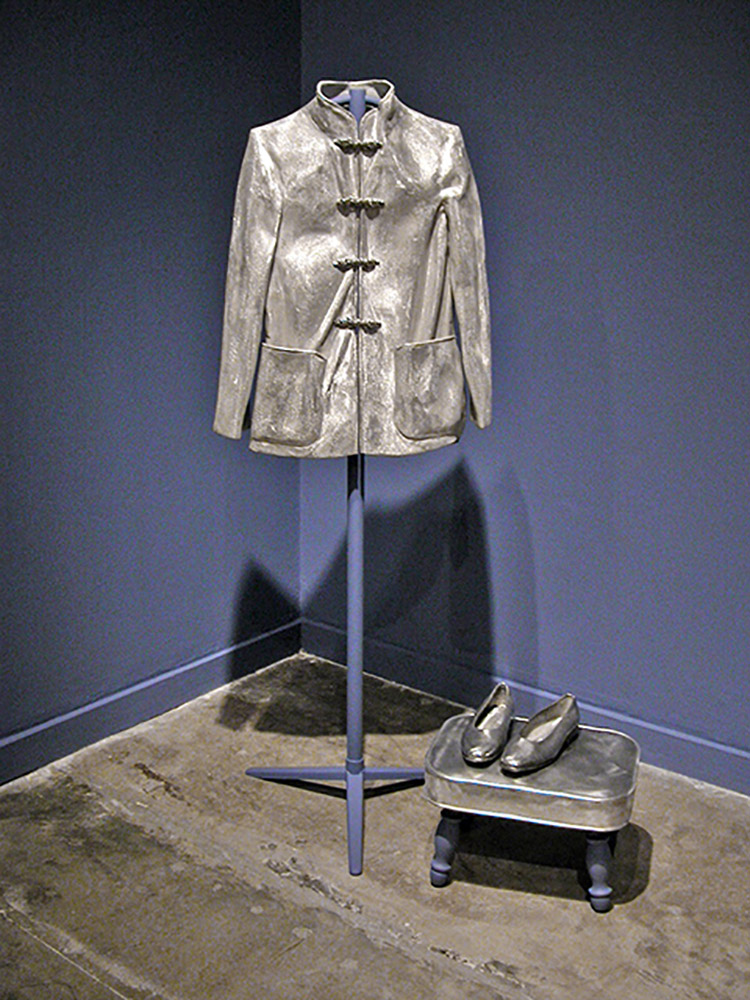 R.F. Buckley applies his own artistic sensibilities to transform a difficult medium – aluminum - into an elegant commentary about materials. Over the trajectory of his career, Buckley's sculpture has involved ideas and sensibilities about space, and spatial relationships between the work and its relationship to the landscape. The work emphasized the intrinsic nature of the materials being used, and the interrelationship of size, scale and amount of material as related human and architectural considerations.
Buckley's most recent works are of cast, forged and welded aluminum. His ideas are inspired and shaped through observation of splashed and still water and from studying the celestial photos produced through the Hubble telescope.
Forging Aluminum is a survey of Buckley's past and recent sculptural works. His new work is primarily about water, reflecting his interest and attempt to present and replicate for an instant some of the elusive, fluid, refractive and ever-changing, quicksilver qualities of water.
ARTiculation: Text as Art
opens February 2015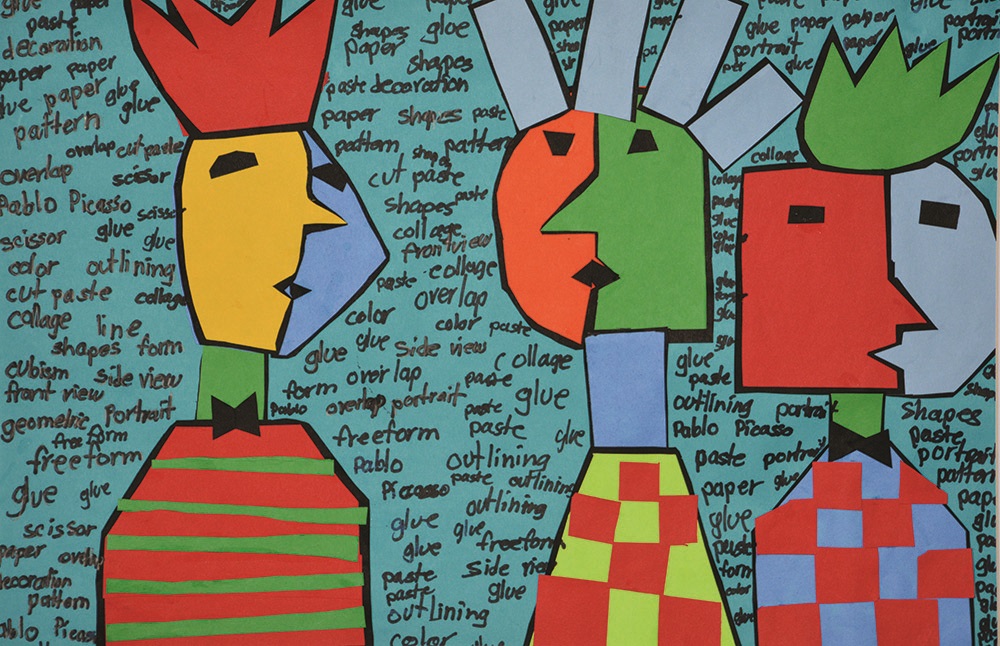 Artist: Matthew Garcia
Title: Picasso Portraits
School: Kendale Lakes Elementary
Art Teacher: Kristi Atkinson
Written language in art has been used as a tool for self-expression for nearly a century. As early as 1912, artists were using words in their paintings to communicate details of their everyday life and the times and culture in which they lived. By the end of the 1960s, many artists were using words either primarily or exclusively to create images and some artists began to give greater emphasis to their thoughts and ideas than to creating pictures. As a result, the design of a text - using color, typeface and size – became important to convey meaning together with the text's underlying content. Contemporary artists such as Robert Indiana, Jasper Johns, John Baldessari, Barbara Kruger, On Kawara and Jenny Holzer have all used words as the main subject of their artwork, some integrating imagery with their text, and others using text alone to express their ideas. This exhibition investigates art practices that involve a relationship between text and language in visual art.
Outsider Art: Selections from the NAEMI Art Collection
South Terminal International Greeters Lobby, 3rd floor
opens February 2015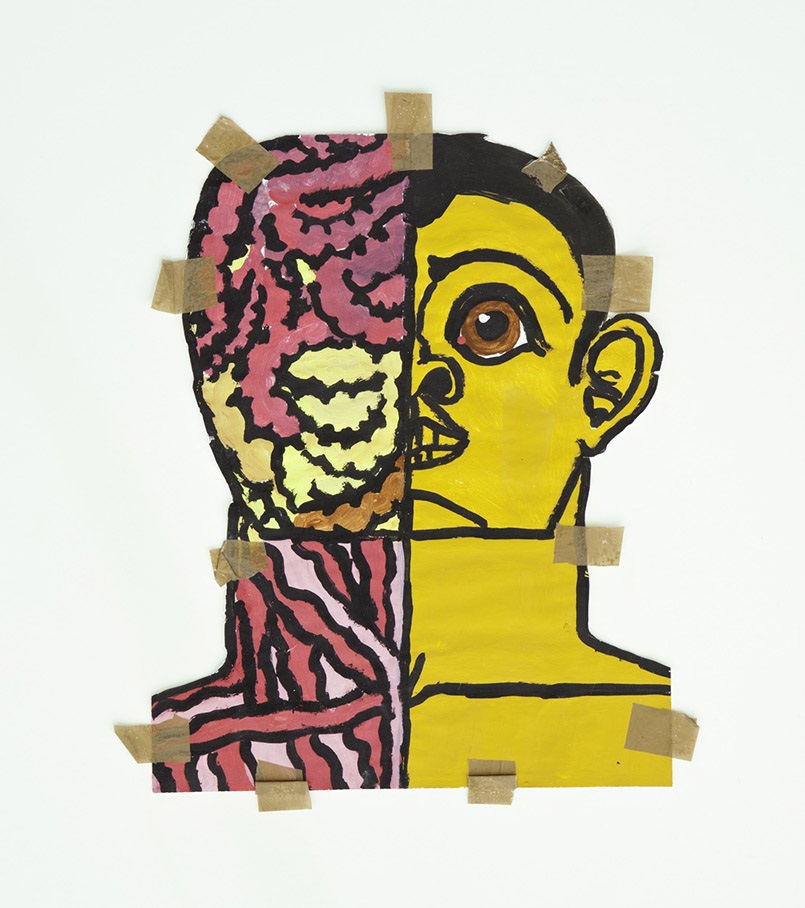 Misleidys Castillo, Untitled, tempura and tape on paper, courtesy of naemi
Organized in collaboration naemi (National Art Exhibitions of the Mentally Ill), this exhibition features art produced by individuals, usually self-taught and without any formal artistic training, whose work arises from an intense, innate personal vision.
Participating artists include: Gary Brewer, Misleidys Castillo, Lisa Chuan Lee Cheng, Mery Eis, Sebastian Ferreira, Ramón Losa, Echo McCallister, Luis Manuel Otero, Milton Schwartz, Carlos Stella and Robert Wright.
naemi is dedicated to discovering, studying, promoting, exhibiting, and preserving the art of those struggling with mental illness throughout the world.
Community Projects
mia Galleries