Recent Past Exhibitions
Impressive Views: Eyeing Impressionist Landscapes
Children's Art Gallery, E-D Connector past security checkpoint
Opens May 2015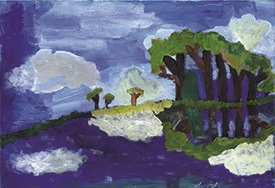 Artist: Julian Mesa
Title: Monet Inspired
School: David Fairchild Elementary
Art Teacher: Melissa Maxfield-Miranda

Impressionism originated in France in the 1860's and was characterized by the idea of creating images that captured a visual impression of a moment in time, as it pertained to the shifting and ever-changing effects of light and color. Impressionist painters, such as Claude Monet, Pierre-Auguste Renoir, Albert Sisley and Camille Pissarro, rejected established styles of painting, and were interested in a new way of seeing. These painters deviated from the clear depiction of nature and linear perspective, experimenting with loose paint handling, bold color and unconventional compositions. It was an art about atmosphere, immediacy and movement, a shift away from form to an interest in the properties of light. Impressionism was a precursor to later avant-garde art movements.
DEMI: In the Eyes of a Child
Central Terminal Gallery
opens August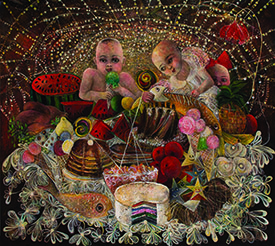 DEMI, Lemon Gelato, 2014, acrylic on canvas, 48" x 55"
Miami International Airport presents the work of DEMI, one of the most critically acclaimed Cuban-American artists working in the United States. Rooted in her past and personal experience, DEMI's work depicts a vibrant and intimate universe centered around children. Created between 2007 and 2015, the works on display are large, complex and meditative works that are bittersweet images from the inner depths of her painful youthful memories. The paintings, as well as her entire oeuvre are "about the balancing act between meaning and nothingness, good and evil, agony and joy." - Alejandro Anreus, Ph.D.
Hands of Korea
Curated by Chunghie Lee and Yolanda Sánchez
Opens June 2015
South Terminal Gallery, 3rd floor and 4th floor Mezzanine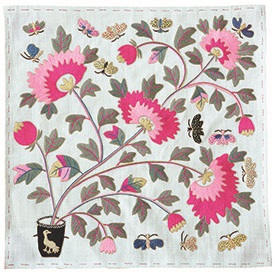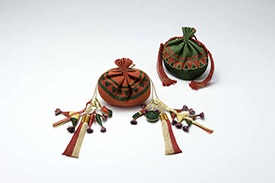 Heesoon Kim, Peony Bojagi, 2013; Jaeeun Kim, Quilted Duru Joomoni, 2011
The 2015 Hands of Korea exhibition at Miami International Airport presents Korean craft culture through a range of traditional objects and contemporary reinterpretations in a variety of media. An array of tradition‐based Korean fiber/textiles in the form of embroidery works, antique and contemporary Bojagi (wrapping cloths), traditional and contemporary Norigae (knotted ornaments), and Joomchi (traditional Korean method of papermaking) are represented by 28 Korean artists. Other mediums include hand sewing, hand/machine embroidery, natural dyeing, digital printing, tapestry weaving and quilting.
Recognized for its innovative design and creativity, Seoul, Korea was named "World Design Capital" by UNESCO in 2010. Since then, the arts have continued to flourish, firmly establishing Korea as a leader in the contemporary art world. Our goal is to deepen an appreciation of Korean culture and increase awareness of the richness of Korean arts.
R.F. Buckley: Forging Aluminum
Central Terminal Gallery
opens April 2015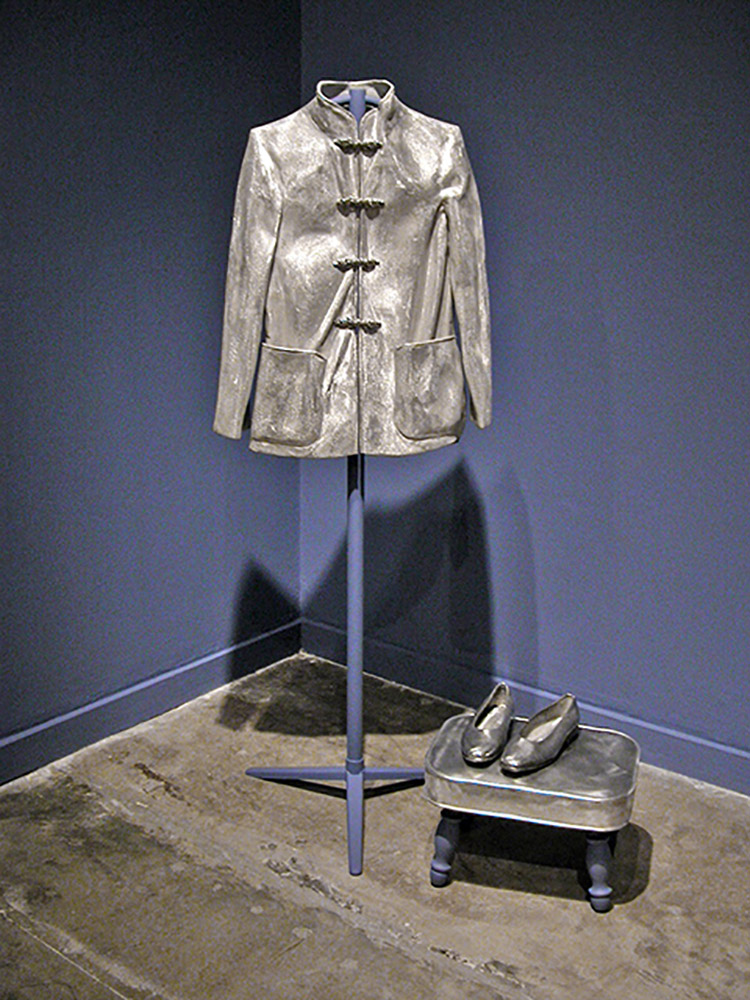 R.F. Buckley applies his own artistic sensibilities to transform a difficult medium – aluminum - into an elegant commentary about materials. Over the trajectory of his career, Buckley's sculpture has involved ideas and sensibilities about space, and spatial relationships between the work and its relationship to the landscape. The work emphasized the intrinsic nature of the materials being used, and the interrelationship of size, scale and amount of material as related human and architectural considerations.
Buckley's most recent works are of cast, forged and welded aluminum. His ideas are inspired and shaped through observation of splashed and still water and from studying the celestial photos produced through the Hubble telescope.
Forging Aluminum is a survey of Buckley's past and recent sculptural works. His new work is primarily about water, reflecting his interest and attempt to present and replicate for an instant some of the elusive, fluid, refractive and ever-changing, quicksilver qualities of water.
ARTiculation: Text as Art
opens February 2015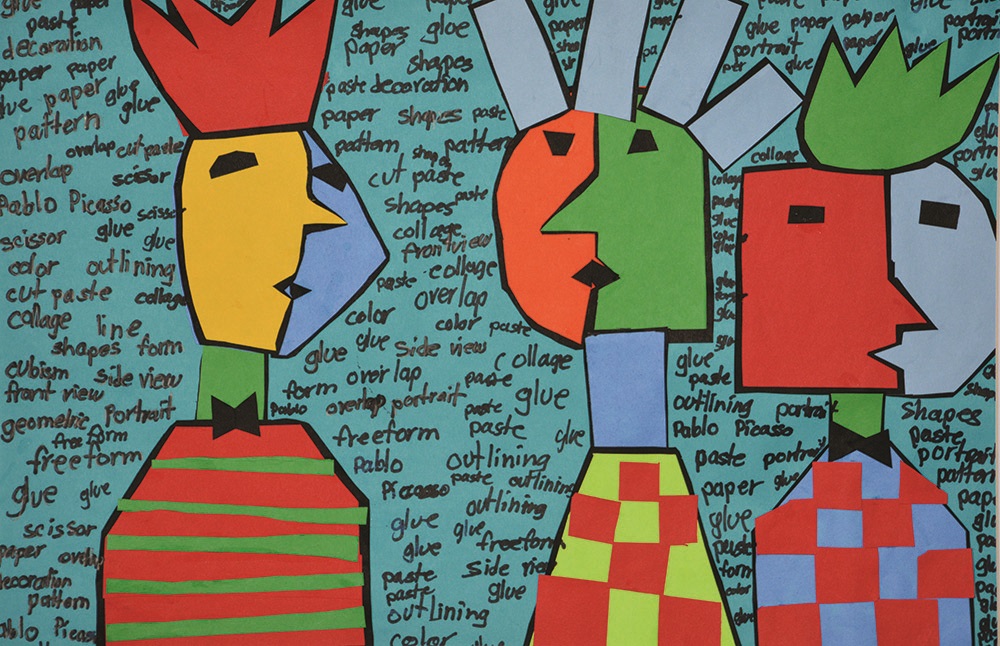 Artist: Matthew Garcia
Title: Picasso Portraits
School: Kendale Lakes Elementary
Art Teacher: Kristi Atkinson
Written language in art has been used as a tool for self-expression for nearly a century. As early as 1912, artists were using words in their paintings to communicate details of their everyday life and the times and culture in which they lived. By the end of the 1960s, many artists were using words either primarily or exclusively to create images and some artists began to give greater emphasis to their thoughts and ideas than to creating pictures. As a result, the design of a text - using color, typeface and size – became important to convey meaning together with the text's underlying content. Contemporary artists such as Robert Indiana, Jasper Johns, John Baldessari, Barbara Kruger, On Kawara and Jenny Holzer have all used words as the main subject of their artwork, some integrating imagery with their text, and others using text alone to express their ideas. This exhibition investigates art practices that involve a relationship between text and language in visual art.
Outsider Art: Selections from the NAEMI Art Collection
South Terminal International Greeters Lobby, 3rd floor
opens February 2015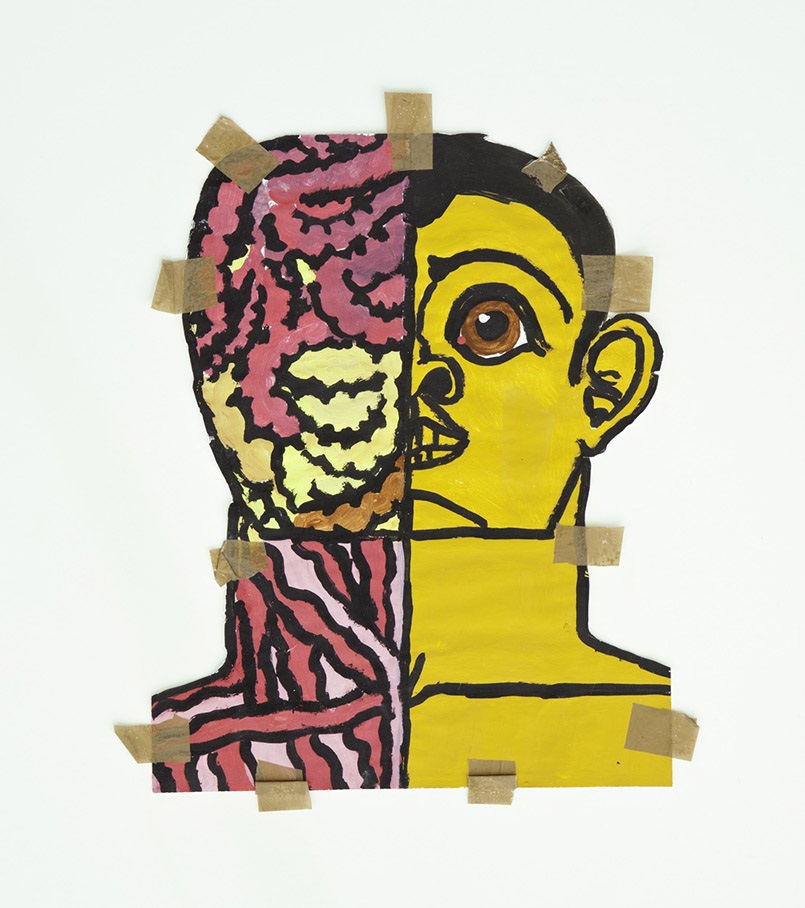 Misleidys Castillo, Untitled, tempura and tape on paper, courtesy of naemi
Organized in collaboration naemi (National Art Exhibitions of the Mentally Ill), this exhibition features art produced by individuals, usually self-taught and without any formal artistic training, whose work arises from an intense, innate personal vision.
Participating artists include: Gary Brewer, Misleidys Castillo, Lisa Chuan Lee Cheng, Mery Eis, Sebastian Ferreira, Ramón Losa, Echo McCallister, Luis Manuel Otero, Milton Schwartz, Carlos Stella and Robert Wright.
naemi is dedicated to discovering, studying, promoting, exhibiting, and preserving the art of those struggling with mental illness throughout the world.



South Terminal Gallery - International Greeters Lobby, 4th Floor Mezzanine

UNFAIR: Alex Heria
opens October 2014
North Terminal, Gates D22 – D25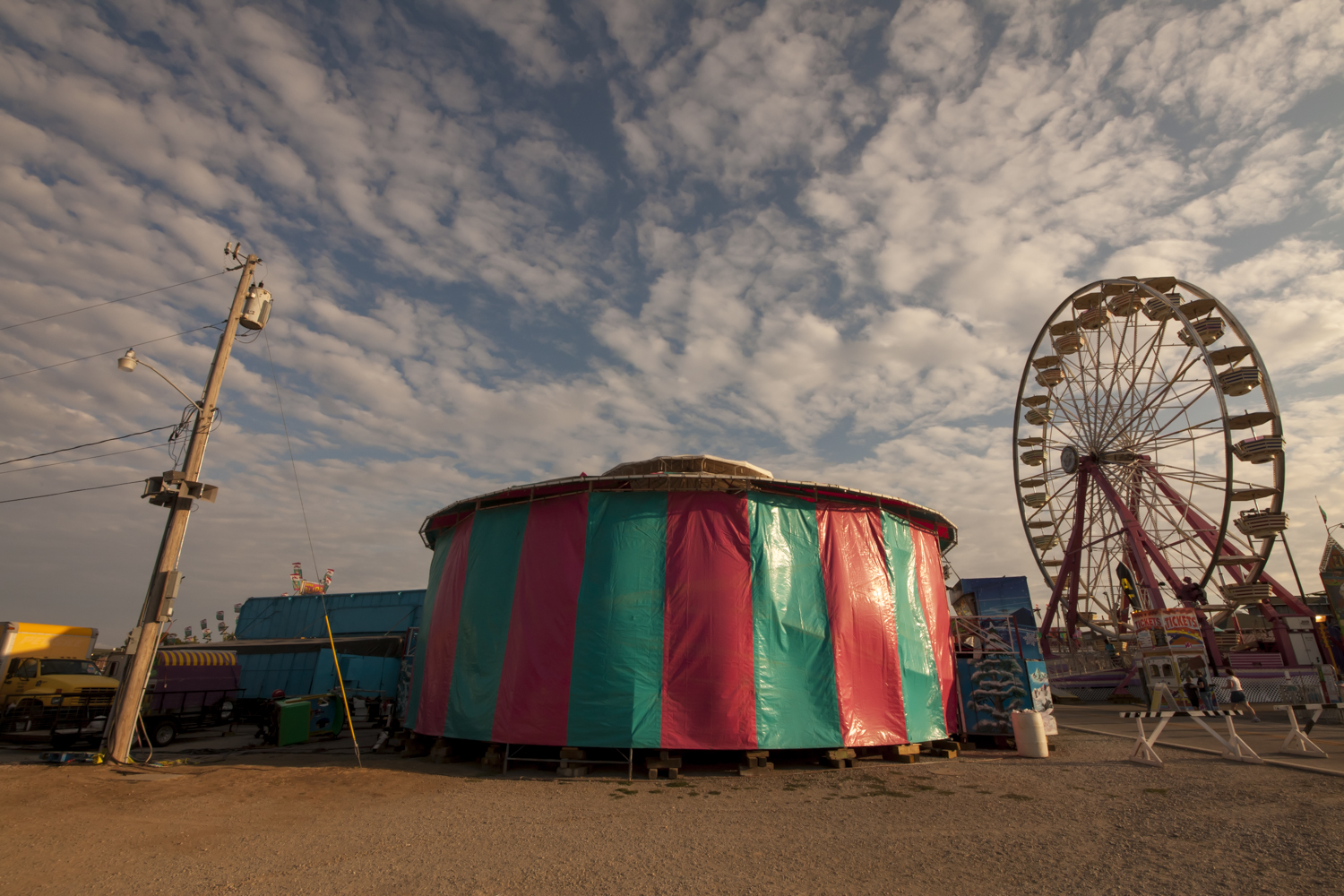 Alex Heria, Big Top, Missouri State Fair, 2012, digital photography

The title of this current body of work alludes to notions of fun, the absurd and the timeless, never-ending levity of the county fair. Rides, lights, food – everyone waits for this yearly extravaganza. Yet, there's always a hint of an underlying sadness. Perhaps it's because it only lasts a short time, or maybe it's the often times curious characters that run the midway and concessions. The photographs in this exhibition form part of a much larger photographic series taken at county and state fairs exploring the differences and similarities among people and their local sociological personalities.
Lagoon
Jason Hackenwerth
South Terminal Gallery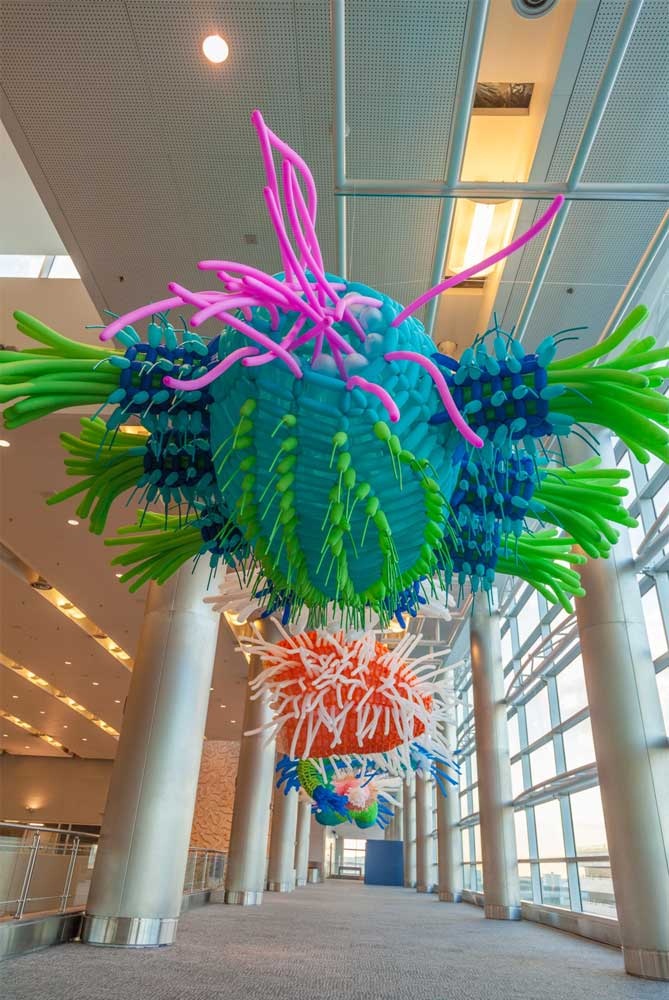 Lagoon is a site-specific installation created by Jason Hackenwerth and consists of a series of multifaceted sculptures hovering above the balcony of the 4th floor mezzanine of South Terminal Gallery at Miami International Airport. Interconnecting thousands of balloons into ridged and complex forms that seem to defy gravity, these dancing sculptures relate to one another and borrow from the colors of South Florida's coral reef.
Jason Hackenwerth's ephemeral works serve to remind us of the temporality of all things and can be considered a metaphor for our own lives as common materials in a state of grace.
SISTERHOOD: NINA SUREL
Opens December 2014
Central Terminal Gallery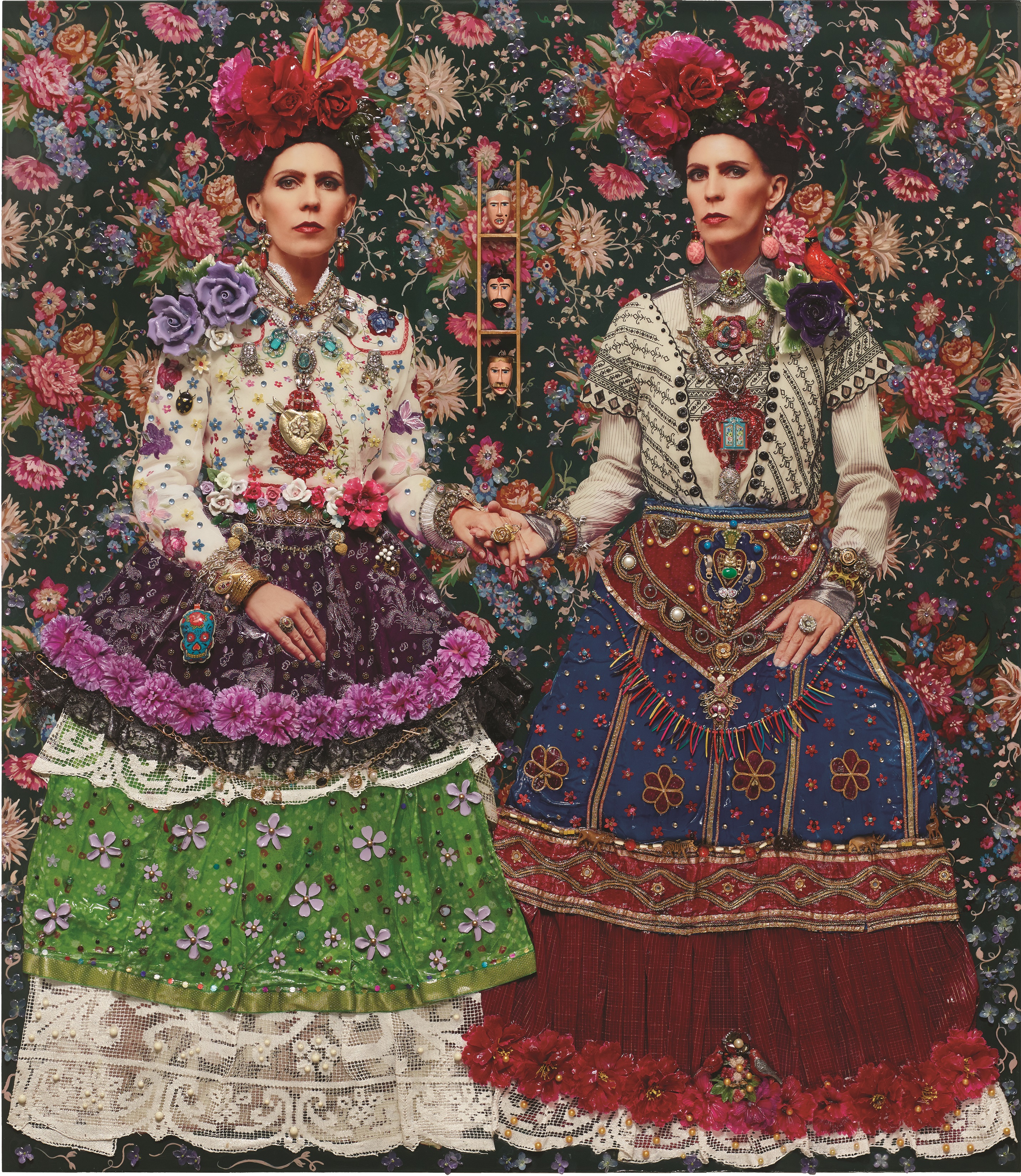 Nina Surel's work explores the artist's interest in her own childhood, fairytales, Romanticism and early feminist literature. Sisterhood is Surel's new series of portrait/landscape paintings that examines the theme of relationships and raises questions about identity and the self. Employing a wide range of media, such as photography and painting, assembling these with fabrics, buttons, jewelry, porcelain, and resin on wood, Surel's multifaceted work asks us to look within, to investigate and challenge our views of ourselves, the various roles or characters we play, and, moreover, to explore our notions about beauty and the feminine ideal.
(IM) – POSSIBILITIES: DREAMS AND IMAGINATION

Surrealism was an art and literature movement founded in the 1920's whose aim was to release the creative potential of the unconscious mind. Largely influenced by Sigmund Freud's theories of dreams and the unconscious, Surrealists sought to express what they believed to be the actual workings of the mind, shaped by an absence of reason and control. The movement was an attempt to overthrow what was then society's excessive focus on rationality, morality and logic. Incongruous and unnerving imagery and bizarre, unexpected juxtapositions, such as those found in dreams, were characteristic of artistic expressions, and were thought to be the true reality. Artists such as Salvador Dali, René Magritte and Max Ernst were on the forefront of the Surrealist movement.

Miami-Dade County Public School students (Grades K-12) were free to fantasize and to invent fantastic images, exploring the use of impossibilities, dreams and imagination as the springboard for their creations. This exhibit illustrates how, through the combination of unusual elements with creative thinking, even the most ordinary objects can be transformed into something mysterious and exciting.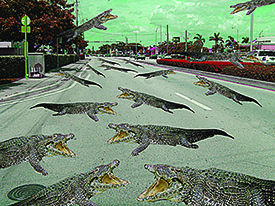 -



E-D Connector Gallery, just past security checkpoint



Photo credit: Alejandro Balaguer / Fundación Albatros Media
A photographic exhibition presenting images taken in the Pacific Ocean where humpback whales are born. Organized by Fundación Albatros Media, the exhibit seeks to foster an awareness of the beauty of these mammals and the urgent need for their protection and conservation. Fundación Albatros Media creates award-winning, high-impact campaigns, public exhibitions and multimedia productions on Latin America and the Caribbean. Lead by renowned photographer, journalist and author Alejandro Balaguer, the non-profit organization is made up of a team of independent producers, photographers and journalists. http://www.expeditions.com/blog/category/news/


South Terminal International Greeters Lobby,
3rd level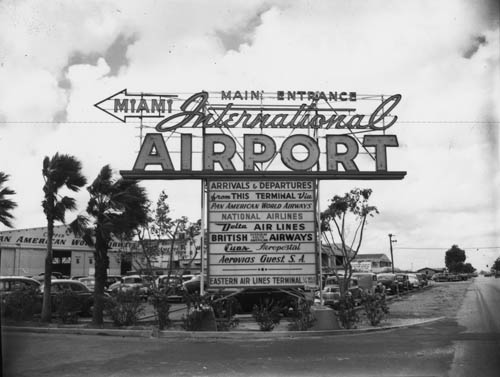 Main entrance to Miami International Airport's 36th St. Terminal,
January 1950, City of Miami Collection.
The Self as Image

A self-portrait is a representation of an artist drawn, painted, sculpted or photographed by the artist. Nearly every artist in every medium, and especially since the invention of the mirror, has explored the self. Some have used the self-portrait as psychological catharsis or scrutiny, others as a tool to investigate artistic techniques, but as a whole, images of the self are deeply intimate and revealing. Some of the greatest artworks of all time, such as Velázquez's Las Meninas, have been self-portraits. Rembrandt produced over 90 self-portraits in his lifetime and what can be more revealing of interior anguish and pain than Vincent van Gogh's serial portrayals of himself? Other great well-known portrait artists such as Leonardo da Vinci, Raphael, Michelangelo, Vincent Van Gogh, Georgia O'Keeffe, Pablo Picasso, Andy Warhol, Frida Kahlo, and more recently, photographer Cindy Sherman, are just a few of the countless artists whose muse of the "self as image" has captured our attention.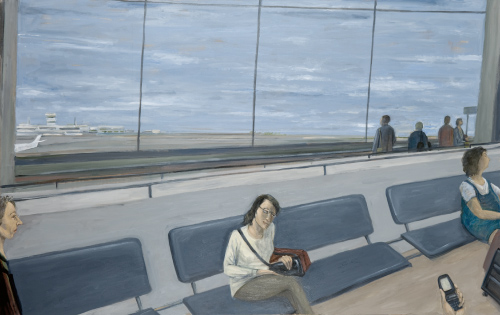 Arturo Rodríguez, Departures XXI, 2009, oil on canvas
Arturo Rodríguez: Arrivals and Departures
Arturo Rodríguez: Arrivals and Departures is a series of paintings capturing the poetics of airports. Beautifully and sensitively painted, these works offer us opportunities to reflect on the experience of travel, one that can, as in all transitions, elicit the full range of emotional responses. There is a strong feeling of melancholy and expectation in these paintings, a recognition that we are ultimately alone in the world, but, at the same time, we can also recognize that there is a beauty and urgency to the depiction of emptiness we see here - like a mirror showing us more of ourselves.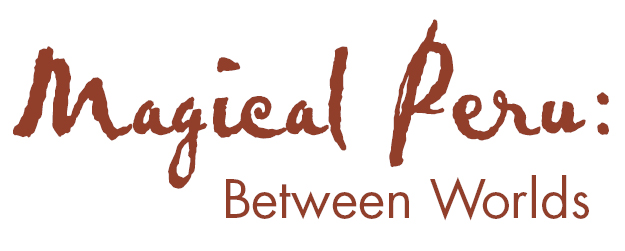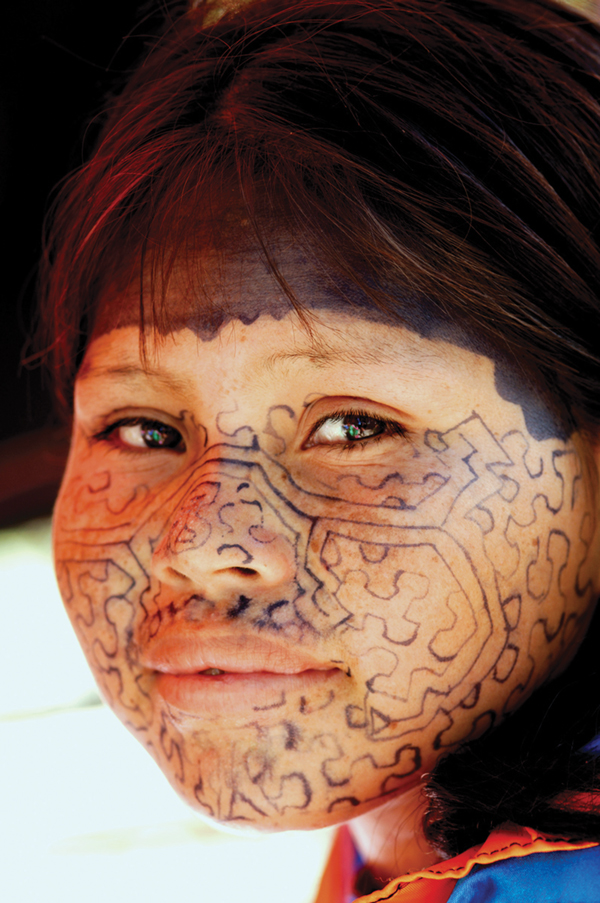 Photo courtesy Gregg Woodard
This exhibition presents several different artistic traditions, reflecting the magic of Peruvian arts and culture. These artworks, although quite diverse, offer a visual glimpse of encounters with this and other worlds, with various levels of consciousness. Their purpose is to open the door to wonder and surprise, to a changed way of seeing. Donna Torres's paintings reflect the complex relationship between the spiritual and the cultural life of Amazonian people, a visual history of their lives and ways of perceiving the world. The Shipibo textiles offer another extraordinary view of the world, teaching us to see through the commonplace and to see that the world is meaningful and magical. The pre-Colombian figures speak of relationships with deities and ceremonial cult and ritual practices. All of these works suggest imaginative possibilities, seeing through the literal to the metaphorical, envisioning and re-envisioning reality.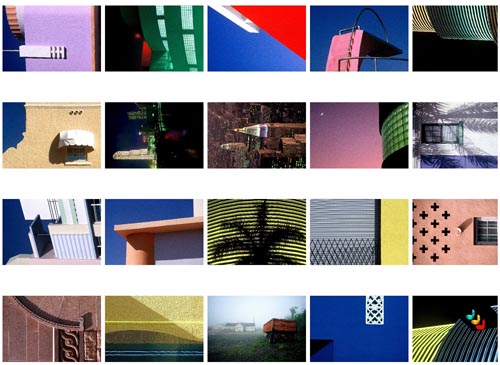 20 photos 10 years
palma photographs

Over the course of ten years, Miami architect photographer James Palma entered photos into the National American Institute of Architects' (AIA) annual photography competition. A total of twenty photographs, for ten consecutive years, were selected as winners. Each year the winning photographs were exhibited at the National AIA Convention in ten different cities in the United States. The photographs were also included in the Architecture Calendar, three of them on the cover.



Silvia Lizama

Hand-Colored Photographs


Image: Barbershop TV, Manaus, Brazil 2011

15" x 15" hand-colored, gelatin-siver print

Courtesy of the MOSQUERA COLLECTION

A selection of hand-colored black and white photographs from South Florida, Latin America and Spain.


February 2013
Gates 22 and Gate 25
| | |
| --- | --- |
| | Located in the heart of Miami's Design District is the nationally recognized Design Architecture Senior High (DASH). Mia Galleries invited DASH to participate in an exhibition celebrating the 2014 FIFA World Cup hosted this summer in Brazil. Thirteen of the most talented seniors were selected to design + create a visual celebration of soccer's most prestigious upcoming international event. The title "Show Your Colors" kick started the idea visually, while the students worked together to design each panel. The goal and challenge was to capture the World Cup's atmosphere, emotion, and awesome sport of soccer. |
La Sirena A Call for Transformation

This invitational, composed of artists that have previously exhibited in mia Galleries, offers an opportunity to consider and discover the deeper meaning of the mermaid. Real or fictional, this hybrid, imaginative creature has been roaming around our psyches for millennia, enduring symbolically in myth and culture, from oral folk traditions to high art, and continues to have a detectable role in contemporary society. - continue.
Mermaids have long captured the imagination of mariners and artists alike. They inspired Sandro Botticelli's painting The Birth of Venus (1486) and Hans Christian Andersen's fairy tale The Little Mermaid (1837). These curious creatures have been the subject of literary and visual works, appearing throughout history in Mesopotamian carvings and Greek vases to modern art, literature, music and film. - continue.

Leaving A Legacy presents a unique collection of high design handcrafts, showcasing an astonishing display of ingenuity and imagination. Recycling is an important factor in these works as artists have found ways to utilize and transform discarded materials, incorporate found objects and develop natural resources responsibly- continue.

Inspired by the idea that design responds to time-oriented changes in the environment, the works in this exhibition are a poetic allusion to the impermanence of existence, an acknowledgment that time is a human concept. Many of the works, which blur the line between art and design, encourage an examination of one's own movements and place in space and time, while others incorporate the concept of time within the design itself. - continue.

Street art is the visual art that develops in public spaces – that is, "in the streets" – and the term can include sculpture, stencils, sticker art, wheat-pasting and street poster art, just to name a few. The term "post-graffiti" is used to distinguish contemporary public space artwork from vandalism and corporate art. - continue.

The Highwaymen
Florida's Landscape Painters
featuring paintings from The Brewer Collection

Florida, from its earliest days, was seen as a tropical paradise where the brilliant sunshine and crystalline blue skies would dissolve away all of one's worldly concerns - continue.

A photographic exhibition created by North Carolina photographer Jerry Taliaferro, designed to honor the physical and spiritual beauty of the Black American woman, emphasizing her soulfulness - her spirit of hope, compassion, love and nobility - continue.

Carnival Arts
Celebration and Transformation

Carnival is a time of celebration. For the past six years, the Carnival Arts program has helped teens living in youth crisis shelters across Florida celebrate life. The teens learn drum and dance traditions from West Africa and Venice to Cuba, the Dominican Republic, Haiti, Jamaica, and Trinidad to Brazil, Colombia, Mexico, and Peru. They make masks and costumes that hide their identities, and reveal how they feel about themselves and their world - continue.
For more information about Miami-Dade Aviation Department's Division of Fine Arts and Cultural Affairs, email us or call 305-876-0749.
Community Projects