Camera Works

Miami-Dade Aviation Department
Miami International Airport
Division of Fine Arts & Cultural Affairs
Presents
Philip Brooker
Abandoned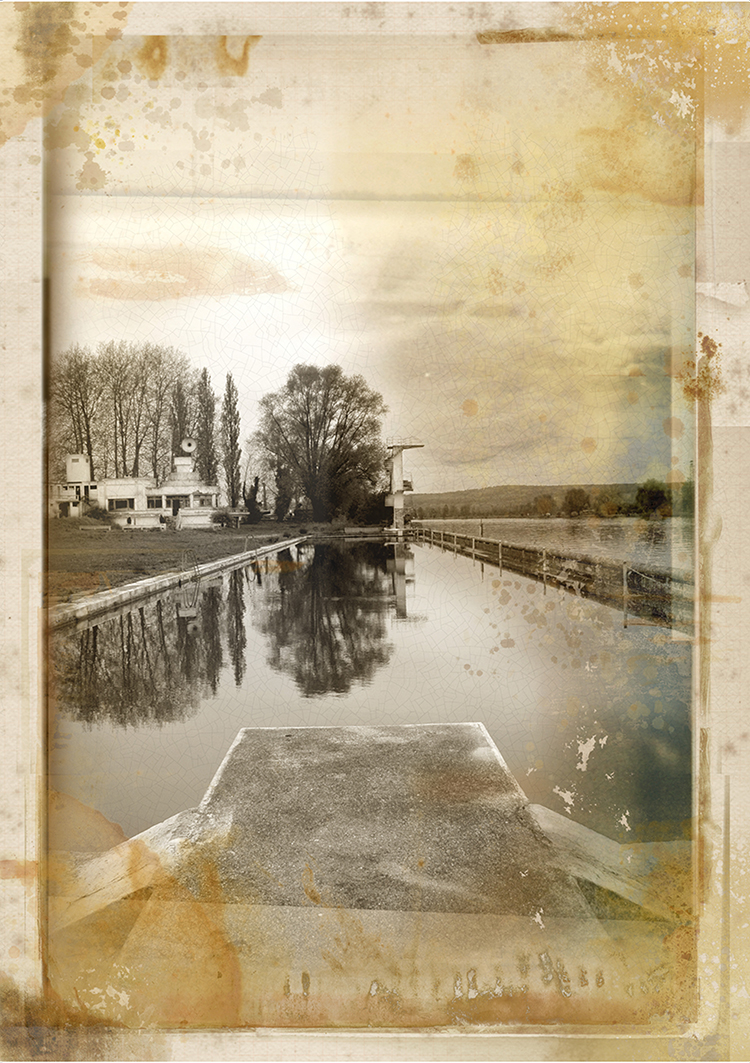 Image: Abandoned Pool. Paris
Pigment printed on Linen - 18 x 26 inches
In 1933 the magnificent 'Plage du Lys-Chantilly' situated on the river bank in Boran, opened its gates to the public and over the next seventy years would attract thousands of people from miles around including nearby Paris. Hailed as the most beautiful river beach in France, it instantly became a hit with the well-to-do. Everyone could enjoy the day on the river with beach like conditions. Music would be transmitted from its huge cone loudspeaker, waiters would bring exotic drinks, parasols would flutter aimlessly with the cool river breeze. Sea planes would land on the river and dashing couples would enjoy the South of France type splendor. It had everything under the sun.
After the bleak war years the pool took on a resurgence. Its second outstanding period was from 1946 until the late sixties. Unfortunately it would never see its glorious years again.
What remains today is a frail structure of a once majestic pool. A place steeped in a sad romantic atmosphere. Nature seems to be slowly winning the battle. The once soft golden sands of the beach have given way to an uneven blanket of grass. The 190 changing rooms have no doors. Only long gently swaying cobwebs hang from the hooks where clothes once were. A surrender to time. The music has faded with the wind. The checkered tile dance floor boasts only of weeds and grime. The reflections of the once grand river beach complex lay dormant. Happy but distant ghosts linger in the air. A far cry from the thousands that basked in its glowing sun drenched glory. The worst crime of all is the silence. Deadly silence.
It was all these ingredients that attracted me to this project. I wanted to record through photographs and film its last remaining breath. There still is a mystery and a beauty around the pool today. If it disappears, and it will, all we will have left is an old black and white Pathe newsreel, a handful of sepia postcards. And for the bathers who went there, a distant memory .
My part of the story will be the hundreds of photographs taken with my handmade large format camera and a film shot over the last five years.They will never replace the glory of this grand lady but
it will be a souvenir of a once innocent time that will never return.


Philip Brooker was born and educated in England where he received his Bachelor of Fine Arts.
Before moving to Miami he lived in NYC where he exhibited his art.
His work is collected worldwide and is included in private as well as prominent collections including the Museum of Modern Art in New York and the Bibliothèque Nationale de France in Paris.
His photography was recently exhibited at the Pompidou Center in Paris.
He lives and works between Miami and Paris.
He is currently working on a film located in France.




February 2013
Gates 22 and Gate 25
For more information on this exhibition, please contact the Miami-Dade Aviation Department's
Division of Fine Arts and Cultural Affairs at 305-876-0749.
It's Our World
Created by L.E.T.S. Draw students: Aaron Ashe, Dominique Byrd, Aesha Coleman, Charlotte Graham, Khyree Joseph, Kheyana Joseph and Nathaniel Perverdera.



South Terminal H, 2nd level