Cargo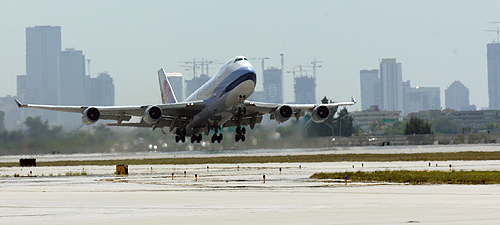 Photo by Miami-Dade Aviation Dpt.
A leader in the Americas in international freight and the world's largest gateway to Latin America & the Caribbean, MIA controls the north / south cargo flows in the Western Hemisphere. Handling 83% of all air imports and 81% of all exports from the Latin American / Caribbean region, MIA serves as the hub for distribution of perishable products, hi-tech commodities, telecommunications equipment, textiles, pharmaceuticals and industrial machinery. During 2010, airport rankings show MIA as the leading airport in the United States for international freight, and among world airports, MIA ranked 10th in international freight.
MIA Cargo Brochure
Florida Trade and Logistics Study - December 2010 (14MB)
U.S. and Worldwide Airport Rankings 2011
For additional cargo related information e-mail us.
June 4, 2012

Throughout the last decade, cargo flying in and out of Miami International Airport has tended to follow national economic trends. Good news: shipments are still up.

The last week has brought a string of gloomy economic numbers, forcing a reset of conventional wisdom about the recovery's fate. Today, the Economic Time Machine reviews a local indicator that has proved a decent barometer of the national economy's health. Cargo shipments at Miami International Airport tend to follow the long-term ups and downs of the economy fairly well. The cargo shipments at Florida's busiest airport fell off a cliff in the middle of 2008 as the recession deepened, and recovered at the start of 2010. Before that, cargo enjoyed a mostly uninterrupted surge from 2003 on, with the exception of a little blip in 2005.

When the economic rebound fizzled in the spring of 2011, MIA cargo did, too. A five-month slump started in April, but the numbers have been up since October. The above chart uses a 12-month rolling average of cargo shipments, meaning the trend lags current conditions. The second chart looks only at how shipments from the prior 90 days compare to the same time period in the prior year. Recent numbers still look strong, with spring cargo shipments up 5 percent from 2011 levels. That sets up the summer as a big test for MIA's ability to reflect the economy at large. Continue
More news clips
Resources