Children's Gallery
Figuring Aesthetic Forms: Figures In Motion
E-D Connector past security checkpoint
May 12 – October 13, 2016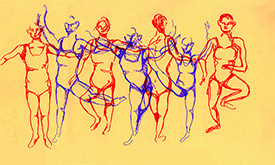 Artists have been concerned with the human form in motion since the beginning of time. From Edgar Degas' beautiful representations of dancing ballerinas to Marcel Duchamp's painting, Nude Descending a Staircase, No. 2 (1912), studying the human figure in action - whether walking, running, dancing or descending stairs - has inspired artists to produce artwork that conveys rhythm, motion and activity.
Other well-known representations of the human form in motion can be seen in Leonardo da Vinci's Vitruvian Man (c. 1490), Henri de Toulouse-Lautrec's At the Moulin Rouge, The Dance (1890), and in the boundless experimental photographs by Eadweard Muybridge, whose sequence of high-speed photography of the human (and animal) form pioneered work in photographic studies of motion and laid the groundwork for the motion picture industry. This exhibition invites you to explore the human form in motion through both 2-D and 3-D imagery.
It's Our World
Created by L.E.T.S. Draw students: Aaron Ashe, Dominique Byrd, Aesha Coleman, Charlotte Graham, Khyree Joseph, Kheyana Joseph and Nathaniel Perverdera.



South Terminal H, 2nd level