Children's Gallery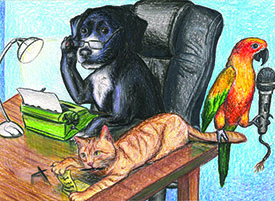 Artist: Fabio Fernandez
Title: Working in the Office
School: South Miami Middle School
Teacher: Cheryl Goodman

Imagining Animals in Art: Creatures of HABIT-at…

Throughout time and cultures, animals, both real and fictional, have been portrayed in art. Their depiction dates back to prehistoric times when they were first illustrated in cave paintings. Animal scenes were portrayed in Egyptian papyri, carved in Mesopotamian palaces, painted on ancient Greek pottery and pre-Columbian vases and bowls, to name a few.
In both art and literature, the animal kingdom has been endowed with human qualities and abilities – i.e. The Tale of Peter Rabbit by the author/illustrator Beatrix Potter and Lewis Carroll's Alice's Adventures in Wonderland illustrated by Sir John Tenniel. Illustrated books inspired 20th century artist Henri Rousseau to depict wild, exotic animals and Frida Kahlo painted her self-portraits surrounded by numerous pets and even portrayed herself as a deer (The Wounded Deer, 1946). This exhibition explores the context of animals with human qualities in imaginary settings and fanciful environments.
For more information on this exhibition, please contact the Miami-Dade Aviation Department's
Division of Fine Arts and Cultural Affairs at 305-876-0749.
It's Our World
Created by L.E.T.S. Draw students: Aaron Ashe, Dominique Byrd, Aesha Coleman, Charlotte Graham, Khyree Joseph, Kheyana Joseph and Nathaniel Perverdera.



South Terminal H, 2nd level