AVIATION IN MIAMI: THE FIRST 100 YEARS

A photography exhibition celebrating
a century of flight in Miami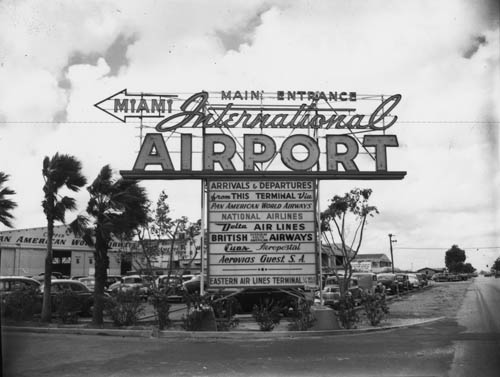 Main entrance to Miami International Airport's 36th St. Terminal,
January 1950, City of Miami Collection.
From Miami's first flight in 1911, to the development of Miami's Airport terminals, this exhibition highlights the evolution of Miami's aviation industry and how Miami International Airport has grown to become the second busiest international passenger airport in the United States.
All photographs in this exhibit are courtesy of HistoryMiami.





Central Terminal E, level 2,
just past security checkpoint.
For more information please contact The Division of Fine Arts and Cultural Affairs at 305.876.0749.
In the News:

Aviation in Miami: The First 100 Years

A photography exhibit at Miami International Airport (MIA) celebrates one hundred years of flight in Miami, from the first flight in 1911 to the airport's current status as the second busiest passenger airport in the United States. The exhibit is in the Central Terminal, Concourse E, just past the security checkpoint. Continue