Site Specific - Concourse F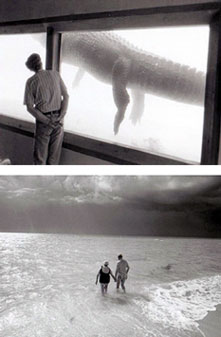 It Must Be The Water
Priscilla Ferguson


, level 3 (just past security checkpoint)
Artist Statement: I grew up in the suburbs of Miami, but I lived for the weekends when my father took me fishing and hunting. He taught me to pay close attention to the things that mattered in a world that I knew was special. He showed me to "read" the flats of Florida Bay, and to run a shallow draft boat through tortuous channels with names like Crocodile Dragover. I learned to see the difference between a rolling wake pushed forward by a spotted eagle ray and the ripple of a foraging redfish. He taught me that there was seeing and there was seeing. He also gave me my first camera. I have been photographing with great enthusiasm since 1979, mostly in Florida, and without stopping.
My pictures are about a firm belief, to borrow a lovely phrase from Mr. Szarkowski, that "the world is an artist of incomparable inventiveness." Photography has everything to do with finding what one's subject truly is…you don't decide beforehand and say, "I'm going to do xyz today"…the x, the y, the z, they are given to you. And the responsibility is the photographer's to be up to the task to do them justice.
My world is funny, crazy, filled with flying dogs and majestic palms and amazing clouds. What more could anyone ask of a place? I am truly blessed to have been raised here. It is my hope through these photographs of my home, you will share a bit of my enthusiasm, and perhaps begin to see my world in a way that is your own.
For more information, please contact the Division of Fine Arts and Cultural Affairs at Miami International Airport 305-876-0749.