Miami-Dade Aviation Department
Miami International Airport
Division of Fine Arts & Cultural Affairs
Presents
Natural Selection – Organisms as Things that Move and Live
Children's Art Gallery, E-D Connector just past security checkpoint
February 9, 2018 – May 10, 2018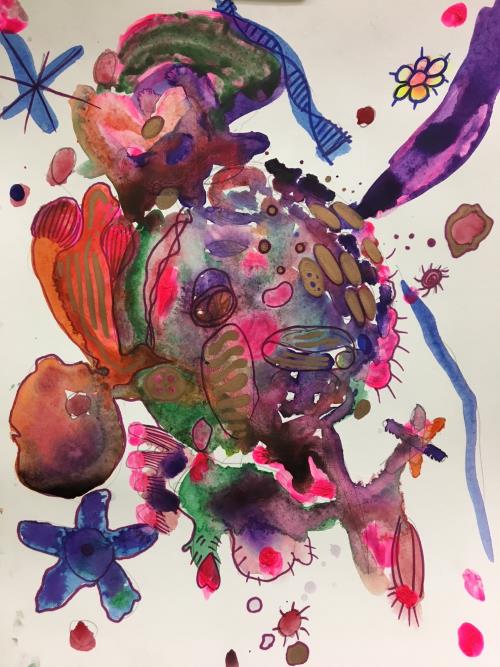 Artist: Emily Rodriguez, Title: Cell 4, School: South Miami K-8 Center, Art Teacher: Diana Perez
Bio Art is a contemporary art practice at the boundary of science and art. Bio artists David Goodsell, Guy Ben-Ary, Andre Brodyk, husband-and-wife duo Oron Catts and Ionat Zurr, to name a few, use living matter as either subject or medium to create images, sculptures, installations, videos and performances. Their works explore the relationship between humans and nature, and often question our concepts of the living and interconnected world around us. In this STEAM (Science, Technology, Engineering, Art, Math) inspired exhibition, K-12 students present works that incorporate biological sciences with traditional artmaking. Their visual interpretation of the living world invites us to explore organisms as things that move and live.
________________________________________________________________________________
Knitting as Poetry
Reflections on the Natural Environment
Evelyn Politzer
Curated by Dr.Yolanda Sánchez
Between Gates D29 & D30
October 27, 2017 - May 17, 2018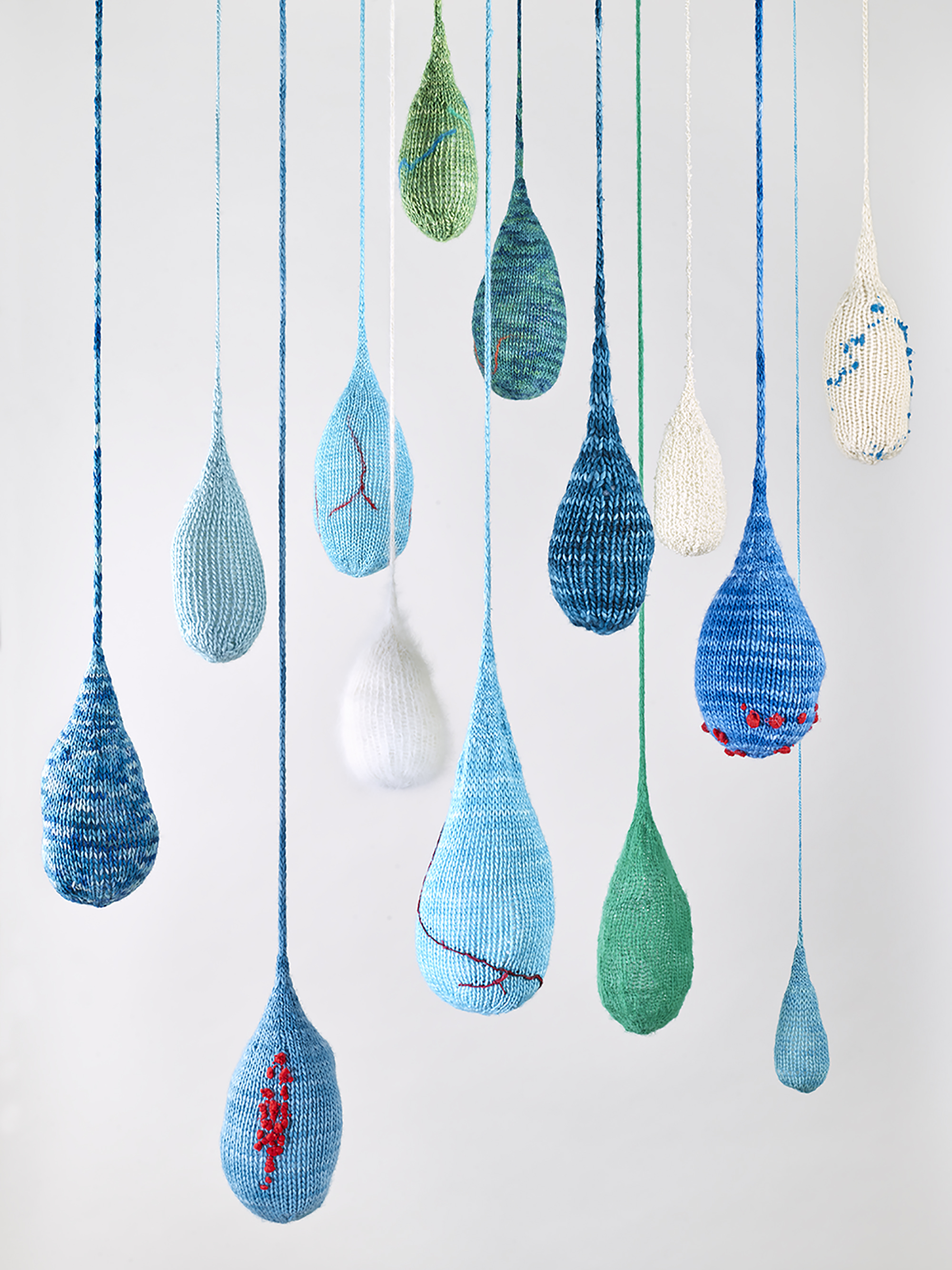 Evelyn Politzer, Every Drop Counts, hand-knit with kettle dyed pure wool, 2017
Artist Evelyn Politzer expands our appreciation of fiber arts and the techniques of knitting and crochet as artistic forms. Her creative expression offers a bridge between the history of craft and "women's work" and present concerns regarding the natural environment.
In this installation, Politzer aims to bring our attention to the beauty and fragility of nature, presenting us with evocative forms that stimulate us through their use of color and texture. Her nested structures, in particular, are tender and sensual, their color range suggesting warmth and nurturance. Maternal concerns are often present in Politzer's work. The adjacent more serene installation, suggestive of aqueous elements, not only presents a visual juxtaposition but is also a reminder of the importance of water conservation, a major issue in Politzer's immediate community. "Every drop counts," is a slogan in the local educational system.
My passion for Fiber Art started at a very young age. Creating with wool was only natural in my native country of Uruguay, where the number of sheep far exceeds the number of inhabitants.
My beginnings were in tapestry and knitting. Quilting, yarn bombing and fiber installations followed my ever-evolving fiber path. After attending law school in Montevideo, Uruguay and moving to the United States, I saw a chance to pursue my passion for art and making things. I graduated from Parsons School of Design in NYC, so that I could fulfill my creative side. I now live and work in Miami, Florida.
malabrigo provided all of the high-quality, hand-dyed yarns used in this exhibition. A family-owned yarn company located in Uruguay, for their sponsorship of this exhibition.
____________________________________________________________________________________
The Century of Flight:
The Story of Aviation in Miami
In collaboration with HistoryMiami
Terminal J, International Arrivals Greeters Lobby, 4th floor
March 2017 - August 2018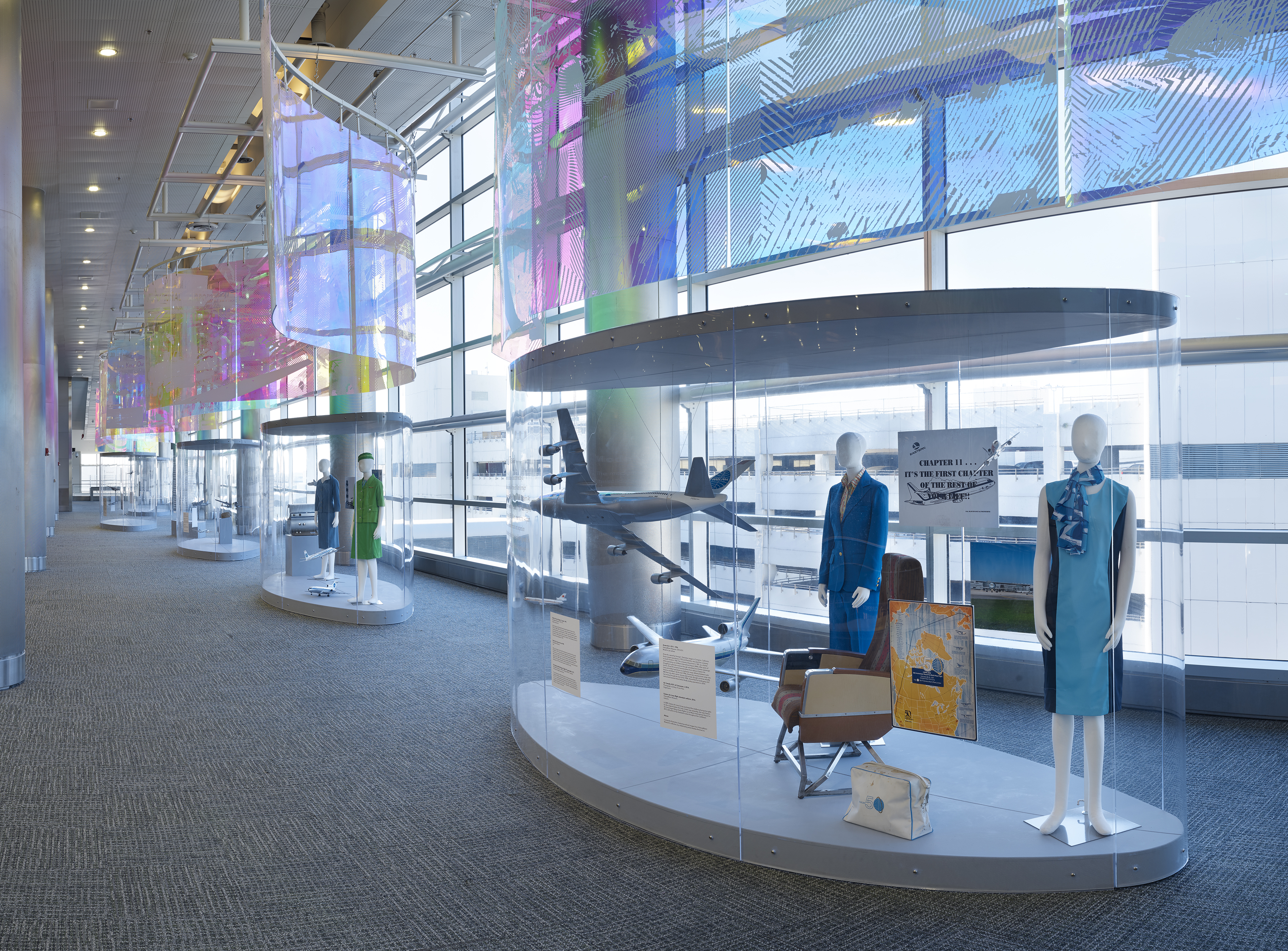 A Century of Flight: The Story of Aviation in Miami is the inaugural exhibition at the Hall of Aviation. Featuring images, uniforms, model airplanes and other artifacts from the collection of HistoryMiami Museum, the exhibit chronicles Miami's rise as a hub for commercial aviation.
Envisioned as an ongoing partnership between HistoryMiami Museum and Miami International Airport's Fine Arts & Cultural Affairs, the Hall of Aviation is an exhibition venue dedicated to exploring themes of flight; the history of aviation with an emphasis on Miami and MIA; and various aspects of the City's long-standing fascination with flight. Exhibitions are held biennially.
_____________________________________________________________________________________

Photographs by Luis Olazabal
On view through October 2018
North Terminal, near Gate D31, Post-security checkpoint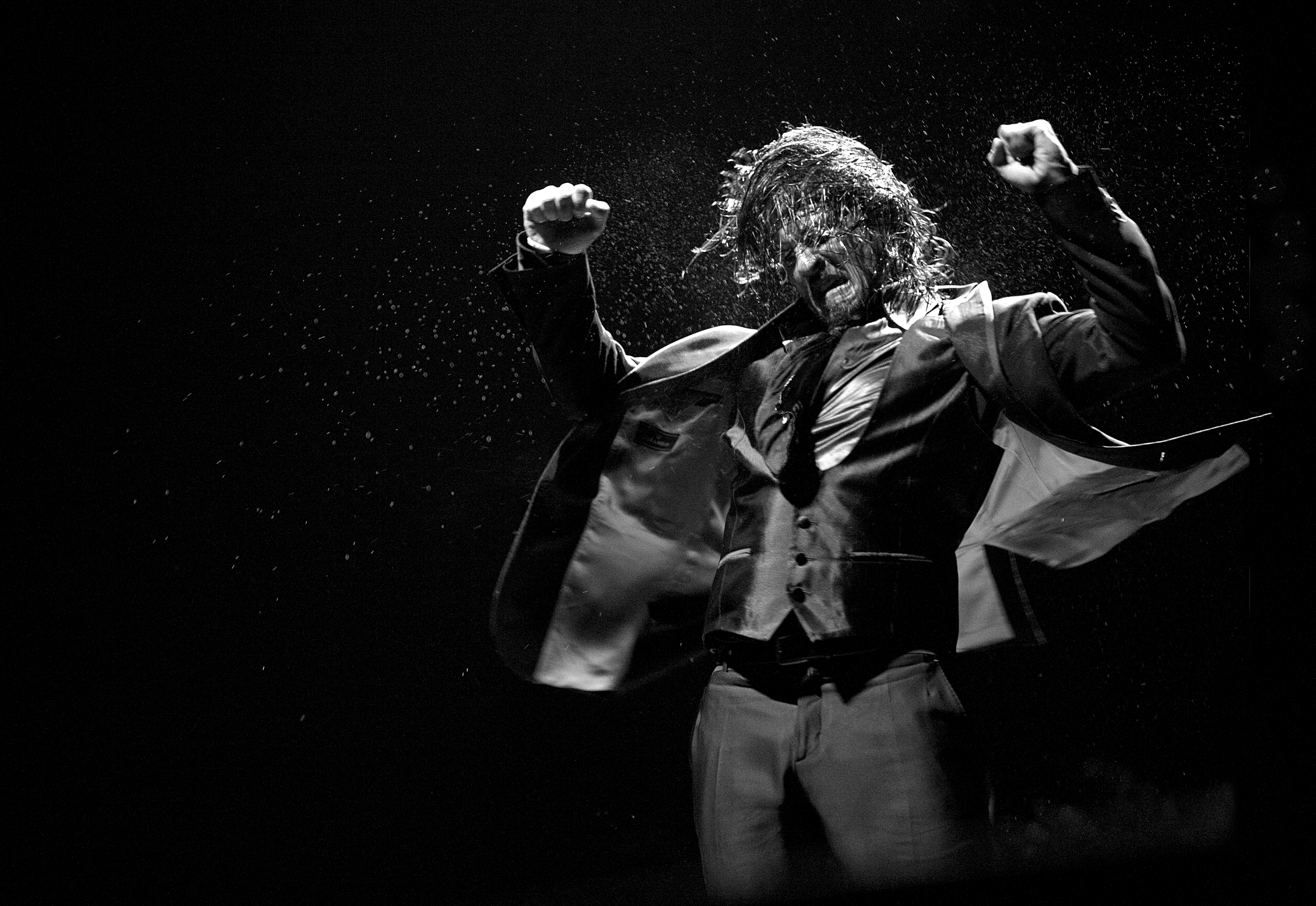 Caption: El Farru (touring with Paco de Lucía), The Fillmore Miami Beach, Miami Beach, FL. 2012
The Rhythm Foundation is an award-winning non-profit organization celebrating its 30th season of presenting outstanding international artists in South Florida. Through concerts and festivals by established and innovative artists, with many Florida and U.S. debuts, The Rhythm Foundation is considered one of the foremost presenters of world music in the country. Special focus is given to those cultures connecting to South Florida audiences – music from Latin America and the Caribbean, Africa, and Europe. As a local cultural anchor, the foundation strives to build and strengthen diverse communities through shared cultural experiences. Since 2015, The Rhythm Foundation has been managing the historic oceanfront amphitheater North Beach Bandshell for the City of Miami Beach.
Luis Olazabal
The selection of concert photographs on view highlights great musical moments presented by The Rhythm Foundation. The photographic oeuvre of Peruvian-born and Miami Beach-based photographer Luis Olazabal, is an expressive and vivid documentation of the foundation's acclaimed history of producing unforgettable live performances. His knowledge and passion for music is expressed in his intuitive approach toward the subject. These large-scale portraits, embodying the energy and spirit of the performer, make ephemeral moments concrete; each capturing an artist transported by the intense communion they share with their instruments, supporting musicians, cast and audience.
mia Galleries
Community Projects