MIA Galleries

Miami-Dade Aviation Department
Miami International Airport
Division of Fine Arts & Cultural Affairs
Presents
Origins and Destinations
Laena Wilder
Opens September 2015
North Terminal, Gates D21 – Gates D30

Laena Wilder photographed and interviewed over 200 passengers at MIA for this project, opening a
dialogue and creating a thought-provoking record. The generosity of the participants was exquisite.
No two interactions were alike. The resulting exhibition aims to shift the context in which nameless
and unfamiliar faces are often seen. Making the invisible - visible. Thinking of each person as an
individual thread, with an origin and destination, this exhibition explores the ever-changing tapestry of
humanity surrounding us at any given moment.
Laena Wilder uses photography and oral history as tools for gathering cultural information, making art
and facilitating exchange within diverse communities. She holds an undergraduate degree in fine arts
and earned a Master of Fine Arts from the University of North Carolina at Chapel Hill. Wilder's efforts
have earned her a prestigious Rockefeller Fellowship Grant and her visual research has taken her
around the world. For more information visit www.OriginsAndDestinations.com
DEMI: In the Eyes of a Child
Central Terminal Gallery
opens August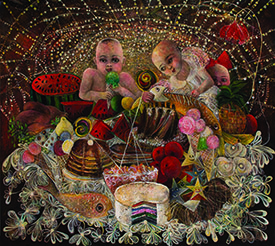 DEMI, Lemon Gelato, 2014, acrylic on canvas, 48" x 55"
Miami International Airport presents the work of DEMI, one of the most critically acclaimed Cuban-American artists working in the United States. Rooted in her past and personal experience, DEMI's work depicts a vibrant and intimate universe centered around children. Created between 2007 and 2015, the works on display are large, complex and meditative works that are bittersweet images from the inner depths of her painful youthful memories. The paintings, as well as her entire oeuvre are "about the balancing act between meaning and nothingness, good and evil, agony and joy." - Alejandro Anreus, Ph.D.
Scott Weber
The Orchid Series 2006-2011
Palladium-toned Van Dyke Photographs
opens May 2015
North Terminal, Gates D22 – D25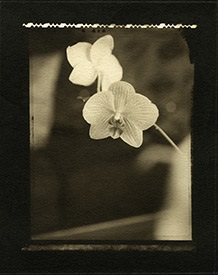 Scott Weber, Orchid #24, palladium-toned Van Dyke photograph
Process has always been a central component in my work. As the photographic world turns toward the electronic image for its speed and convenience, I have begun to reevaluate how I picture the world. The Van Dyke print is created by hand coating a sheet of fine art paper with a solution of iron and silver. The negative is placed in direct contact with the paper and exposed to sunlight. After processing the image, it is toned with palladium, a precious metal, which gives its warm color. I am attracted to the unique and authentic process of making an image by hand. This is also one of the most permanent image-making processes known because of the use of precious metals. I enjoy making photographs that speak with a soft voice, that reflect simplicity in both composition and content. - Scott Weber

Born in Los Angeles, California, Scott Weber earned both the Master of Fine Arts and the Bachelor of Fine Arts in Photography at the San Francisco Art Institute in San Francisco, California. His photographs have been collected by museums and used to illustrate documentary projects for historical purposes as well as exhibited in galleries. The use of the view camera and traditional photographic techniques helps define his personal style. Recently, he has begun to use historical processes such as platinum/palladium and Van Dyke printing and has exhibited these new images in Europe and North America. Weber is an Associate Professor of Photography in the Department of Fine Arts at Barry University in Miami Shores, Florida.
Latin America: Celebrating the Joy of Life
Terminal D
Opens April 2015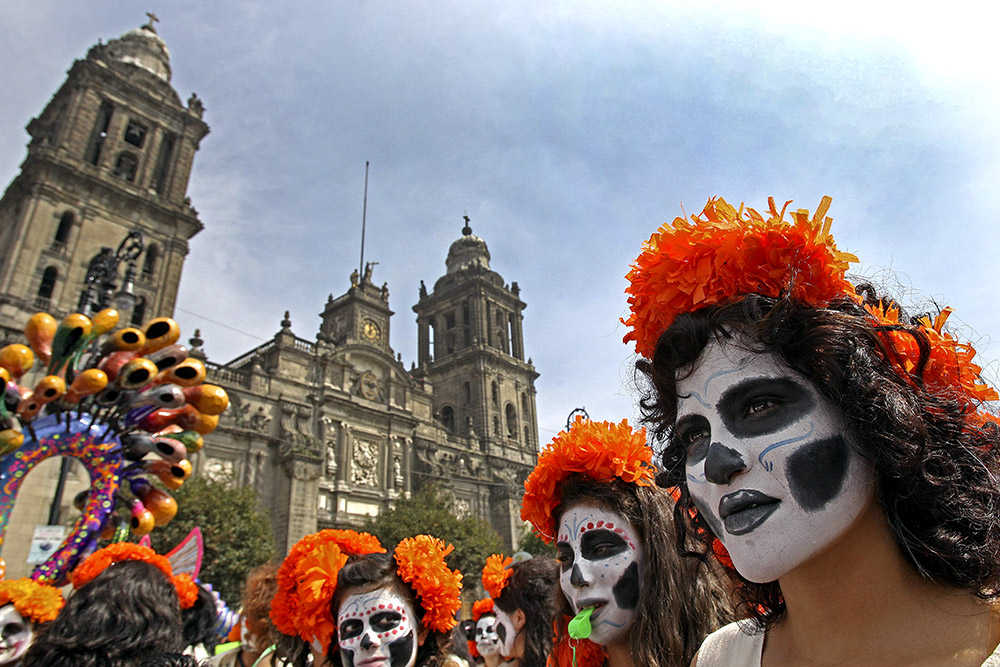 Women participate in the 5th edition of the Alebrijes Monumentales Parade, one of the events in the Day of the Dead
celebrations.
México D.F. ,México, October 20, 2012. Photo credit: Alex Cruz
Latin America celebrates and honors its history and folklore through its popular festivals or fiestas. From carnival season to the well-known Day of the Dead, each country joyfully commemorates its unique identity through an explosion of vibrant color, spirited music, all with unequaled passion and intensity. These festivals are truly an expression of the diverse and fertile mythical and historical influences that enrich Latin America.
The images featured in this exhibition, captured by EFE photographers, are examples of the daily work of thousands of journalists who provide the media with hundreds of news articles, photos and videos reflecting the everyday reality of the Americas.
As it commemorates its 75th anniversary, EFE takes pride in being the world's largest Spanishlanguage news agency and in upholding its brand which is synonymous with prestige, credibility and editorial independence.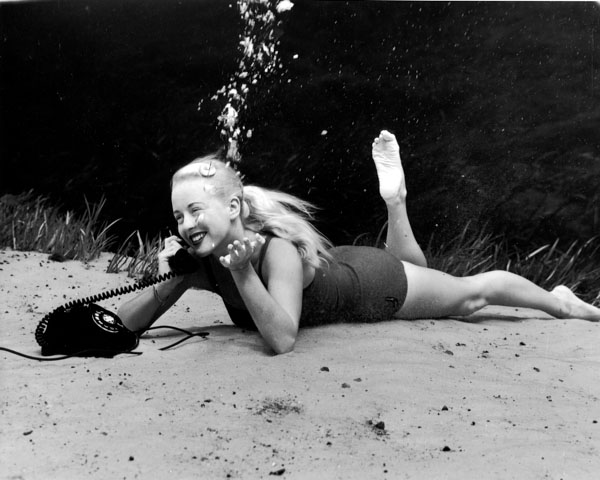 Silver Springs
Photographs by Bruce Mozert
opens August 2014
North Terminal, near Gate D31
Bruce Mozert (b. 1916) created some of the most memorable kitsch photography in the era of Florida's tourism marketing boom of the 1950s. A true innovator in underwater photography, his staged images of beautiful models in crystal-clear waters were sent out on wire services from the 1940s through the 1970s, enticing snowbound northerners to become snowbirds and experience Silver Springs as Florida's premier tourist attraction.
Photographer Gary Monroe has selected some of the best underwater photographs that capture those heady times in all of their whimsical glory. As Bruce Mozert's photography comes to light, his best work will likely be recognized as iconic images of the State of Florida's recent cultural past while becoming integrated into the broader world of photographic aesthetics.
"Rock Flower"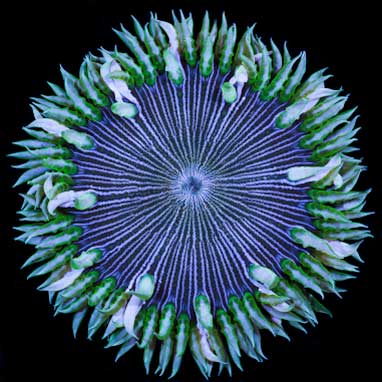 CORAL MORPHOLOGIC

Opens July 2014
North Terminal, near Gate D31

Coral Morphologic is as an art-science hybrid comprised of marine biologist Colin Foord and musician Jared McKay. Together they present coral reef organisms as both alien and archetypal life-forms through multi-media and site-specific artworks. Coral Morphologic finds itself firmly rooted in the present time and place of Miami: a city built primarily from limestone that has been recycled from thousands of years of local reef-building, and home to a diverse cultural community that mirrors its colorful aquatic ecosystems. Years of scientific observation in both the wild and the lab have led Coral Morphologic to identify metaphors applicable to both coral reef life and the urban human condition. We have concluded that there is an inseparable affinity between Miami and the reef, and seek to illuminate this relationship through our works.

The fluorescent soft corals featured in this photographic exhibit are all native to the coral reefs in and around Miami.

Learn more: www.coralmorphologic.com
Twitter/Instagram: @coralmorph

Photo courtesy Gregg Woodard
For more information on this exhibition, please contact the Miami-Dade Aviation Department's
Division of Fine Arts and Cultural Affairs at 305-876-0749.