Miami-Dade Aviation Department
Miami International Airport
Division of Fine Arts & Cultural Affairs
Presents
THE HIGHWAYMEN
Florida's Landscape Painters
featuring paintings from The Brewer Collection
Florida, from its earliest days, was seen as a tropical paradise where the brilliant sunshine and crystalline blue skies would dissolve away all of one's worldly concerns. This belief became even more prominent as a consequence of World War II during which Florida had become a big military training camp. Seemingly, a transformative vision occurred in the minds of the hundreds of thousands of soldiers who were stationed here, some of whom wore gas masks as they did calisthenics by the ocean along South Beach during the winter months. In all likelihood, when these young men and women were raising their own families a decade later, they probably imagined living in South Florida. After all, the region had long enjoyed the reputation of being an inviting and healthful place.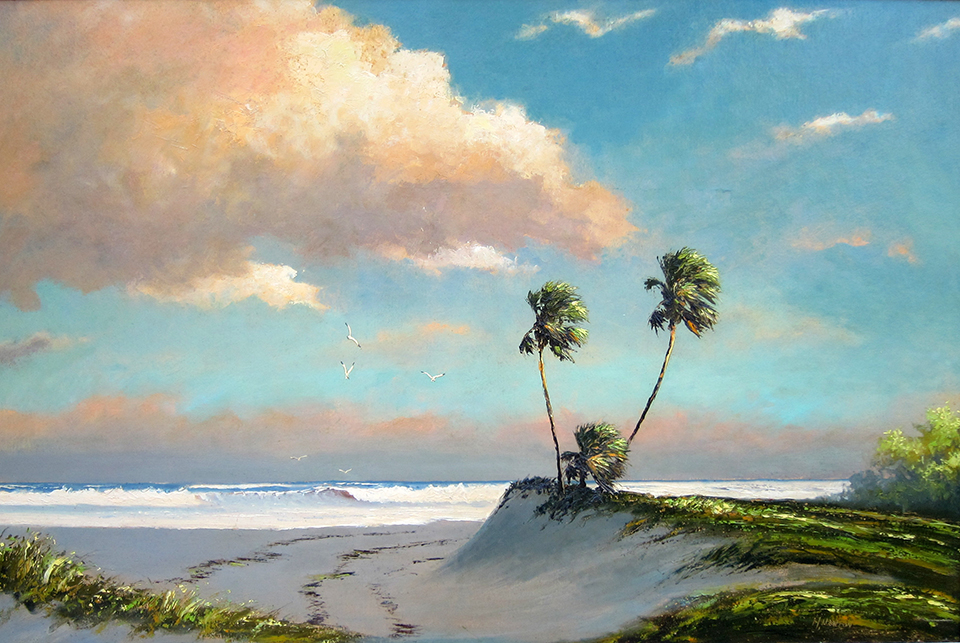 Harold Newton

When people came to Florida, they often discovered that it was not quite as advertised nor quite the way they had visualized. Reality was tinged with insects, heat and humidity, and everyone's home was not on the waterfront. However, any disillusionment that these newcomers suffered may have been assuaged by art. Many of these new Floridians bought paintings of Eden-like Florida from anonymous African-Americans. These images were so ever-present that they were taken as the real thing; they captured Florida as the "dream state." Furthermore, these paintings seemed to be everywhere-at banks, in professional offices, in retail establishments, in private homes-everywhere but in art galleries.
The names of the twenty-six artists who created these images were inconsequential. This art mattered, but more important was what these paintings meant to their viewers. The artwork of the Highwaymen was a commercially driven enterprise that was calibrated to sell. People wanted and bought the paintings, whether to soothe themselves or to congratulate themselves on the courses their lives were taking, largely because they were painted in a way that compelled people to look at them and into them. Consumers saw more than cresting waves, palm trees and everglades; they saw themselves prospering in a fecund and promising new land. These art buyers might have thought of themselves as realizing the American dream via the illusion of art, but it was the disenfranchised black artists who were actually realizing the dream, who beat the odds by painting their way out of despair..
From roughly 1960 to 1980, this loosely affiliated and nameless cohort of painters, who had taught themselves to paint and because they rushed to sell in quantity to maximize profits, eschewed the standard strategies and corrupted the formulas that professional artists capitalized on. Instead, they painted fast and as a consequence created a fresh kind of painting that left a gestural, suggestive sense of place, images that were reliant on the viewer to narrate. The consumers took stock in the paintings as they proudly hung them on their walls; in doing so, they lent their own narratives to the images, and that was empowering. And at about $25 each, framed and often times hung by the artist-salesperson, they were a bargain for picture window-onto-paradise art.

In the mid-90s, the group was dubbed "the Highwaymen" and suddenly their forgotten paintings were brought down from attics and pulled out from behind water heaters and the like, to be reconsidered. Interest grew rapidly and suddenly these paintings were no longer seen as cheap and disposable. They were valued anew financially and culturally, to become recognized as an unparalleled visual legacy of modern Florida.

GARY MONROE

ABOUT THE BREWER COLLECTION

The paintings that Gray Brewer (1908-2008) amassed are fabled in the realm of Highwaymen art. Mr. Brewer, it is believed, was the first collector of these paintings. This began by his having sought out Harold Newton, to purchase his still-wet landscapes. It was unusual for a white man to do this during the Jim Crow days of the late 1950s, but he would do this regularly, often when he was driving south from his home in Cocoa to Miami. He would turn off US1, just north of Vero Beach, and go into the African-American neighborhood of Gifford. Mr. Brewer befriended Harold Newton there, the progenitor of the Highwaymen and the one who stood out from the others because of the remarkable veracity of his imagery. Mr. Newton would at times nail a board onto an oak tree, which served as his easel, in the front of Mr. Brewer's home along the Indian River, where he would go about painting. During the years, Mr. Brewer amassed more than 100 Highwaymen paintings, and most of them were by Harold Newton.

Brian Brewer, one of Gray Brewer's two sons, inherited half of the collection in 2010, and soon thereafter asked me to manage the sale of his share of the paintings. I am honored to represent these important paintings by Harold Newton and to share them at the Miami International Airport. There's something poetic about the Highwaymen being recognized here. In the 1960s, the artists traversed Florida roads to sell their paintings in asort of flight of fancy; painting was their way to beat the odds of manual labor that seemed their destiny. Now, fifty years have passed and their artwork is again defining Florida as Paradise, their imagery transported by travelers, to many destinations. We look back nostalgically and forward with the promise that is art and the allure of Florida that is so effectively captured by these paintings.

LISA STONE
Lisa Stone Arts
GARY MONROE's work with "Outsider Art" has made him a central arbiter of non-traditional Florida art. His focus has been on the Highwaymen, a group of African-American landscape painters. His book, The Highwaymen: Florida's African-American Landscape Painters, was published in 2001; it was reviewed by the
N ew York Times and received a commentary on National Public Radio. Extraordinary Interpretations: Florida's Self-taught Artists, a who's who of contemporary folk art in the state, was published in 2003, and set the stage for appreciating this state's contemporary folk art. He has written many other seminal books about Florida art, with the most recent being Florida's American Heritage River: Images from the St. Johns Region and two other books about the Highwaymen-Harold Newton: The Original Highwayman and The Highwaymen Murals: Al Black's Concrete Dreams. In 2004, Mr. Monroe successfully nominated The Highwaymen to the Florida Artists Hall of Fame, a function of the State of Florida. He is a professor of art at Daytona State College.

LISA STONE has taken a lead role in establishing and interpreting the works of many of Florida's most compelling self-taught artists. She has brought forth some of the finest examples of established artists while promoting emerging and even unearthing lost and forgotten artists' estates. Ms. Stone loaned the intings by Harold Newton for this exhibition, all of which are from The Brewer Collection; Lisa Stone Arts represents part of the estate. Visit her website at www.lisastonearts.com.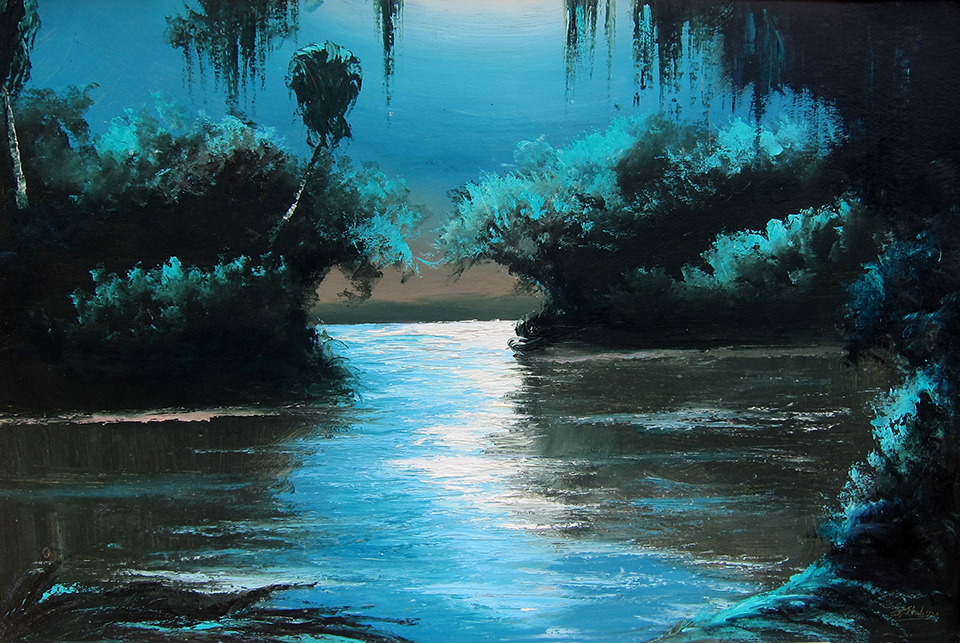 James Gibson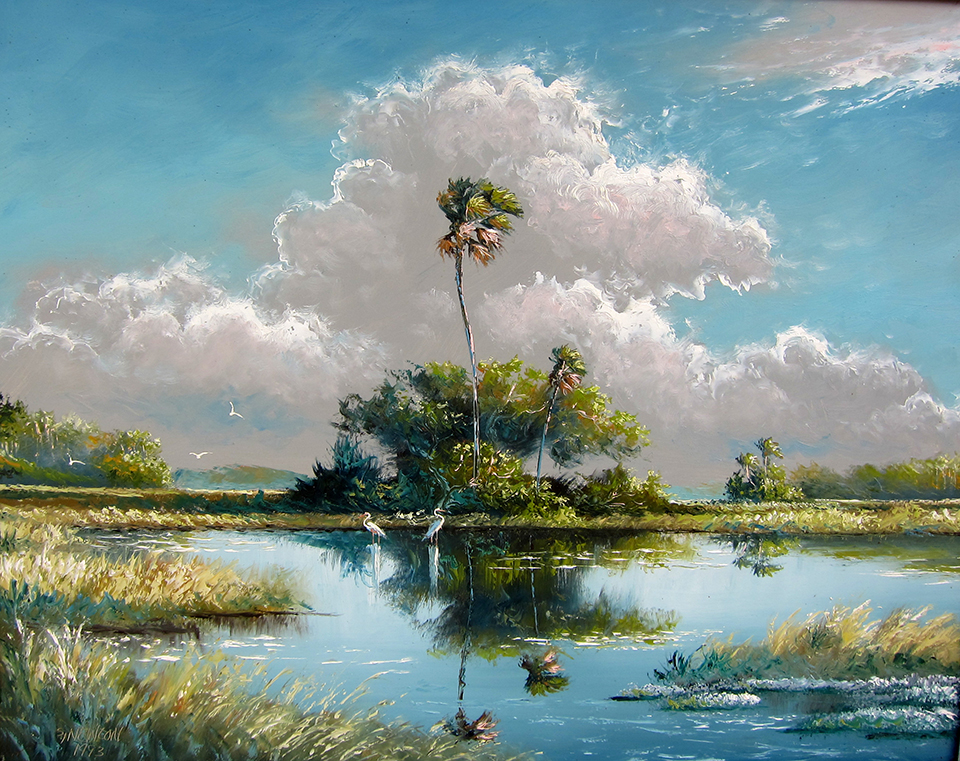 Sam Newton


Gallery
just past the Concourse E security checkpoint
For more information on this exhibition, please contact the Miami-Dade Aviation Department's
Division of Fine Arts and Cultural Affairs at 305-876-0749.
mia Galleries
It's Our World
Created by L.E.T.S. Draw students: Aaron Ashe, Dominique Byrd, Aesha Coleman, Charlotte Graham, Khyree Joseph, Kheyana Joseph and Nathaniel Perverdera.



South Terminal H, 2nd level