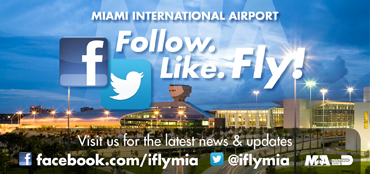 Get the latest news and updates about MIA from the airport's official social media channels
by liking MIA on

Facebook (
Facebook.com/iflymia
) and following on

Twitter (
Twitter.com/iflymia
).
The Miami-Dade Aviation Department's (MDAD) online press kit provides the public and the media a variety of tools to gain information regarding the Miami-Dade County System of Airports.
We have provided the following to assist you:
For additional information, call MDAD's Office of Communications at 305-876-7017 or send us a message.