Express Screening Programs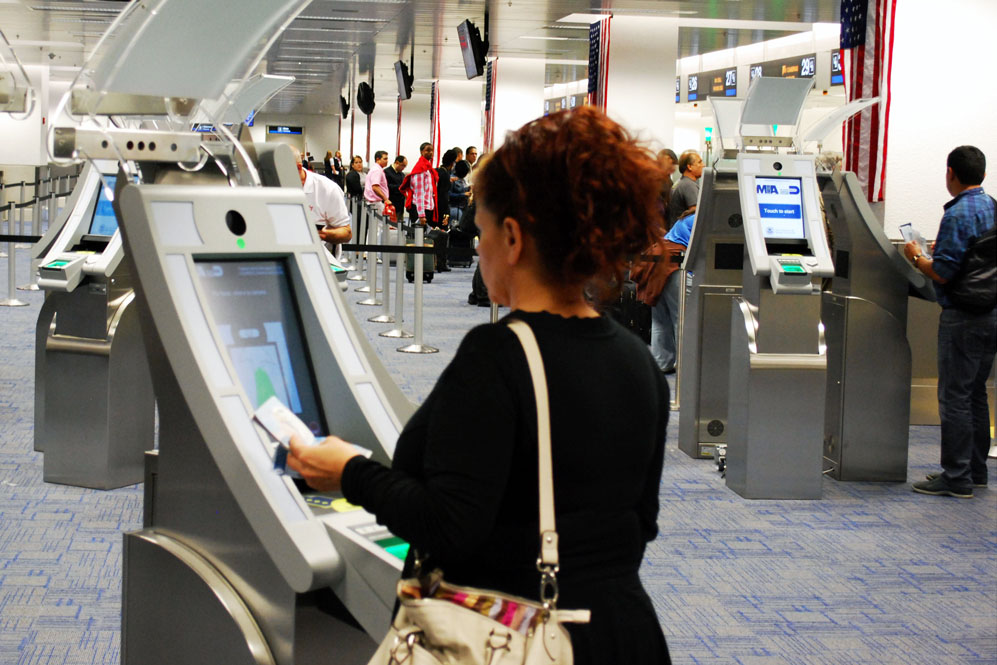 Miami International Airport is pleased to announce the launch of Passport Express – MIA's new automated passport control kiosks. MIA is one of the first airports in the U.S. to implement the new self-service technology, which allows U.S. and Canadian citizens to have their passports processed via a self-service kiosk instead of a CBP officer in less than two minutes.
Thirty-six Passport Express kiosks have been installed in MIA's North Terminal and another 12 will be installed in the airport's South Terminal in 2014. Every four kiosks do the work of approximately one CBP officer, making the 36 new kiosks in North Terminal the equivalent of adding nine new CBP officers to MIA's international arrivals area. Implementation of the kiosks also relieves CBP officers to process more non-U.S. citizens, making the arrival process more efficient for all passengers entering the country at MIA.



Home
About
How to Apply
Kiosk & Terminal Maps
Other Programs
Contact Us
FAQs
www.CBP.gov
Downloads
Fact Sheet


To Apply, click here


Miami International Airport (MIA) now offers Global Entry - a new program managed by U.S. Customs and Border Protection (CBP) which allows pre-approved, low-risk travelers expedited clearance upon arrival into the United States.

Participants will enter the United States by utilizing automated kiosks located in the Passport Control area. The average time for Global Entry processing is 40 seconds. The program targets those who leave the country at least four times per year, mainly airline personnel and business travelers. Those participating in the program benefit from being better equipped to make tight connecting flights. For step-by-step instructions on how to use the kiosks in each Global Entry airport, click here.


View CBP's video: Global Entry Public Service Announcement

This program is available to U.S. citizens and legal, permanent residents and there is a $100 fee for a five-year registration. Apply online, or visit www.globalentry.gov for more information.

TSA Pre TM is an expedited screening initiative that is expanding to airports across the country. Implementing a key component of the agency's intelligence-driven, risk-based approach to security, TSA PreTM enhances aviation security by placing more focus on pre-screening individuals who volunteer to participate to expedite the travel experience.

TSA is partnering with U.S. Customs and Border Protection (CBP) as well as U.S. air carriers as part of this initiative. Certain frequent flyers from Alaska Airlines, American Airlines, Delta Air Lines, United Airlines, US Airways and certain members of CBP's Trusted Traveler programs, including Global Entry, SENTRI, and NEXUS who are U.S. citizens are eligible to participate.

TSA PreTM is currently available for eligible passengers flying on participating airlines at these airports.

TSA Pre TM: How it Works
TSA Pre is a pre-screening initiative that makes risk assessments on passengers who voluntarily participate prior to their arrival at the airport checkpoint....Read More

PreTM : FAQs
Here are the most frequently asked questions to help you learn how to participate and receive expedited screening benefits....Read More

TSA plans to continue expanding the TSA PreTM concept to include additional airlines, as well as airports that participate in CBP's Global Entry program, once operationally ready. Read more.