(Miami-Dade County, FL) -- On Wednesday, October 27, Miami-Dade Aviation Department (MDAD) and Greater Miami Convention and Visitors Bureau (GMCVB) officials welcomed the inaugural flight from Moscow to Miami by Transaero Airlines, Russia's second largest passenger air carrier. The airline is now the only carrier offering non-stop service from Miami to Russia. The inaugural flight was welcomed to Miami-Dade County with a water cannon salute by Miami-Dade Fire Rescue and a ribbon cutting ceremony with Transaero officials.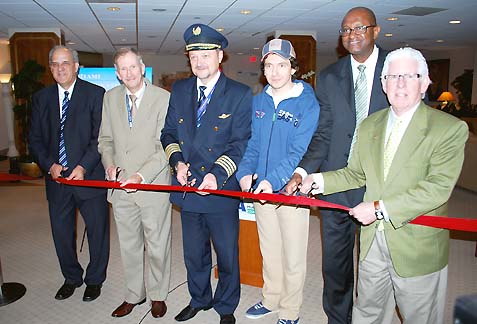 Cutting the ribbon for the inaugural flight are, from left: Kostadin Botev, Transaero Airlines Regional Manager for North America; MDAD Deputy Director of Operations Ken Pyatt; Captain Evgeny Nikitin, Transaero Airlines Director of the Boeing 767 and 777 Aircraft Division; Alexander Faifman, General Producer for Channel One in Russia; MDAD Deputy Director of Business Development and Retention Miguel Southwell; and GMCVB President and CEO Bill Talbert.
Transaero will operate Boeing 777 aircraft with a seating capacity of 306 passengers every Wednesday and Saturday. The airline offers connections from Miami to 20 major cities in the Russian Federation including St. Petersburg, Yekaterinburg and Far East destinations, as well as in the Ukraine, Kazakhstan, Uzbekistan and Israel.
About Transaero Airlines
Transaero launched its services in November 1991. Transaero's fleet consists of 55 aircraft including twelve Boeing 747s, seven Boeing 777s, twelve Boeing 767s, twenty-one Boeing 737s and three Tupolev 214s. It is the only carrier flying Boeing 777 and Boeing 747 passenger aircraft in Russia, the CIS and Eastern Europe. Transaero has the largest long-haul fleet in Russia. Transaero is IATA's member and included in IOSA register. Transaero serves more than 100 routes in Russia, Europe, Asia, Africa and North America. Transaero maintains scheduled and charter flights from hubs in Moscow, Saint Petersburg, where its registered office is located, and Yekaterinburg. Transaero was the first Russian full service airline to introduce e-ticketing in March 2007 and the first in the country to offer Internet check-in service for its passengers. For more information, go to www.transaero.com .