(Miami-Dade County, FL) -- Temporary Altars, a series of mobiles by San Francisco artist Teresa Camozzi created in the tradition of Tibetan Thangka paintings, is on display in Miami International Airport's South Terminal.
The "altars" are mobiles consisting of chiffon panels created by composing purified glass vessels on a spinning turntable. The irretrievable moments of changing light patterns are then captured through digital photography.
The Camozzi studio creates site-specific, multi-media installations offering a moment of reflection and serenity in otherwise busy or stressful public spaces. Ms. Camozzi states, "my work addresses the fragility of our environment, its beauty and its desecration. My core belief is that the beauty of nature lifts us toward a higher state of spirituality and consciousness."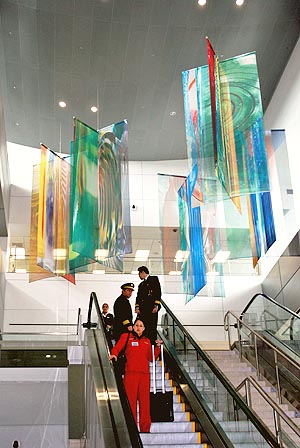 Temporary Altars is located near the Concourse J International Greeter's Lobby on the third floor of South Terminal. For more information, please contact the Division of Fine Arts and Cultural Affairs at 305-876-0749.