(Miami-Dade County, FL) -- After teaching elementary school in the Miami-Dade County Public Schools system for 45 years and earning master's and doctorate degrees in education, Miami Springs resident Carol Dunstall decided that she still wanted to do more to educate her community and became a Volunteer Ambassador at Miami International Airport. In recognition of her hundreds of volunteer hours and tireless efforts to assist travelers, Dunstall was named MIA's Volunteer Ambassador of the Year at the airport's Volunteer Ambassador Recognition Gala on Friday, April 23.
"Whether it's decorating the Volunteer Ambassador office, driving travelers to their concourse on the courtesy trolley, or using her sign language skills to connect with the hearing-impaired, volunteers like Carol are raising the bar for customer service excellence at MIA," said Dickie Davis, Miami-Dade Aviation Department (MDAD) Terminal Operations and Customer Service Division Director.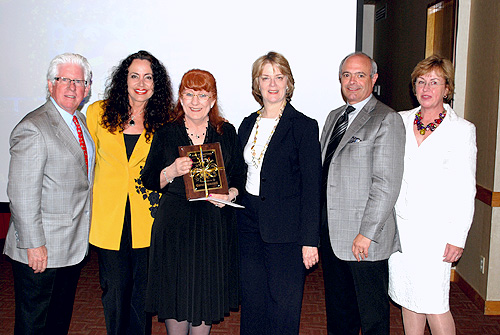 MIA Volunteer Ambassador of the Year winner Carol Dunstall (center)
receives her award from: Greater Miami Convention and Visitors Bureau President and CEO Bill Talbert;
MDAD Assistant Director of Operations Lauren Stover; MDAD Terminal Operations and Customer Service
Division Director Dickie Davis; MDAD Director José Abreu; and MDAD Customer Service Supervisor Diana Berron.
Dunstall received a plaque and two tickets from American Airlines to travel anywhere in the Continental U.S., the Caribbean, Canada or Mexico.
For more information about volunteering at MIA, please visit http://www.miami-airport.com/volunteer_program.asp.