(Miami-Dade County, FL) -- More than two months after using a defibrillator to assist a passenger going into cardiac arrest, American Eagle flight attendant Meghan Rafferty received a letter from the passenger, now thousands of miles away in Denmark, telling her that after two weeks in the hospital and a major surgery, he is grateful to be alive. For Rafferty's heroism and compassion, she was named Miami International Airport's Employee of the Month for July 2010.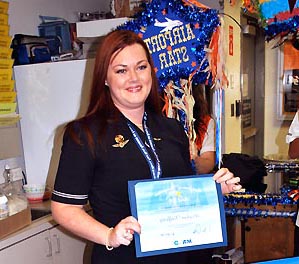 "We don't really know each other very well, but on January 29th our paths crossed each other in Miami International Airport in a way that for me turned out to be the most incredible and life-giving moment," the letter from Paul Jensen begins. "Today I look upon the gift of life in a different way - I cherish the blessings in my life - and I am allowed to do so thanks to your heroic actions on that day."
Rafferty, a resident of Mount Dora in Central Florida and an American Eagle flight attendant since 2007, is a former firefighter and paramedic and currently volunteers with the U.S. government's Disaster Medical Assistance Team, which responds to natural disasters. She was walking through Concourse D when she saw a crowd of people around Jensen on the floor, ran to get an automated external defibrillator, and helped resuscitate him.
"With more than 80,000 passengers traveling through MIA every day, providing excellent customer service depends on every airport employee doing their part and sometimes going above and beyond the call of duty," said Dickie Davis, Miami-Dade Aviation Department Terminal Operations and Customer Service Director. "Thankfully, Meghan is one of those employees who did exactly that. She is a true hero."
Rafferty received her Employee of the Month award during a surprise celebration on July 21 and is now eligible to win MIA's Employee of the Year award.