(Miami-Dade County, FL) -- Icebox Cafe, which has operated a popular full-service restaurant and bakery at Lincoln Road on South Beach since 1998, hosted a grand opening celebration on October 26 for its newest location at Miami International Airport's North Terminal near Gate D-8. Icebox Cafe owner Robert Siegmann and Miami-Dade County officials celebrated the opening of the quick-serve deli-bakery, which serves its nationally recognized cakes and desserts as well as breakfast, lunch and dinner items in an Art Deco/South Beach-style cafe.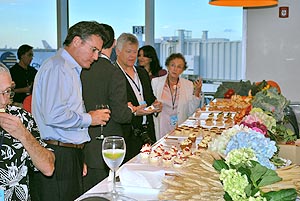 Known for its fresh healthy food options at affordable prices and its commitment to quality customer service, Icebox Cafe also provides the same shipping service for its cakes at MIA that it currently offers at its South Beach location. It was the only restaurant in Florida featured on The Oprah Winfrey Show segment, "The Best Cakes in America," and has also been recognized by The New York Times, The Food Network's Rachel Ray and Food and Wine Magazine.
Icebox Cafe is one of 30 restaurants and stores opening or re-opening in Concourse D this year. Other North Terminal concessions opening this year and in 2011 include: Islander Bar and Grill; Beaudevin; Newslink Explorer; Island Chicken Grill; Wendy's; Mojito Bar/Lorena Garcia; Juan Valdez Café; Bookmark bookstore and cafe; The Counter; Kuva; Newslink; Giggles; It's Sugar; Privé Gourmet Market; Ocean Drive News; Essentials; Starbucks/Tropical News; UPS Store; Solstice; Etcetera; Peace-Love-Miami; Shula's; TGI Friday's; The Shoppes of Ocean Drive; and shops developed by Duty Free Americas for Mont Blanc, Coach, Thomas Pink and Emporio Armani.