(Miami-Dade County, FL) -- On November 1, Miami-Dade Aviation Department officials welcomed the inaugural flight from Berlin to Miami International Airport by airberlin, the fifth-largest European carrier. The flights to and from Berlin will operate on Mondays and Thursdays utilizing an Airbus A330-200 with 276 seats in economy class and 24 in business class. Next May, airberlin plans to offer a third weekly connection from Berlin to MIA every Tuesday, Thursday and Saturday.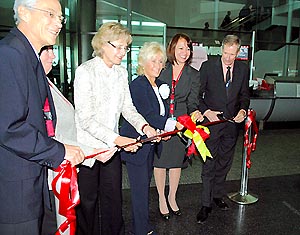 Cutting the ribbon for the first flight are: Marcello Korner, Air Berlin Deputy Station Manager, Miami; Maria Portuondo, Air Berlin Area Manager, North America; Consul General of the Federal Republic of Germany, Eva Alexandra Countess Kendeffy; Kristina M. Harmon, Air Berlin Sales Manager, Southeast USA; Nelly Castaneda, Air Berlin Regional Station Manager for Miami and Fort Myers; and Ken Pyatt, MDAD Deputy Director of Operations.
The Berlin route is the seventh new international route launched at MIA this year. On October 27, MIA welcomed the inaugural flight from Moscow to Miami by Transaero Airlines, Russia's second largest passenger air carrier. The airline is now the only carrier offering a non-stop service from Miami to Russia. Additionally, on October 4, LAN Airlines' affiliate LAN Ecuador began offering four nonstop flights per week on Monday, Friday, Saturday and Sunday between MIA and Guayaquil, Ecuador. The other new international routes that began service at MIA in 2010 were: Monterrey, Mexico by Aeromexico; Munich, Germany by Lufthansa; Milan Malpensa, Italy by Alitalia; and Cayman Brac, Cayman Islands by Cayman Airways. Through September, MIA has served 26,661,537 passengers this year, up 4.5 percent from 2009.
Also in October, the Airline and Airport News & Analysis website www.anna.aero awarded MIA with the anna.aero US ANNIE Prize 2010 "Airport With The Most New International Routes." In total, MIA had seven route launches to new non-U.S. destinations in the 12-month period ending September 30, 2010. In addition to the Monterrey, Munich, Milan and Cayman Brac routes in 2010, anna.aero recognized MIA for the following new destinations commenced by American Airlines in the last three months of 2009: George Town, Bahamas; North Eleuthera, Bahamas; and Montevideo, Uruguay. Anna.aero analyzed Official Airline Guide (OAG) schedule data for over 670 airports and almost 100 airlines operating in the U.S. market to award the winners.
Three new international service announcements for 2011 were made in October as well. SkyTeam alliance member KLM Airlines announced last week that it will commence four weekly flights from Amsterdam to MIA on March 27, 2011. Iberia announced that starting on March 28, 2011, the airline will offer direct flights from Barcelona to Miami with three weekly flights. In the first year of operation, average seat occupancy on the new flight is expected to reach 80 percent for a projected total of more than 50,000 passengers in 2011. Lastly, Dutch airline ArkeFly announced that on June 24, 2011, it will begin providing every Monday and Friday non-stop scheduled service from Amsterdam to MIA, using Boeing 767-300ER aircraft. The first stop will be Orlando-Sanford International Airport (SFB), where all passengers will clear federal inspection procedures, continue to MIA and then return non-stop to Amsterdam.