(Miami-Dade County, FL) -- "What do you wear that makes you feel powerful?" is the question posed by Trappings: Miami, a collection of photographs and interviews featuring 10 of the 600 women who participated in a project that gathered 76 interview sessions in 15 U.S. states.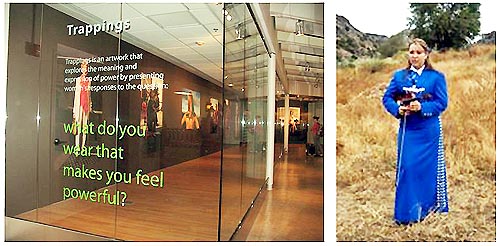 Erika Soveranes
Santa Fe, New Mexico
To listen to the interview, dial 305-869-4686
"Power is like having the will to do something that you know you might not be able to do, but you still go ahead and try it anyway and you succeed at it. The first time I played my first musical instrument, the flute, I didn't really know how to play it. I had never played an instrument before. I was scared. I just tried it and I found out that I really loved it, and so that kind of made me feel powerful."
Trappings: Miami, which opened on October 22 at Miami International Airport's Central Terminal Gallery and will be on display until February 2011, includes an interactive component that asks women who visit the gallery to respond to the question: "what do you wear that makes you feel powerful?" Visitors to MIA are encouraged to ask themselves, or a friend, the project question and participate by emailing their response and photo to MIA@twogirlsworking.com. The responses are presented in the exhibition as a video at the front of the gallery from a live feed from the artists' website. To view the responses so far or get more information about the exhibition, go to .
Two Girls Working is the collaboration of artists Tiffany Ludwig and Renee Piechocki. They launched their project Trappings in 2001 when they began a seven-year journey to interview more than 600 women in 15 states. The national traveling exhibition Trappings: Stories of Women, Power and Clothing has been presented at museums and galleries including the Regina Gouger Miller Gallery at Carnegie Mellon University (PA), Bronx River Arts Center (NY), and 516 ARTS (NM).
They have developed public art installations for the Nashville International Airport (TN), the public buses and streetscape in downtown Albuquerque (NM), and at the Meinian Health Center (Shanghai, China). Their installation at the Midwife Center for Birth and Women's Health (PA) was selected by the Public Art Network of Americans for the Arts for their 2008 Year In Review, a survey of the year's most successful and innovative public art projects. Their projects have received funding from various sources including the National Endowment for the Arts, The Heinz Endowments, The Pittsburgh Foundation, and the Mid Atlantic Arts Foundation's Artists and Communities grant program.
MIA's Central Terminal Gallery is located in Concourse E just past the security checkpoint. For more information, contact the Division of Fine Arts and Cultural Affairs at 305-876-0749 or go to .