(Miami-Dade County, FL) -- On Wednesday, December 1, Miami-Dade Aviation Department (MDAD) officials welcomed TACA PERU to Miami International Airport with the beginning of non-stop passenger service by the carrier between Miami and Lima, Peru. MDAD and TACA PERU officials and Deputy Consul General of Peru Daniel Mori Muente celebrated the new service with a ribbon cutting ceremony that was followed by a water cannon salute by Miami-Dade Fire Rescue for the inaugural flight to Lima.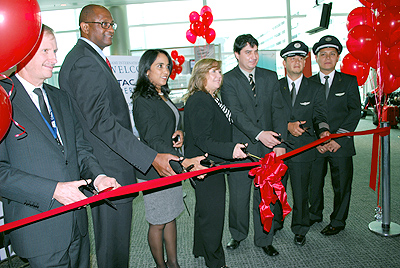 Cutting the ribbon for TACA PERU's inaugural flight at MIA are: Ken Pyatt, MDAD Deputy Director of Operations; Miguel Southwell, MDAD Deputy Director of Business Development and Retention; Delia Grullon, TACA PERU Station Manager; Evelyn M. de la Vega, TACA Airlines Regional Sales Manager, SE, NC; Deputy Consul General of Peru Daniel Mori Muente; and TACA PERU Captain Jorge Best and First Officer Jeffry W. Garrido.
TACA PERU will operate one daily roundtrip flight utilizing an Airbus A320 aircraft with seating capacity for 150 passengers. The airline also offers connections to other destinations such as Buenos Aires and Mendoza (Argentina), Santiago de Chile and Antofagasta (Chile), Asuncion (Paraguay), and Porto Alegre, Rio de Janeiro and Sao Paulo (Brazil).
In 2009, TACA received three Skytrax World Airline awards for "Best Airline in Central America, Mexico and the Caribbean," "Best Crew in Central America, Mexico and the Caribbean'' and "Best Regional Airline in Central America, Mexico and the Caribbean."
Lima-based TACA PERU started service in 1999 and is the newest airline within the TACA Group, which serves a total of 50 destinations around the world. For more information, go to www.taca.com