(Miami-Dade County, FL) -- More than two months after using a defibrillator to assist a passenger going into cardiac arrest, American Eagle flight attendant Meghan Rafferty received a letter from the passenger, now thousands of miles away in Denmark, telling her that after two weeks in the hospital and a major surgery, she is responsible for saving his life. For Rafferty's heroism and compassion, she was named Miami International Airport's 2010 Employee of the Year at the Miami-Dade Aviation Department's annual Reward and Recognition Gala on December 16.
Rafferty also won Employee of the Month in April and was recognized with the other monthly winners from 2010 at the Gala. As Employee of the Year, Rafferty won a weekend stay at a luxury local hotel and gift certificates for spa treatments and dining at some of Miami-Dade County's finest restaurants during Miami Spa Month and Miami Spice Month in August, courtesy of the Greater Miami Convention and Visitors Bureau.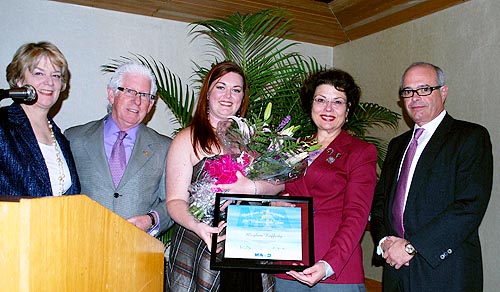 Honoring MIA Employee of the Year Meghan Rafferty (center) were: Miami-Dade Aviation Department Terminal Operations and Customer Service Director Dickie K. Davis; Greater Miami Convention and Visitors Bureau President and CEO Bill Talbert; Assistant County Manager Ysela Llort; and Miami-Dade Aviation Department Director José Abreu.
Jon Rosenthal, Honorary Consul General of Denmark in Miami, attended the recognition ceremony to thank Rafferty and share a letter from the passenger, Paul Ankjær, which included: "I consider Miami International Airport to be lucky to have employees like you, who show genuine dedication in their job. You cannot take this kind of commitment for granted, and once again I must point out the enormous impact your heroic actions have had on me and my whole family."
Rafferty, an American Eagle Flight Attendant since 2007, is also a former firefighter and paramedic who volunteers with the U.S. government's Medical Assistance Team, which responds to natural disasters. She was walking through Concourse D when she saw a crowd of people around Ankjær on the ground and then ran to get an automated external defibrillator to resuscitate him. She now wears a heart-shaped pendant from Ankjær around her neck that reads "TAK," which means "thank you" in Danish.
"With more than 80,000 passengers traveling through MIA every day, providing excellent customer service depends on every airport employee doing their part and going above and beyond the call of duty," said Dickie K. Davis, Miami-Dade Aviation Department Terminal Operations and Customer Service Division Director. "Thankfully, Meghan is one of those employees who did exactly that. She is a true hero."