(Miami-Dade County, FL) -- The inaugural flight by low-cost carrier Interjet from Mexico City to Miami International Airport on February 23 was welcomed by officials from the Miami-Dade Aviation Department, the Greater Miami Convention and Visitors Bureau and the airline, with other local dignitaries and celebrities also in attendance. The inaugural flight to MIA also received a water cannon salute from Miami-Dade Fire Rescue. The six-year-old airline now provides daily non-stop service between Mexico City and MIA with Airbus A320 aircraft that seats 150 passengers.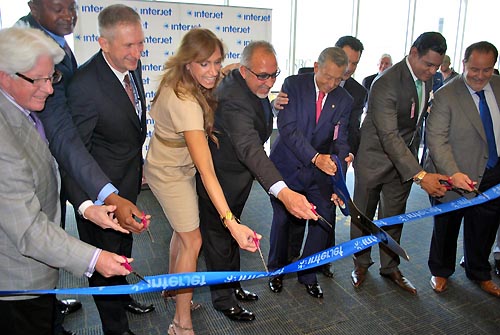 Cutting the ribbon at the inaugural ceremony for Interjet service at MIA were, from left: William D. Talbert, Greater Miami Convention and Visitors Bureau President and CEO; Miguel Southwell, Miami-Dade Aviation Department (MDAD) Deputy Director; Ken Pyatt, MDAD Deputy Director; Lily Estefan, actress, El Gordo y La Flaca TV show; Emilio Estefan, producer and actor; Miguel Aleman Velasco, Chairman of the Board of Directors, Interjet; Miguel Aleman Magnani, Executive Chairman, Interjet; Sammy Sosa, former Major League Baseball player; Raúl de Molina, actor, El Gordo y La Flaca TV show. Click here to view Hi-Res images.
Those in attendance had the opportunity to tour the plane and view its unique features, which include: a private restroom for women; a "nose camera" in every seat that enables passengers to experience the pilot's live view from the cockpit during departure and landing; and, according to Interjet, more legroom than any other Mexican airline. For more information, go to www.interjet.com .