"Airport 24/7: Miami" grants an all-access pass inside the intense and dramatic world of Miami International Airport (MIA), considered a Category X airport and a prime target for a terrorist attack. With nearly 40 million passengers a year, MIA is an airport the size of a small city. As the last line of defense for our health and safety, the series features nine MIA employees whose job it is to keep one of America's largest airports running around the clock: Deputy Director Ken Pyatt; Director of Security Lauren Stover; Director of Terminal Operations Dickie Davis; Senior Terminal Operations Agents Heidi Anthony and Tony "The Mayor" Cooper; Operations Control Room Agent Darius Bradshaw; Terminal Security Agent Ericka Middleton; Miami-Dade Police Officer Chris "Stretch" Rutledge and Ramp Services Manager Albert Cordeschi. This season goes deeper behind the scenes to reveal the inner workings and happenings at MIA, whether it's intercepting drug smugglers, fighting terrorism, securing an Air Force One landing, handling medical emergencies or dealing with sting operations and aircraft malfunctions.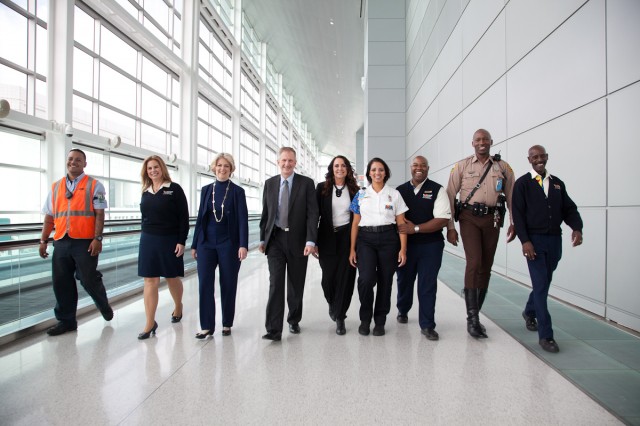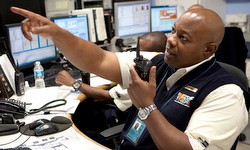 Left to right: The cast of "Airport 24/7: Miami" and Operations Control Room Agent Darius Bradshaw receives word of a deadly bus accident.

SNEAK-PEEK VIDEOS:
Episode 1:
http://www.youtube.com/watch?v=zFySoz6d5c8
http://www.youtube.com/watch?v=by8krcxQ2YQ
Episode 2:
http://www.youtube.com/watch?v=XQCdty2qQms&feature=youtu.be
SCREEN FULL EPISODE HERE: http://www.travelchannel.com/PressScreeningRoom
ADDITIONAL SHOW AND TRAVEL-RELATED CONTENT: http://www.TravelChannel.com

In the premiere episode (airing at 9:00 p.m. ET/PT), the MIA team springs into action as a plane arriving from Argentina collides with a parked plane destined for France. The danger of dangling debris is just one of the major concerns – since the fuel is stored in a plane's wings, there's potential for an enormous fuel spill and fire. With roughly 350 passengers on board each plane, Heidi Anthony from Terminal Operations has her hands full trying to control angry passengers as they wait to rebook their flights to Paris. At Passport Control, the Customs and Border Protection's Beagle Brigade sniffs out international baggage for potentially harmful larvae and pests that can carry infestations and viruses into the country. Meanwhile, an officer uncovers suspicious tubes on a passenger and finds black finches – pricey birds that are prominent in underground fighting rings. The chaos continues as Heidi Anthony tries to help a Russian family facing particularly tough circumstances get home to Europe.

In the second episode of the season opener (airing at 9:30 p.m. ET/PT), it's an emotional rollercoaster for the staff at MIA as they are faced with a fatal bus crash, a drug bust involving thousands of pounds of narcotics and a passenger with a medical issue who must be re-routed to save her vision. MIA has its share of traffic accidents, but this bus crash is one of the worst the airport has ever seen. Miami-Dade Fire Rescue personnel work feverishly to help injured passengers. In light of the events, the MIA team brings their K-9 Ambassador Casey – a golden retriever – to help ease the stress of passengers, and it's not long before she senses a passenger in need. Michelle had been on a trip in Ecuador when she suddenly lost part of her vision. She needs an emergency flight change to save her vision, and Director of Terminal Operations Dickie Davis intervenes in an attempt to get the airline to make a difficult last-minute ticket change. Meanwhile, at the Foreign Mail Center, Customs and Border Protection intercepts a huge shipment of the illegal narcotic Khat, worth over tens of thousands of dollars, and transports it to a secret location to be burned.