Two days after the nation observed Veterans Day, Miami-Dade County Mayor Carlos A. Gimenez, Miami-Dade County Commissioner Jose "Pepe" Diaz, Miami-Dade Aviation Director Emilio T. González, private donors and members of the local military community gathered to celebrate Miami International Airport's newly renovated Military Hospitality Lounge. The refurbished lounge is open seven days a week from 9:00 a.m. to 9:00 p.m. in MIA's Central Terminal.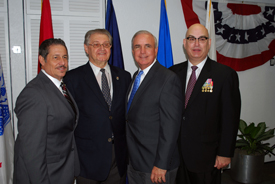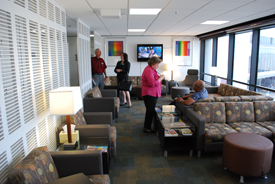 At left, Commissioner Jose "Pepe" Diaz; Armed Forces Service Center Executive Director Keith Whitbeck; Mayor Carlos A. Gimenez; and Aviation Director Emilio T. González.
At right, guests enjoy the renovated lounge.
To download hi-res versions of these photos, go to http://www.miami-airport.com/photos.asp
"Our men and women in uniform provide the highest form of service to our nation, so providing this improved facility to enhance their travel experience is the least we can do to express our gratitude for their service and sacrifice," said Mayor Gimenez.
The 3,500-square-foot facility features a main lounge, two private rest areas, a children's play area and computers that are equipped for servicemen and women to access the U.S. Military database with their military I.D. Complimentary refreshments and computer, internet and telephone service are also offered for veterans and active duty military members and their families with valid military I.D.
Since the lounge initially opened in 2008, it has served an average of 1,200 guests per month. Operating costs are funded entirely by private donations and staffing is provided by volunteers with the non-profit organization Armed Forces Service Center, Inc. (AFSC). The lounge area, located on the Second Level of Central Terminal to the right of the Concourse E security checkpoint, is provided free of charge to the AFSC by the Miami-Dade Aviation Department.
"Our nation and our community owe a debt of gratitude to our brave military members," said Commissioner Diaz, a retired U.S. Marine and Chairman of the County's Military Affairs Board. "The newly renovated lounge at MIA is a great way to show our appreciation, and I thank all of the generous donors who continue to keep it operational."
"This is yet another first rate amenity that MIA provides to our customers – in this case, to our American servicemen and women and their families – so that they can recharge during their travels," said Director González, a retired U.S. Army Colonel. "This is our County's way of thanking our servicemen and women every single day for their sacrifices."
For more information about the lounge or to make a donation, please visit http://www.miami-airport.com/armed_forces.asp.