On April 30, Miami-Dade Aviation Department Landside Officer Peter Ferrer overheard a family's frustration about missing their connecting flight because of bad weather and wanted to help somehow. The family included two female cousins, one of whom was seven months pregnant and traveling with a four-year-old son. They booked a hotel room where they could spend the night but after a series of unfortunate circumstances, they did not have a way to pay for the cab fare to the hotel. Ferrer overheard their dilemma and insisted on paying their fare despite the cousins' refusal to accept it. According to their thank you letter less than a month later, "This gentleman was truly our savior that day and there aren't enough words to say how grateful we are."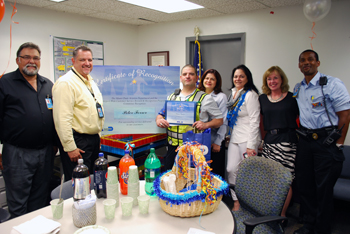 Miami-Dade Aviation Department supervisors congratulate Landside Officer Peter Ferrer,
MIA's May Employee of the Month.
To download hi-res photos, go to http://www.miami-airport.com/photos.asp.
Ferrer's generosity was recognized on June 28 when he was named MIA's Employee of the Month for the month of May. Members of MIA's Rewards and Recognition Committee surprised Ferrer with a celebration at his workplace that included a cake and a certificate of appreciation. He will also be recognized at the airport's monthly meeting of airline station managers and airport executives. Winning the Employee of the Month award makes Ferrer eligible for MIA's Employee of the Year award, which includes a vacation getaway. Ferrer is no stranger to outstanding acts of customer service and receives compliments from passengers on a regular basis. In January 2012, a taxi driver handed him a bag containing more than $4 million worth of money and jewelry left in the taxi by a passenger, and Ferrer was able to return the bag intact to the owner.