Miami-Dade County Mayor Carlos A. Gimenez, with the support of Miami-Dade Aviation Director Emilio T. González, has asked U.S. Attorney General Eric H. Holder, Jr. to reconsider the U.S. Department of Justice's lawsuit to block the merger of American Airlines, Miami International Airport's hub carrier, with US Airways.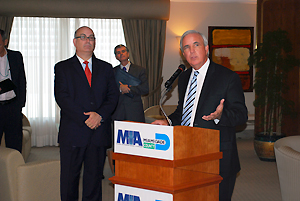 Mayor Gimenez and Director González discuss the Justice Department's lawsuit
against the American Airlines merger at a press conference on August 21 (click for hi-res image).
"This litigation is anti-competitive, as it locks in structural advantages Delta and United gained through their respective mergers while depriving American of the benefits of consolidated operations and networks that have accrued, and continue to accrue, to Delta and United," said Mayor Gimenez in the letter sent to Attorney General Holder on August 20. "Worse, these two carriers both operate hubs in Atlanta and Houston, which directly compete with MIA for international traffic. By denying American Airlines this pathway, the Federal Government will be exposing the jobs and incomes of AA employees to significant risk – not just in Miami-Dade County, but across the country – at a time when our domestic economy can sorely afford it. In light of these factors, and on behalf of the tens of thousands of local residents and their families who depend on American Airlines for their livelihoods, I ask you to reconsider this unexpected action."
American Airlines, when combined with regional partner American Eagle, serves nearly 70 percent of the passengers at MIA with more than 300 daily departures. With American's Latin American and Caribbean hub based in Miami, MIA provides more flights to that region than any other U.S. airport and is the second busiest U.S. airport for international passengers overall.
"The financial health of MIA is tied directly to the success of our hub carrier," said Director González. "Industry analysts widely agree American would more than likely have to emerge from bankruptcy as a smaller airline if not given the chance to merge. That would be bad news for MIA, Miami-Dade County, and many cities across the country. American and US Airways also have minimal route overlap, which dispels the Justice Department's allegation that the merger would be anti-competitive. To deny American Airlines the right to merge when the top two U.S. carriers had that opportunity is simply unfair."

Attachment: Miami-Dade County Mayor Carlos A. Gimenez's letter to U.S. Attorney General Eric H. Holder.