Miami-Dade Aviation Director Emilio T. González met with a cross-section of high-level federal officials this week to discuss issues impacting Miami International Airport and strengthen ties with partner agencies critical to the success of the County's aviation system.
On Monday, Director González led U.S. Representative Ileana Ros-Lehtinen on a tour of MIA – which now falls almost entirely within her newly re-drawn congressional district – and then joined her for a meeting with members of the local air cargo industry. Tom McDaniels, Chief of Staff to Transportation Security Administration (TSA) Administrator John Pistole, also visited MIA on Wednesday to meet Director González for the first time.
The following day, Winsome Lenfert, Airports Division Manager for the Federal Aviation Administration's eight-state Southern Region, traveled from Atlanta to meet with the Director, along with Bart Vernace, Manager of the FAA's Orlando Airports District Office. The group met with staff from the Aviation Department's Planning Division and then toured Opa-locka Executive Airport and Kendall-Tamiami Executive Airport, two of the County's general aviation airports. Lenfert is responsible for the planning and grant funding of more than 500 airports in the region, which includes Puerto Rico and the U.S. Virgin Islands.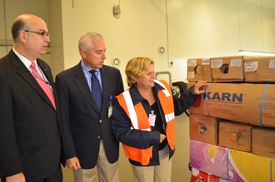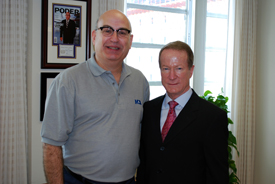 Left: Director González, LATAM Airlines Group General Counsel Juan Carlos Mencio and Congresswoman Ros-Lehtinen tour LATAM's cargo facility. Right: Director González and U.S. Ambassador William R. Brownfield. To download hi-res photos, go to http://www.miami-airport.com/photos.asp.
Director González' series of meetings concluded on Thursday afternoon when U.S. Ambassador William R. Brownfield, who serves as Assistant Secretary for International Narcotics and Law Enforcement Affairs (INL) at the U.S. State Department, visited MIA to discuss a future partnership with MIA to improve the safety and security of trade and commerce between the U.S. and the nearby Caribbean Basin.
"As the busiest U.S. airport for international flights and freight, MIA is a precious asset for not only Miami-Dade County, but the state of Florida and the nation," said Director González, who previously served as Director of U.S. Citizenship and Immigration Services and Director for Western Hemisphere Affairs at the National Security Council for the White House. "I'm grateful to have met with so many of our federal partners this week and I look forward to further strengthening our ties with various levels of government to benefit the County, MIA and the millions of customers we serve."