Miami-Dade Aviation Department (MDAD) employee and Kendall resident Manuel Tamara, an Auxiliary Airport Specialist at the Dade-Collier Training and Transition Airport (TNT), was named Miami International Airport's July Employee of the Month for assisting a pilot who had to make an emergency landing at the airport, which is located near the Miami-Dade/Collier County border in the middle of the Everglades. TNT Airport is one of Miami-Dade County's four general aviation airports that serve as reliever airports for MIA.
After pilot Cain Smith departed from Kendall-Tamiami Executive Airport on May 10 in his Cessna 172 aircraft en route to Orlando, he had to make an emergency landing at TNT Airport because of mechanical problems and bad weather. After Smith made numerous unsuccessful attempts to find a ride to Miami and the airport was about to close for the day, Tamara offered to take Smith on his motorcycle 30 miles to the closest hotel and also shared his dinner with him.
"Manny was kind and compassionate and took me a long distance on his motorcycle late at night," said Smith. "He is a true asset to your team and you are extremely lucky to have him."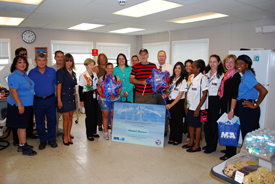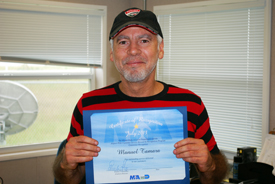 To download a hi-res version of this photo, go to http://www.miami-airport.com/photos.asp.
"Manny's actions exemplify what customer service is all about – putting the customer's needs first," said Dickie Davis, MDAD Terminal Operations and Customer Service Division Director. "For that reason, we are extremely proud to name him our Employee of the Month."
Members of MIA's Rewards and Recognition Committee traveled to TNT Airport on September 5 to join Tamara and his co-workers for a surprise celebration at his workplace, where he was presented with a certificate of appreciation. Winning Employee of the Month also makes Tamara eligible for MIA's Employee of the Year award, which includes a vacation getaway.