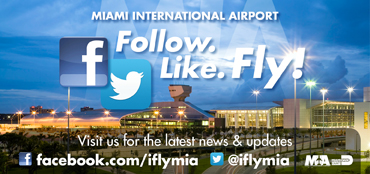 Get the latest news and updates about MIA from the airport's official social media channels
by liking MIA on

Facebook (Facebook.com/iflymia) and following on

Twitter (Twitter.com/iflymia).
All photos credited to Miami-Dade Aviation Department.
TURKISH AIRLINES' INAUGURAL ISTANBUL-MIAMI FLIGHT HEADLINES HUGE DAY OF NEW AIR SERVICE AT MIA


Enlarge - Hi-Res

MIA NAMES BRITISH AIRWAYS DUTY MANAGER SANDRA MARTIN EMPLOYEE OF THE YEAR

MAKING AN ENTRANCE: AIR FRANCE LAUNCHES A380 SUPERJUMBO SERVICE AT MIA

MIA INAUGURATES LOCAL ARTIST NINA SUREL'S SISTERHOOD EXHIBITION

CLEARED FOR TAKEOFF: MIA LAUNCHES NEW MOBILE APP

NEW CARGO CARRIER WESTERN GLOBAL AIRLINES LAUNCHES INTERNATIONAL SERVICE FROM MIA

MIA MUSICAL HAPPENINGS PROGRAM CLOSES 2014 SCHEDULE WITH LATIN BIG BAND PERFORMANCE


TSA MAINTENANCE TECHNICIAN WINS MIA EMPLOYEE OF THE MONTH FOR REUNITING LOST CHILD WITH PARENTS

MIAMI-DADE AVIATION DEPARTMENT HOSTS INAUGURAL LEADERSHIP SUMMIT
MIA HOSTS SENATOR MARCO RUBIO, COUNTY LEADERS FOR BRIEFING ON AIRPORT'S EBOLA RESPONSE PLAN

MIA OPENS NEW EXHIBITION SPACE FEATURING SHORT FILMS, VIDEO ARTWORK
MIA BAG ATTENDANT'S GENEROSITY EARNS HIM EMPLOYEE OF THE MONTH

STATEMENT FROM AVIATION DIRECTOR EMILIO T. GONZÁLEZ
RE: NEW AMERICAN AIRLINES ROUTES AT MIA

MIA LAUNCHES VIRTUAL ASSISTANTS TO ENHANCE THE CUSTOMER EXPERIENCE

MIA PARTNERS WITH TSA TO OPEN NEWEST TSA PRE APPLICATION CENTER

MIA SURPRISES PASSENGERS WITH ENCORE SAMBA PERFORMANCE
OPA-LOCKA EXECUTIVE AIRPORT PROJECT EARNS NATIONAL AWARD FOR OUTSTANDING DESIGN AND CONSTRUCTION
MIA DIRECTOR HOSTS FAA EXECUTIVE EDUARDO ANGELES AT MIA
MIA takes Travelers back in time with vintage underwater photographs
at Silver Springs


LAN AIRLINES INAUGURATES 787 DREAMLINER SERVICE AT MIA


NEW MIA PHOTO EXHIBITION TAKES PASSENGERS UNDER WATER TO MIAMI'S CORAL REEFS
MIA KICKS OFF WORLD CUP TRAVEL SEASON WITH PRESS CONFERENCE AND SOCCER-THEMED CELEBRATION

AIR EUROPA AND BOLIVIANA DE AVIACIÓN LAUNCH SERVICE AT MIA IN SAME WEEK
MIA KICKS OFF WORLD CUP FESTIVITIES WITH UNVEILING OF SHOW YOUR COLORS ART EXHIBIT
NEW MIA PHOTO EXHIBITION DOCUMENTS WHALE MIGRATION TO LATIN AMERICA
AMERICAN EXPRESS TO OPEN CENTURION LOUNGE AT MIA
MIA'S NEWEST ART EXHIBITION LA SIRENA EXPLORES MERMAIDS
WORLD CUP TROPHY VISITS MIA AS AIRPORT PREPARES TO WELCOME SOCCER FANS TRAVELLING TO BRAZIL
MIA HONORS MILLICENT FRIMPONG WITH VOLUNTEER OF THE YEAR AWARD
NEW INTERNATIONAL CARRIER INSELAIR ARUBA LAUNCHES SERVICE AT MIA
MIA DIRECTOR HOST CANADA BORDER SERVICES AGENCY PRESIDENT FOR SECURITY-FOCUSED VISIT
MIA CELEBRATES NEW SERVICE TO BRUSSELS BY JETAIRFLY
MIA DIRECTOR HOSTS AIRPORTS COUNCIL INTERNATIONAL-NORTH AMERICA CEO KEVIN BURKE FOR MEETING, AIRPORT TOUR
MIA LAUNCHES AIRPORT-WIDE MILITARY APPRECIATION CAMPAIGN
MIA DIRECTOR HOSTS PRODUCTIVE MEETING WITH IRISH TOURISM AND TRADE OFFICIALS
MIA POLICE OFFICER SERIOUSLY INJURED IN LINE OF DUTY RETURNS TO WORK, RECOGNIZED FOR HEROISM
MIA PUBLIC SAFETY TEAM HELPS MAKE BIRTHDAY WISH COME TRUE FOR SIX-YEAR-OLD LEUKEMIA PATIENT
CANADIAN NORTH AIRLINES' INAUGURAL MIA FLIGHT BRINGS MORE CRUISE PASSENGERS TO SOUTH FLORIDA
AVIATION DEPARTMENT CELEBRATES BLACK HISTORY MONTH WITH LUNCHEON FEATURING GUEST SPEAKER GARTH REEVES, SR.
FULL-SCALE EMERGENCY EXERCISE SUCCESSFULLY COMPLETED AT MIA
MIA EMPLOYEES OF THE MONTH REUNITE LOST CAT WITH HER FAMILY
MIA INTRODUCES HIGH-TECH FIRE FIGHTING VEHICLES TO EMERGENCY RESPONSE FLEET
TSA ADMINISTRATOR PISTOLE VISITS MIA, ANNOUNCES FIRST-EVER Pre™ LANE FOR CONNECTING INTERNATIONAL PASSENGERS
MIA HOSTS PRODUCTIVE MEETINGS WITH STATE, FEDERAL, AND INTERNATIONAL OFFICIALS
MIA WELCOMES AIRPORT VISITORS WITH SURPRISE LATIN BIG BAND PERFORMANCE
POSITIVE BUZZ: BEEHIVE FOUND AT MIA YIELDS 40,000 HONEYBEES, 25 POUNDS OF HONEY
Meet the Leaders
Director / Deputy Director / CFO
Assistant Directors
Division Directors
MIA Information
About Us