Terminal Opportunities
Miami International Airport (MIA) has embarked upon a major Capital Improvement Program (CIP) which includes the refurbishment of Terminal interiors and construction of new concession locations.
There are approximately 126 existing retail, duty free and food and beverage locations at MIA. When all concessions are built out in the new North and South Terminals, MIA will have more than 250 locations.
The Airport is divided into three terminals: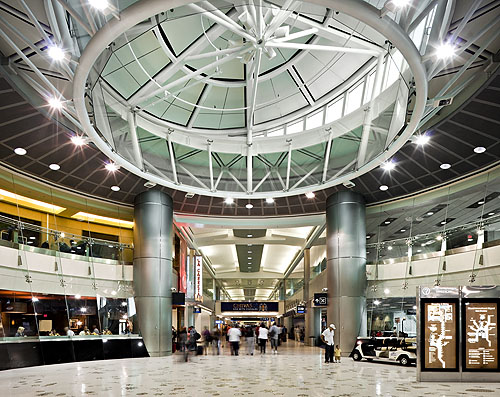 Interior view of MIA's North Terminal Concourse D - Photo by Steven Brooke

The North Terminal will have approximately 60-65% of the passenger traffic.
The North Terminal has 48,500 square feet of existing concession space. There are two duty free stores, seven news/gifts, 11 specialty retail stores, and 26 food and beverage locations.
Current food and beverage concessions include Jose Cuervo, Starbucks, Pizza Hut, Burger King, Sam Adams, Freshens, Café Versailles, Au Bon Pan, Islander Bar & Grill, Villa Pizza Manchu Wok, La Carreta, South Beach Snack/Bar, Carousel Cone, Havana Jet Bar, Chicago Pizza, Fresh Attractions, Corona Beach House and Sushi Maki.
Specialty Retail includes In-Motion, $10 Gifts and Newslink news/gifts.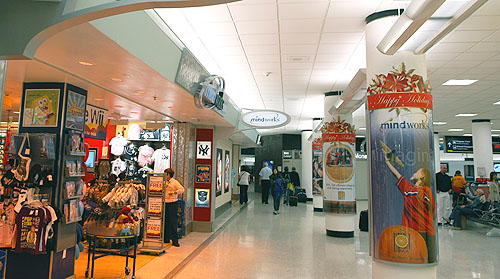 Interior view of MIA's Central Terminal - Photo by Miami-Dade Aviation Dpt.

The Central Terminal is located between the North and South Terminals in the center of the landside area and is now known as Terminals/Concourses



. The majority of the retail space is located on the pre-security portion of the Airport Terminal.
Existing concessions include five duty free stores, ten news/gifts stores, fifteen specialty retail stores and thirty-five food and beverage locations totaling 90,000 square feet.
There is a food court in the Central Terminal with recently changed concepts including Starbucks, California Pizza Kitchen, Great American Bagel, Burger King and Café Bacardi. Additional concepts throughout the landside include Chili's, Café' Versailles, Sbarros, Au Bon Pain, and Cozolli's. Concourse concessions include Chili's to Go, Guava-Java, and Burger King.

View of South Terminal Concourse J from ramp area - Photo by Steven Brooke

The South Terminal accommodates the Star Alliance and Skyteam Alliance, which includes United Airlines, U.S. Airways, Delta Airlines and their code share and marketing Alliance partners. Approximately 20-25% of all passenger traffic is expected to flow through the South Terminal with 20 airlines occupying the Terminal.
The existing South Terminal Concourse and Terminal area currently has five retail, and seven food and beverage locations totaling 10,500 square feet. Food and beverage offerings include Starbucks, Cinnabon, Au Bon Pain, Pizza Hut, Quizno's, and Bud Brewhouse. Retail locations include Newslink news/gifts, Airport Wireless, Jet Setter Spa, Bead Factory, and Airport MD.
This terminal has approximately 42,000 square feet of concession locations. The new Concession Hall in the South Terminal joins Concourse

and Concourse

with forty (40) new concessions. Concourse J and the Concession Hall are located beyond security with limited additional concessions before security. There are duty and tax free concessions totaling 7,500 square feet. There are 26 locations totaling approximately 25,300 square feet of news/gifts, newsstands, books and retail specialty.