Miami International Airport (MIA)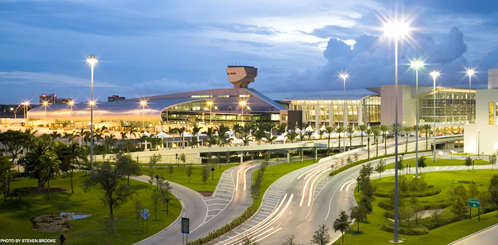 View of South Terminal - Photo by Steven Brooke - Visit MIA's Shopping and Dining directory

Miami International Airport (MIA), located on 3,230 acres of land near downtown Miami, is operated by the Miami-Dade Aviation Department and is the property of Miami-Dade County government. Founded in 1928, MIA now offers more flights to Latin America and the Caribbean than any other U.S. airport, is America's third-busiest airport for international passengers, boasts a lineup over 100 air carriers and is the top U.S. airport for international freight. MIA is also the leading economic engine for Miami-Dade County and the state of Florida, generating business revenue of $31.9 billion annually and approximately 60 percent of all international visitors to Florida. MIA's vision is to grow from a recognized hemispheric hub to a global airport of choice that offers customers a world-class experience and an expanded route network with direct passenger and cargo access to all world regions.

Miami-Dade Airports:

Economic Impact:
Miami International Airport's (MIA) and the General Aviation Airports' annual economic impact is $31.9 billion. MIA and related aviation industries contribute 275,708 jobs directly and indirectly to the local economy. That equates to one out of 4.6 jobs.

MIA RANKINGS 2018:
Among U.S. Airports:

1st

International Freight

3rd

International Passengers

4th

Total Cargo (Freight + Mail)

4th

Total Freight

15th

Total Number of Operations

13th

Total Passengers

Among Worldwide Airports:

11th

International Freight

41st

International Passengers

14th

Total Cargo (Freight + Mail)

12th

Total Freight

29th

Total Number of Operations

42nd

Total Passengers

Land area: 3,230 acres

Runways:
| | |
| --- | --- |
| 9-27: | 13,016 feet |
| 8R 26L: | 10,506 feet |
| 12/30: | 9,355 feet |
| 8L-26R: | 8,600 feet |

Personnel: Aviation Dept. and Other: 36,797

Hotel: Hotel MIA - 259 rooms.

Flight Operations: (Commercial Aircraft Movements - year 2019)
| | |
| --- | --- |
| Domestic: | 223,123 |
| International: | 191,277 |
| Total: | 414,400 |

Passengers: (year 2019)
| | |
| --- | --- |
| Domestic: | 23.5 million |
| International: | 22.4 million |
| Total: | 45.9 million |




| | |
| --- | --- |
| Weekday Daily Average: | 122,841 passengers |
| Weekend Daily Average: | 129,421 passengers |
| Weekly Average: | 867,074 passengers |

Freight: (year 2019)
| | |
| --- | --- |
| International: | 1,880,997 U.S. Tons |
| Domestic: | 389,368 U.S. Tons |
| Total: | 2,270,365 U.S. Tons |

Carriers: (02/20)
| | | | | |
| --- | --- | --- | --- | --- |
| U.S.: | 32 | | Scheduled: | 87 |
| | 68 | | Charter: | 13 |
| Total: | 100 | | Total: | 100 |

Number of Destinations: (1st Quarter - 2020)
| | | |
| --- | --- | --- |
| | Non-Stop | |
| Domestic: | 59 | |
| International: | 104 | |
| Total: | 163 | |
New Air Service:
Norwegian: London Gatwick (March 2019)
Royal Air Maroc: Casablanca, Morocco (April 2019)
CargoJet Airways: Canada & South America (April 2019)
LOT Polish Airlines: Warsaw, Poland (June 2019)
CORSAIR: Paris Orly (June 2019)
Frontier: Boston (BOS); Chicago (ORD); Cincinnati (CVG); Cleveland (CLE); Detroit (DTW); Hartford/Springfield (BDL); New York (LGA); Newark (EWR); Raleigh/Durham (RDU); San Juan, PR (SJU) (4th Qtr 2019)
American Airlines: Columbia, SC (CAE); Fayetteville/Springdale, AR (XNA); Oklahoma City, OK (OKC) (Dec. 2019)
Lufthansa Cargo: Frankfurt, Germany (Dec. 2019)

Print Facts-at-a-Glance
Meet the Leaders
Director / Deputy Director / CFO
Assistant Directors
Division Directors
Resources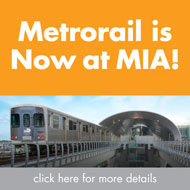 Quick Links