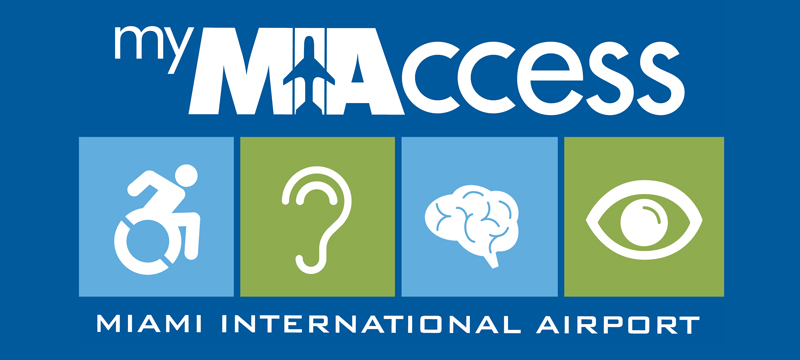 Our goal at Miami International Airport is for the joy of air travel to be easily and safely accessible for all our passengers.
myMIAaccess is an airport initiative offering passengers with disabilities a dedicated platform for accessing services, amenities, and information when traveling through Miami International Airport.
---
Aira
Aira is a service that connects passengers who are blind or have low vision to a highly trained, remotely located agent. Using the Aira mobile app available on iOS and Android smartphones the Aira agent can help the user navigate the airport and describe what is in the passenger's field of vision including identifying luggage and reading flight information monitors. By joining the Aira airport network, MIA will provide the Aira vision assistance service free while at the airport.
Hidden Disabilities – Sunflower Lanyard
Not all disabilities are visible – some disabilities can be invisible to an onlooker, such as autism, anxiety, hearing loss, and PTSD. MIA is a proud member of the Hidden Disabilities Sunflower Lanyard program, an awareness initiative aimed at discretely communicating to airport staff that you may need more time or have additional questions while traveling.
Please note that program participation is voluntary, and that the lanyard does not offer expedited service or queue jump during the airport journey. Passengers must continue to contact the airline directly if they need wheelchair service or other special accommodations. If you are traveling through MIA, you can request a lanyard by emailing ADAcoordinator@miami-airport.com, please include full name and postal address of where you would like the lanyard to be delivered. To allow time to process your request please allow 7 business days (in the U.S.) and 14 business days (outside of the U.S.).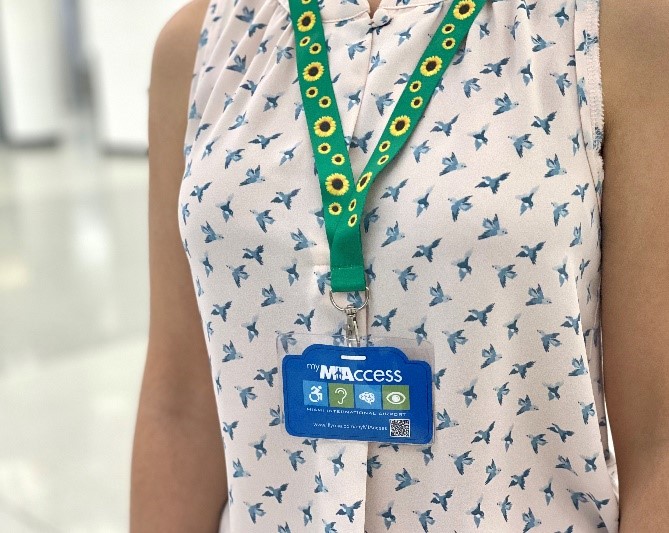 MIAair
MIAair is a dress rehearsal program that allows passengers with different disabilities the opportunity to practice the travel experience in a safe and controlled environment. The program helps prepare travelers for future flights, from the check-in process to even boarding a flight. If you would like more information and to be added to a future tour, please visit: http://www.miami-airport.com/miaair.asp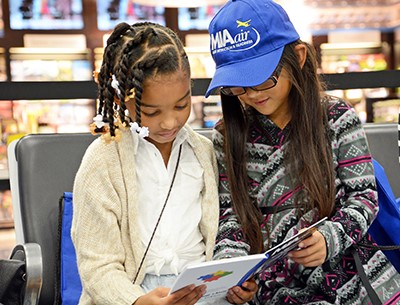 Multi-Sensory Rooms
The Multi-Sensory Rooms are a dedicated space where passengers with cognitive and developmental disabilities such as autism can enjoy a calm and stimulating environment while they travel through MIA. The room includes sensory aids that stimulate reaction, encourage communication, and reduce agitation and anxiety sometimes caused by the hustle and bustle of airport travel. The rooms are located in post-security in Concourse D, next to checkpoint 4 and post-security in the H-J connector.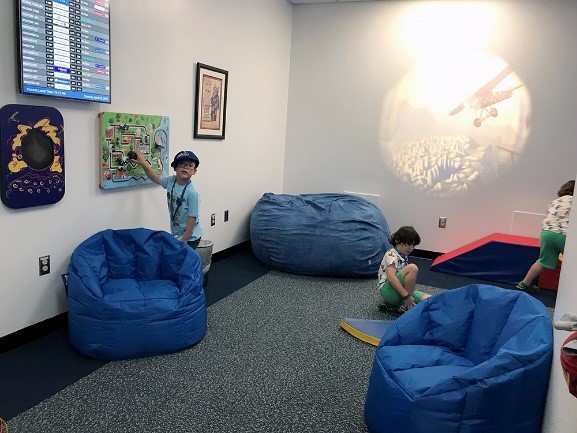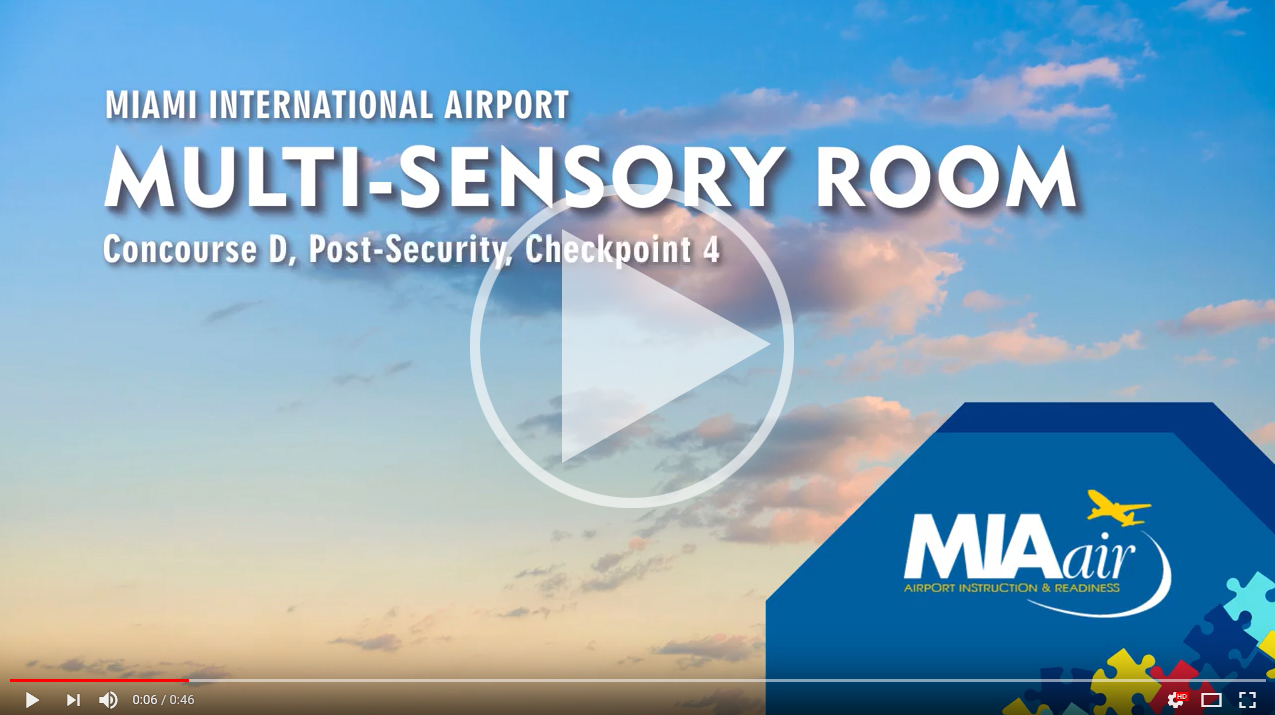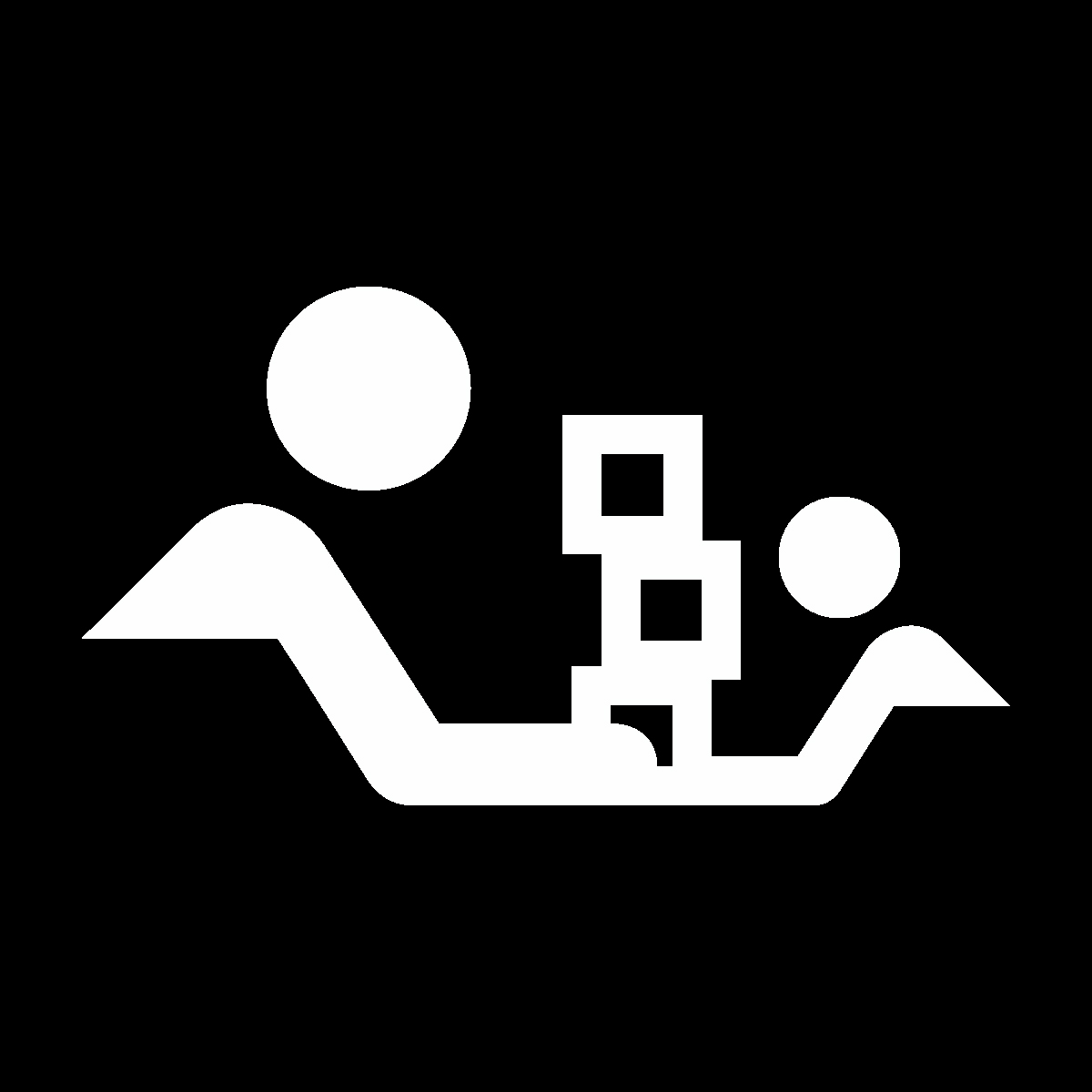 The Multi-Sensory rooms are open seven days a week from 6 a.m. to 10 p.m.
The rooms are located in two locatons:
Concourse D, post-security, just beyond TSA Security Checkpoint #4
and South Terminal, post-security, near Concourse J.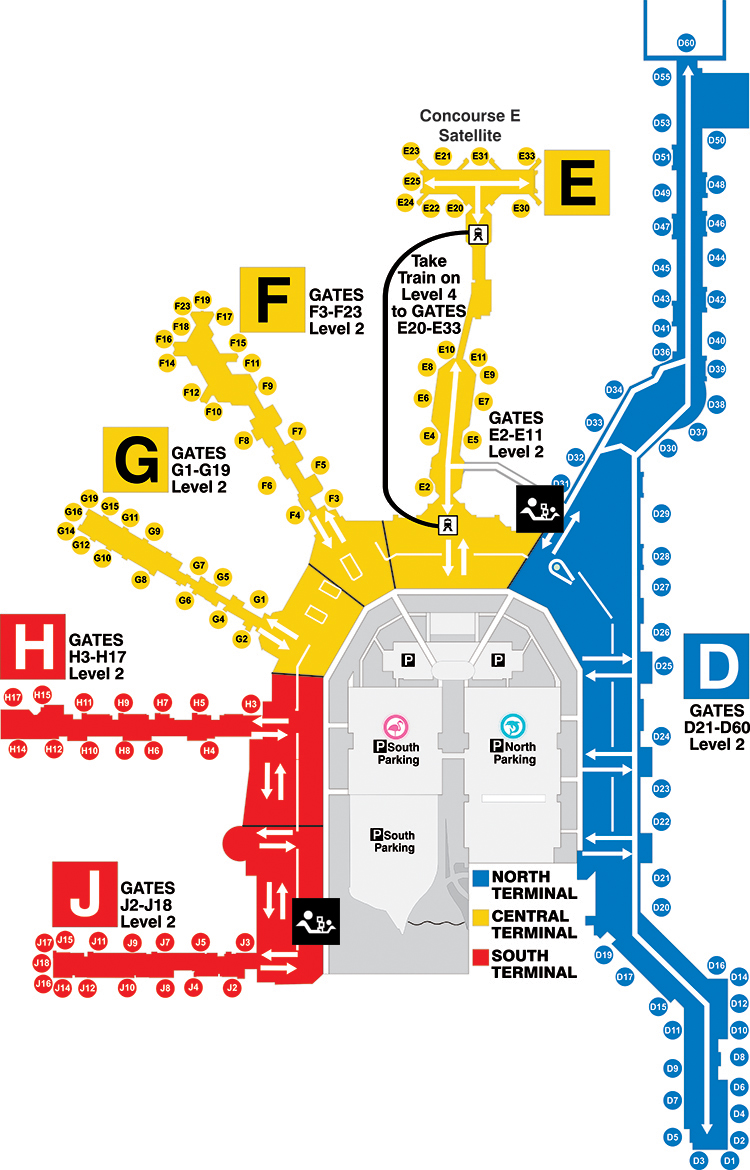 MIAmamas - Nursing Suites
Nursing mothers are welcome to pump or nurse anywhere at MIA. For moms looking for a quiet, private option, the airport has MIAmamas pods and a room located throughout each Concourse. The accessible nursing room is located in Concourse J, right next to Checkpoint J.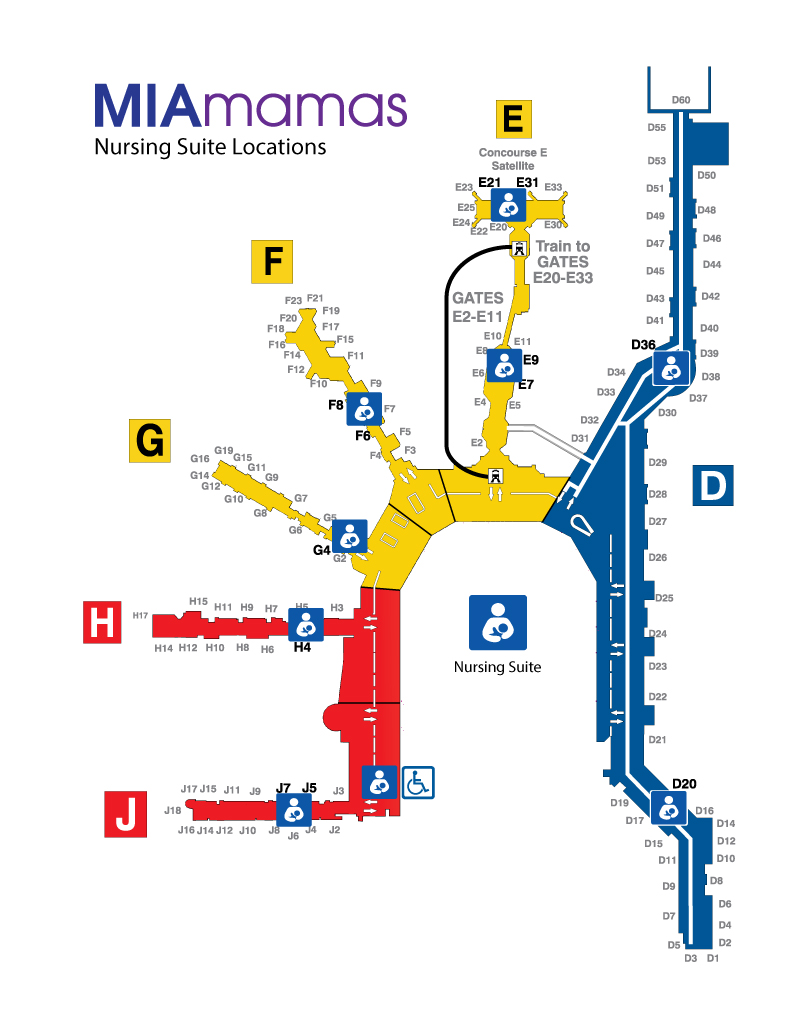 Service Animal Relief Areas
MIA offers service animal relief areas. The relief stations are enclosed units, which include synthetic grass, a fire hydrant, disposable bags, and sinks. Located post-security in Concourse D, F, G and J. In addition, outdoor areas are available at arrival level in Concourse D, E, and J. Click for location map.
Wheelchair Assistance
If you are ticketed passenger with disabilities who requires wheelchair service or similar assistance, please contact your airline. Each airline coordinates their own wheelchair assistance. For a directory of airline phone numbers and website addresses click here for AIRLINE DIRECTORY.
Security Screening / TSA
The Transportation Security Administration (TSA) provides information and assistance to travelers with disabilities and medical conditions, please visit their website at: https://www.tsa.gov/travel/special-procedures.
If you have other questions, concerns or need additional assistance during the screening process you can contact the TSA CARES HELPLINE at least 72 hours ahead of travel. For additional information, please call the TSA toll free number at: 1-855-787-2227 or Click here for more information https://www.tsa.gov/travel/passenger-support.
Service Animal Relief
MIA has outdoor and indoor animal relief areas located in Concourses D, E, F, G, and J. All of the MIA relief areas are equipped with dual surfaces and waste disposal stations (map locations).
Accessible Transit Pickup (ATP) Doors
The Aviation Department has designated doors to assist patrons in coordinating pick-up and drop-off locations with STS (Paratransit/Special Transportation Services) - view locations.
Parking
Designated disabled permit parking and stroller permit parking is conveniently located near the moving sidewalks on the 3rd level of the garages. Additional disabled permit parking, including van accessible spaces, are available on the easternmost ground level sections of the Dolphin and Flamingo garages. View MIA's accessible parking areas map.
Miami-Dade County Ordinance requires all guests with a disabled parking permit or license tag to pay standard parking rates except as provided by Florida State Law. Two hours of complimentary parking will be provided to vehicles displaying a disabled parking permit or license tag. When exiting please remember to use one of the green "Cash/Credit EMV Card" lanes where an attendant is present and advise them you have a valid parking permit or license tag. For more information visit accessible parking.
Restrooms
Restrooms located throughout the terminal feature toilet compartments for travelers with disabilities. Unisex restrooms equipped for the disabled are also available throughout the terminal. Look for the internationally recognized disabled symbol.
Public Telephones
MIA has TTY / TDD telephones at selected telephone banks throughout the terminal. At telephone banks where there is no TTY / TDD, you will find directions to the closest accessible location. To connect directly to the Florida Relay Service from any phone, callers who are deaf or hard of hearing may dial 711. Voice callers may also utilize the 711 relay service. However, please note, when dialing 711, there will be a long series of audible tones before a live relay operator comes on the line. Voice callers may contact the Florida Relay Service directly, by calling: 1-800-955-8770.
Ground Transportation
Miami-Dade County's Special Transportation Services (STS)
Special Transportation Service (STS) Rider Guide
Taxicab Service
Patrons in need of accessible taxicab service should request it upon arrival at the ground level curbside area. Please allow a reasonable amount of additional time to call an equipped vehicle from the holding lot, located just outside the terminal area. Drivers will assist patrons with baggage.
For Miami-Dade County accessible travel please visit: https://www8.miamidade.gov/global/transportation/home.page
The Americans with Disabilities Act (ADA) of 1990 guarantees people with disabilities equal opportunity to participate and benefit in Miami-Dade County services, programs, and activities. Miami International Airport will not discriminate against these individuals with disabilities on the basis of disabilities. Please submit the "Complaint Form" if you believe you were denied access to an airport program or service based on a disability. You can submit the complaint, by hitting the "submit" button on the bottom of the form. MIA ADA Complaint Form
You can also download the form and send the complaint to:
Jessica Marin-Urrea: ADAcoordinator@miami-airport.com
NOTE: If the Complainant needs assistance filing a complaint or an alternate means to do so, please contact the Miami International Airport's ADA Coordinator by phone at 305-876-7747 or by email at: adacoordinator@miami-airport.com .
Complaint Procedure:
Within five business days of receipt of the complaint, an email acknowledging the receipt of the complaint will be transmitted to the Complainant by the ADA Coordinator. The ADA Coordinator will work with appropriate MIA personnel to investigate the complaint. Within 15 business days after receipt of the complaint, the ADA Coordinator will contact the complainant and provide a response or request additional information to complete the investigation. If the Complainant believes the department's response does not adequately resolve the complaint, a formal grievance can be filed with the Miami-Dade County Internal Services Department ADA Office . Complaints can be filed online at: https://miamidadecounty.co1.qualtrics.com/jfe/form/SV_5ioCOzIij3Pgslf or via email at: Heidi.Johnson-Wright@miamidade.gov, or by calling 305-375-3566.
Airline/Wheelchair Complaint
If you have a complaint regarding an airline or the wheelchair services provided by the airline, please reach out to that airline directly. For a directory of airline phone numbers and website addresses click here for AIRLINE DIRECTORY.
TSA Complaint
If you have a complaint regarding TSA and your screening process at the checkpoints, you can file a complaint with TSA at: https://www.tsa.gov/contact-center/form/complaints
WHEELCHAIR SERVICE
I will need a wheelchair when I arrive at the airport for my departing flight. How do I get one?
Wheelchair service is provided through the airlines. Passengers may reserve wheelchair service in advance by calling their airline or requesting it online via their airline's website. It is also available on demand. Please note that during peak periods, there are typically delays in obtaining wheelchair service. However, it is available within a reasonable amount of time and these services and methods of delivery are confirmed to be in compliance with ADA and ACAA requirements.
If I get a wheelchair service to my departure gate where I must wait for an extended period, how can I visit the restroom or purchase food prior to my flight?
The companies that are contracted by the airlines to provide wheelchair services typically set up staging areas for their passengers who request wheelchairs. These staging areas are monitored by their employees to ensure that passengers who need to go to the restroom can be assisted. Additionally, passengers who would like to get something to eat may request a brief stop to get "food to go" when they are being transported to/from their gate. However, food and beverage assistance is not available on demand; only when in the process of being transported to/from gates.
Can the person pushing me in my wheelchair also handle my baggage?
The wheelchair service representative will transport ONE piece of carry-on luggage. Passengers who need assistance with additional luggage may avail themselves of the porter ("Skycap") services offered by the airline.
Are there carts that can take me through the airport to my gate?
There are some carts in various areas of the airport, but they cannot be pre-arranged. Carts cannot carry manual wheelchairs. Passengers who need assistance with transporting items may avail themselves of the porter ("Skycap") services offered by the airline. Power chairs should be operated by the owner to the ticket counter and from there, checked in with the airline at the gate where they will be transferred to an aisle chair for boarding. The power chair is transferred to the cargo hold of the aircraft by air carrier personnel.
RENTAL CAR CENTER
After my flight arrives at the airport, I will need wheelchair service. After I retrieve my bags, how do I get from baggage claim to the rental car center?
The same wheelchair representatives who transport passengers from the aircraft to the baggage claim area will take passengers all the way to the Rental Car Center.
When I return to the airport from my departing flight, how can I get from the Rental Car Center to my departure gate if I need wheelchair service?
Arrangements for wheelchair service from the Rental Car Center to the airport should be made directly with the passenger's selected rental car company. These arrangements can be made in advance by contacting the rental company, or upon arrival at the rental car company's counter by requesting to be transported to the terminal for a departing flight. The rental companies may opt to transport by wheelchair OR by dropping the passenger off in a vehicle at the terminal curbside, at which point wheelchair service is available from the curbside porters ("Skycaps") AND at the ticket counters.
PARKING
Where is disabled parking located at the airport?
Designated parking for disabled, including van accessible parking, is located on the ground levels and 3rd levels of both the Dolphin and Flamingo garages.
I drive but can't reach the ticket spitter that raises the gates to the Flamingo and Dolphin parking garages. What should I do?
Passengers needing assistance with retrieving a ticket to enter the parking garages may call the airport's parking operator 24 hours a day at: 305-876-7536. A parking representative will be dispatched to retrieve the ticket for the customer. Upon exiting the parking garages, passengers who require special assistance should select a "CASH" lane, where a live attendant is available 24 hours to provide assistance with payment services.
I have a disabled ("handicapped") parking placard. Can I get free parking at the airport?
A disabled parking placard does not entitle the user to free parking. The airport offers a 2-hour "meet-and-greet" option for persons who, upon exiting, present their valid disabled parking placard and the accompanying registration. FREE PARKING is extended to vehicles that are permanently modified with special equipment, such as foot controls, hand controls, motorized ramps, etc., or those vehicles that display a valid FLORIDA TOLL EXEMPTION PERMIT obtained through the Florida Disabled Toll Permit Program. Free parking is also extended to vehicles that bear a Florida-issues 'Disabled Veteran' license plate.
Where are the best locations to park to have an easy, accessible pathway over to the terminal?
The parking garages connect to the terminal by bridges, located on the third level of both the Dolphin and Flamingo garages. These bridges have moving sidewalks in the center for pedestrians, and on either side of the moving sidewalks are smooth paths, covered by either commercial carpeting or commercial slip-resistant (COF) tile that is suitable for use by pedestrians or people who use manual or power wheelchairs. Passengers may also access the terminal from the parking garages by utilizing street level access on the arrival and departure levels, which are paved in either concrete or asphalt. Although these pathways are accessible, passengers who use manual wheelchairs may find the surfaces to be bumpy.
RESTROOMS
Are all restrooms at the airport accessible to people with disabilities?
Yes, all restrooms accessible to the public have a stall reserved for persons with disabilities.
I need my spouse or caregiver to help me in the restroom. Where are the single-user unisex/family restrooms located at the airport?
The north and south terminals have single use/unisex restrooms; however, the facilities in the central terminal area are of older design and have not been updated to include single use/unisex restrooms. As our terminal facilities are modernized, the latest ADA and code requirements are being incorporated.
SECURITY LINES
Where are the wheelchair-accessible points to security lines located?
There are wheelchair-accessible points to security lines at all Security Checkpoints.
SERVICE ANIMALS
I need to take my service animal for a bathroom break while at the airport. Where can I go?
The relief areas are located post-security in Concourse D, F, G and J. Outdoor areas are also available at arrival level in Concourse D, E and J. Please see maps below.
SERVICES FOR PEOPLE WHO ARE DEAF OR HEARING IMPAIRED
How do I page someone at the airport who is deaf?
Visual Paging is available by calling the airport at: 305-876-7000 (as noted on Facebook and the airport website) An Airport attendant will answer the call and input a digital page. The digital message will display at one of two monitors at each departure gate, every fourth monitor behind the check-in counters, half of the monitors at each bag claim belt, on an LED message board at the J-FIS Information Counter and on an LED message board at the exit to the D-FIS.
If I arrive at the airport and need a sign language interpreter, who do I contact?
Sign language interpreters are not available on demand. Passengers in need of special assistance may go to the nearest Information Counter and inform the attendant.
STS/PARATRANSIT
When I return to Miami, I need STS/Paratransit to pick me up and take me home. What do I tell STS do they know exactly where at the airport to pick me up?
Please follow the map below as a guideline to all STS/Paratransit pick up locations.
GROUND TRANSPORTATION
What are my options for wheelchair-accessible ground transportation (to take me throughout the local, South Florida area) when I arrive at the airport?
On demand options for transportation include accessible taxis and accessible SuperShuttle vans. Both are available at the terminal curbside on the ground level, outside of baggage claim areas.
PROBLEM SOLVING/COMPLAINT RESOLUTION
What happens if I arrive at the airport and discover that my airline has not provided me with the accommodations/assistance I requested in advance?
Please contact your airline and request to speak with a "CRO" (Complaint Resolution Officer).
What are my options if my wheelchair is broken when I arrive at the Miami airport?
Please contact your airline for assistance with claims.
The ADA Access Committee is comprised of a group of volunteers who, in conjunction with the Aviation Department and airport staff, work toward improving accessibility to programs and services at the Miami International Airport. These meetings are open to the public. Meetings are held quarterly, on the THIRD Wednesday of every THIRD month at Miami International Airport, Concourse D, 4th Floor auditorium in the North Terminal at 2:00 p.m. For additional information, please contact Jessica Marin-Urrea.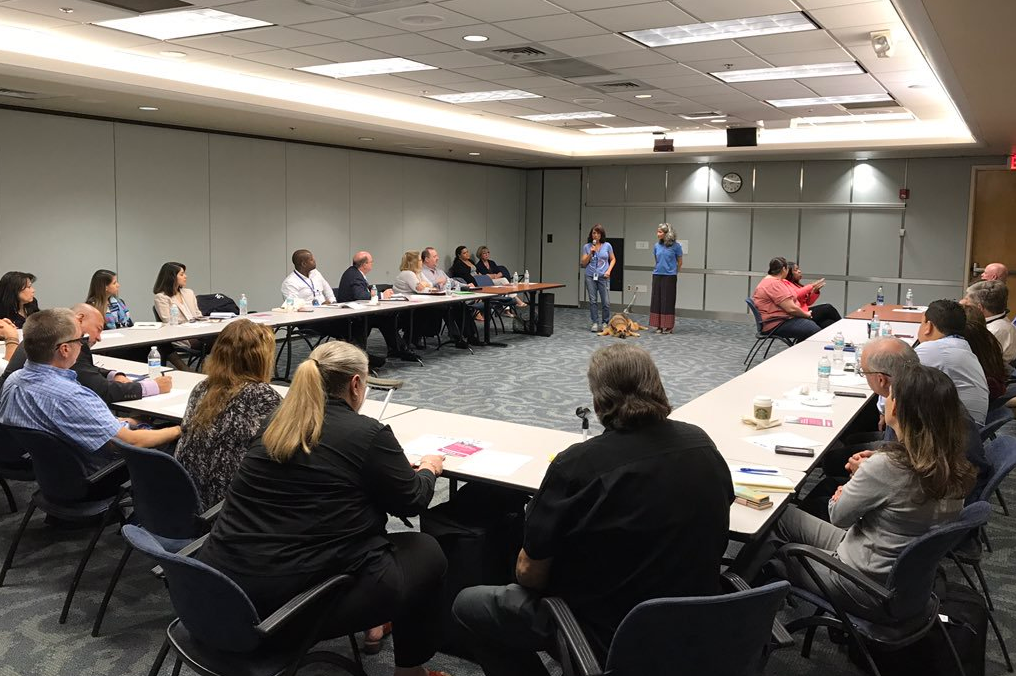 Accessibility Quick Links