MIA Cargo HUB
Miami International Airport (MIA) is essential to Miami-Dade's trade status, as MIA's air service network, dominance in the region's stronghold markets, and overall trade infrastructure are key for bridging business in the Hemisphere.
The leader in the Americas in international freight and the world's largest gateway to Latin America & the Caribbean, MIA controls the north / south cargo flows in the Western Hemisphere. Handling 85% of all air imports and 80% of all exports from the Latin American / Caribbean region, MIA serves as the hub for distribution of perishable products, hi-tech commodities, telecommunications equipment, textiles, pharmaceuticals and industrial machinery.
Over 90 airlines at MIA contribute to the year-round, two-way cargo traffic, linking the Americas with the high growth markets in Asia, Europe, the Middle East / Gulf Region and beyond.
Exceptional infrastructure and facilitation, new runway capacity with no slot restrictions or delays, and room for growth, form just part of MIA's outstanding attributes.
---

#1 in International

Freight in the U .S.

Certified

Pharmaceutical Hub

Over 2M tons of

Cargo/Per Year
A global freight hub and number one in the nation for international freight, MIA offers service to over 160 cities on four-continents with dedicated freighter service to 112 global destinations. The world's largest gateway to Latin America and the Caribbean, MIA handles 79% of all air imports and 77% of all exports to/from the region. MIA is the first airport in the Western Hemisphere and only the second in the world to be designated by the International Air Transport Association (IATA) as a pharmaceutical freight hub and a trusted industry leader in the transport of pharmaceuticals.
For leasing information about bello cargo, warehouse or other real estate, please click here.
RANKINGS: Cargo - Operations - Passengers
2016 | 2015 | 2014 | 2013 | 2012 | 2011 | 2010 | 2009 | 2018 | 2019 | 2020
For additional cargo related information e-mail us.

In 2015, the International Air Transport Association (IATA) recognized MIA as the first IATA Designated Pharma Hub Airport in the U.S. and only the second in the world after Brussels Airport. MIA received this recognition for engaging the local cargo community in the IATA Center of Excellence for Independent Validators (CEIV) Pharma Certification Program; a program that prepares logistics companies to become experts at properly handling sensitive pharma products shipped by air. Five members of the MIA cargo community have completed the CEIV Certification Program including 2 airline carriers, 1 ground handling company, and 2 international freight forwarders.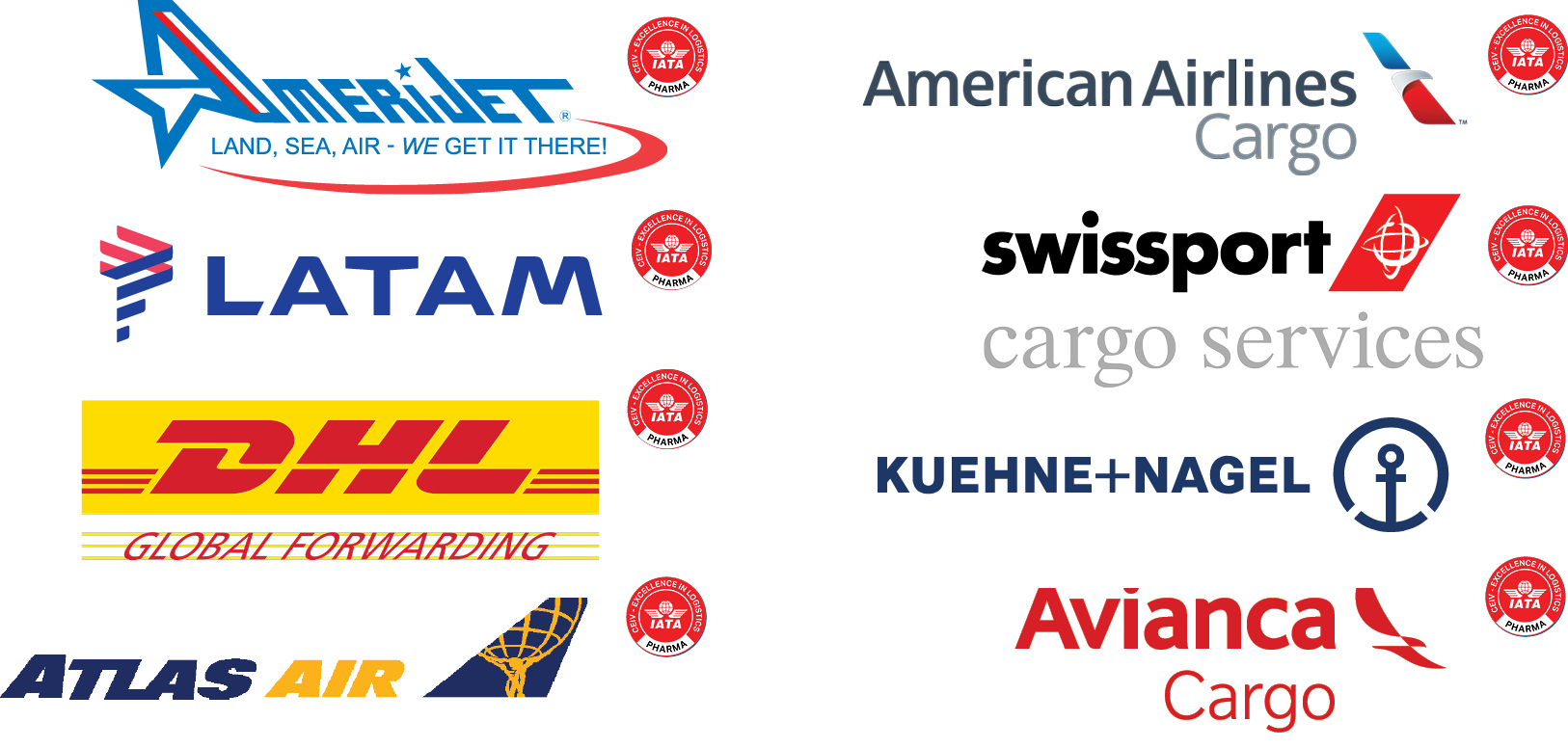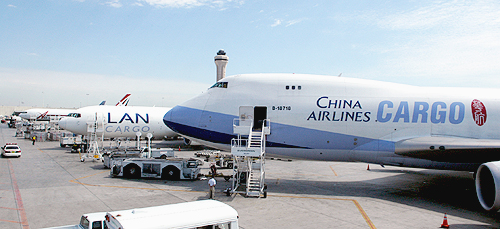 AIRLINES

Phone

US SCHEDULED ALL-CARGO CARRIERS
ABX AIR

937-382-5591

AERONAVES TSM (UPS Feeder)

305-869-8333

AMERIJET
ATLAS AIR

914-701-8000

DHL EXPRESS
FEDEX EXPRESS
IBC AIRWAYS
MOUNTAIN AIR CARGO (FedEx Feeder)
POLAR AIR CARGO
SKYLEASE CARGO (Tradewinds)
SOUTHERN AIR
UNITED PARCEL SERVICE (UPS)
WESTERN GLOBAL
FOREIGN SCHEDULED ALL-CARGO CARRIERS
AEROUNION (Avianca Cargo)
(52)555 4777 7710
ASIANA AIRLINES

786-304-2700

CARGOLUX AIRLINES INT'L

305-492-1020

CATHAY PACIFIC AIRWAYS

305-871-2376

CHINA AIRLINES

305-526-6696

DHL AEROEXPRESO

305-526-1112

ESTAFETA

305-871-3560

ETHIOPIAN AIRLINES

917-796-9068

KLM/MARTINAIR CARGO
305-929-0180
KOREAN AIR
LATAM CARGO BRASIL
LATAM CARGO CHILE
LATAM CARGO COLOMBIA
MASAIR
QATAR AIRWAYS CARGO
TAMPA CARGO (Avianca Cargo)

786-265-3960

ext. 1698

TRANSPORTES AEREOS BOLIVIANOS

305-591-1965

TURKISH AIRLINES
US CHARTER ALL-CARGO CARRIERS
21 AIR

786-254-6521

AIR TRANSPORT INTERNATIONAL

937-382-5591

AMERISTAR AIR CARGO

1-800-368-5387

IFL GROUP

800-521-4406 ext. 5

KALITTA AIR
NATIONAL AIRLINES
NORTHERN AIR CARGO
SKY WAY ENTERPRISES
FOREIGN CHARTER ALL-CARGO CARRIERS
Revised September 2020
For more information about Miami International Airport, please contact:
Miami-Dade Aviation Department - Marketing Division
PO Box 025504 Miami, FL 33102-5504
Phone: 305-876-7862 Fax: 305-876-7398
E-Mail Us

Miami International Airport is the leading international freight airport in the Americas and high-ranking global gateway freight hub with over 2.2 million tons of cargo annually. In fact, total air freight at MIA valued at $60.5 billion, or 92% of the dollar value of Florida's total air imports and exports, or 39% of the States total (air and sea) trade with the world.
MIA's 3.4 million square feet of cargo- dedicated warehouse, cold storage, office and support space; and innovative business development programs keep the airport on the forefront of the air cargo industry. Among its latest initiatives:
MIA PHARMA HUB
MIA is an IATA designated Pharma Hub and is working with local MIA participants toward CEIV Pharma Certification. MIA pharma imports and exports totaled $5.6 billion in 2018.
MIA Foreign Trade Zone
MIA gained final approval from the U.S. Department of Commerce to designate the airport as a Foreign Trade Zone (FTZ) magnet site. The FTZ will create new synergies for on-airport businesses.
MIA Cargo Clearance Center
A 24/7 on-airport operation centralizes the functions of Customs and Border Protection (CBP), providing for trade documentation processing.
OCEAN-TO-AIR PROGRAM
The Ocean-to-Air Transshipment Program saves time and money for cargo shippers, with expedited air transport of perishable products. The Program permits perishables to arrive from Latin America by sea and then air transported to international markets from MIA.
MIA Animal & Plant Health Inspection Service (APHIS) Facility
Consolidates the functions of Veterinary Services and Plant Protection & Quarantine from four locations into a single site. The USDA facility houses the Veterinary Services' import and export operations.
Miami International Airport's (MIA) trade numbers, monthly and calendar year to date live data.
Courtesy of WorldCity.