Security Checkpoints
Report unattended items or suspicious activity immediately to airline personnel or Airport Police at 305-876-7373.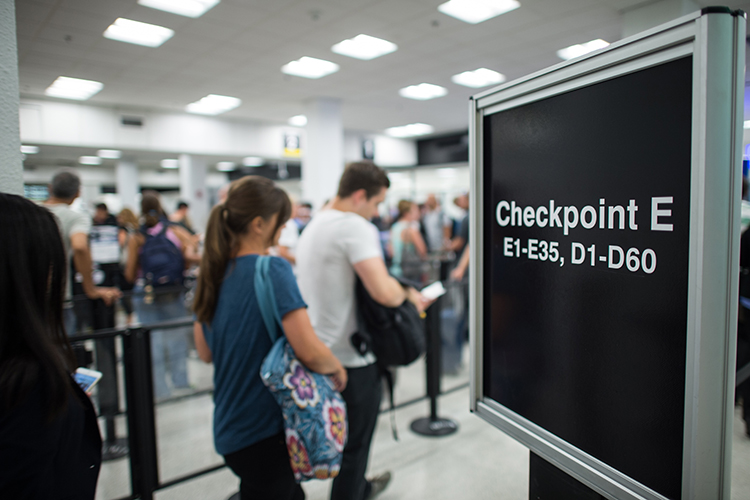 When going through security screening checkpoints:
Each person is allowed one carry-on bag, plus a personal item.

Personal items include a purse, briefcase, laptop or backpack. Be prepared for additional screening at the gate.

Only ticketed passengers are permitted beyond the checkpoints.

If you have a medical, parental or other verifiable need to accompany a ticketed passenger, please check with your airline to determine how to handle the situation.

All electronic items, such as laptop computers and cell phones, may go through additional screening.

Remove your laptop from its travel case so a thorough x-ray can be done.

Limit the amount of metal objects, such as keys, cell phones and coins, worn or carried.

You will need to remove metal objects before passing through the metal detectors.
Store metal objects in your carry-on bag to expedite the process of going through the metal detector.

The Liquids Rule restricts carry-on containers to 3.4 ounces or less, carried in a 1 quart-size bag.

Water bottles are not allowed.
The Transportation Security Administration (TSA) is responsible for managing and operating the passenger security screening checkpoints at all U.S. airports.
TSA has no provisions for returning banned items when they are left at checkpoints.
If you try to bring banned items through the checkpoint, you could face civil penalties of up to $1,100 per violation in addition to criminal penalties.

---
Arrival time recommendations vary by airline and day of travel, so please check with your airline. Remember to leave adequate time for transit or parking, checking baggage and getting through security.
The Transportation Security Administration (TSA) encourages travelers to arrive at the airport 2 hours prior to flight departure for domestic travel and 3 hours for international travel.
The Prohibited Items list is not all-inclusive. The items listed are strictly prohibited from being carried into the aircraft. However, many of these items may be transported in checked baggage. If you have questions, check with your airline.
If you have a medical condition that requires you to carry a needle and/or syringe either with you or in your carry-on baggage, then you also need to bring the medication that requires an injection. The medication must be packaged with a pharmaceutical label or professionally printed label identifying the medication.
Avoid carrying bottles of liquid through the screening checkpoint.
If you plan on purchasing food to carry on board the plane, wait until you have completed the screening process.
Food, gifts, and other services are generally available in the concourses after screening.
If you have special dietary needs, please contact your airlines to confirm what arrangements will be provided on your flight.
If you are traveling with gifts, wrap them after you arrive at your destination. They may have to be unwrapped for security inspection. Gifts should be packed in your checked luggage or shipped via mail, due to the limitations of carry-on items.
To expedite your visit through Miami International Airport, become familiar with the latest security guidelines and suggestions:
Do not leave personal items unattended at any time in the airport or at curbside. This includes:
Purse
Briefcase
Electronic equipment
Carry-on bags
Do not enter areas listed as "Restricted", or "Authorized."
If you are traveling with children:
We want you to feel safe while traveling through our airport. Here are some of the security resources available should you need help:
In case of an emergency call 9-1-1.
The Airport District Police (305-876-7373) are in charge of the overall safety and security of MIA, its employees and the traveling public.
The Miami-Dade Aviation Fire Rescue Division (305-876-7575) responds to medical emergencies as well as fires, fuel spills and disasters. To provide rapid response, two stations are located at MIA.
Call the Crime Stoppers Tip Line 305-471-TIPS (8477) if you have a tip and see someone who has, or is about to, commit a crime at Miami International Airport. All callers will remain anonymous.
All Miami International Airport employees or tenants wear airport identification badges.
Report Unattended Items
Report unattended items or suspicious activity immediately to airline personnel or Airport Police at 305-876-7373.

Traveling Today
CDC Travel Health Notice