Traveling made easy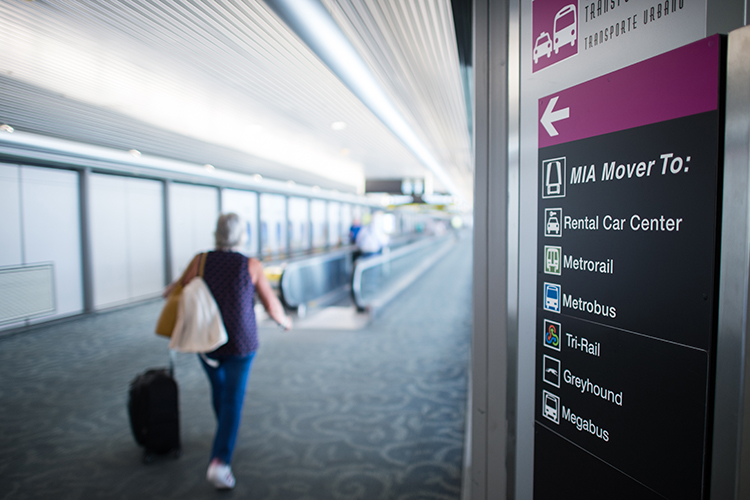 Avoid parking and traffic traveling to and from Miami International Airport by using one of our affordable and convenient choices. Metrobus, Metrorail and Tri-Rail airport connections are located in the Miami Central Station.
You need an EASY Card pass to ride on public transit. To purchase your fare, the EASY Card vending machines are located in the Miami Central Station.
---
Access to MIA Mover is located on the 3rd level between the Dolphin and Flamingo garage. Get to your rental car fast by using the free MIA Mover, linking you directly to the Rental Car Center's customer service lobby.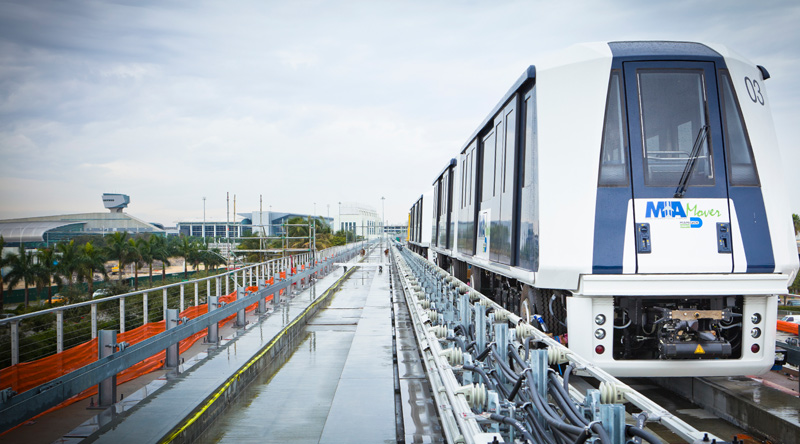 Trains depart every 30 minutes during the weekday, with more frequent service on the weekends every 15 minutes.
Green Line
Board a Green Line train if you are traveling to Palmetto, Okeechobee, Hialeah, Tri-Rail, Northside, Dr. Martin Luther King, Jr. or Brownsville stations.
Orange Line
Board an Orange Line train if you are traveling to Dadeland North, South Miami, University, Douglas Road, Coconut Grove, Vizcaya, Brickell, Government Center, Historic Overtown/Lyric Theatre, Culmer, Civic Center, Santa Clara, Allapattah or Earlington Heights stations.
For just $2.25 each way, local residents headed out-of-town can now leave behind all the traffic and parking hassles that come with driving to the airport. And out-of-towners at the airport have the best of Miami-Dade County's attractions and activities in easy, affordable reach.
Parking is available at many Metrorail stations.

Helpful Information:
Service runs every 30 minutes from 6 a.m. – 11:40 p.m., seven days a week, between the Miami International Airport Metrorail station (just a short MIA Mover ride away from MIA) and Miami Beach (from 41st Street to South Pointe Drive).
For just $2.25 each way, traveling to and from Miami Beach just became fast, easy and convenient. You can ride in style aboard 40-foot buses equipped with luggage racks and comfortable seating.
This commuter train links Miami, Ft. Lauderdale and West Palm Beach. To access the Tri-Rail, proceed to the 3rd Level of the terminal and follow the signs to take the MIA Mover to the Miami Central Station.
Helpful Information:
Access to the City of Miami Trolley is a short MIA Mover ride between Miami International Airport and the Miami Central Station/Rental Car Center.

Helpful information:
Accessible Transportation
MIA Mover, Metrorail and all Miami-Dade Transit buses are wheelchair-accessible. Passengers using wheelchairs have the right to board and exit the bus first before any passenger.