MIA Rental Car Center (RCC)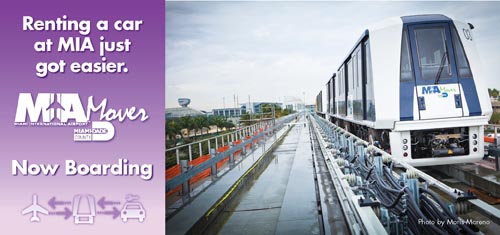 At the RCC, MIA passengers find one-stop shopping for all their rental car needs.

The new RCC, just one-mile east of MIA, houses 16 rental car companies in one stunning new 6,500 vehicle facility.

MIA Mover Map and Directions


How passengers get to and from the RCC?

Passengers connect between MIA and RCC via the new MIA Mover electric-powered train.

The MIA Mover train station at the airport is located on the 3rd level between the Dolphin and Flamingo Garages.

Use the 3rd level Skyride (moving walks) to access the MIA Mover station.

The following companies are located inside the RCC

(RCC Address: 3900 NW 25th St. - Miami, Fl 33142 - Scan Map: )

Returning your rental car at MIA (City Video Guide)

GPS / Driving Directions to MIA Rental Car Center entrance:


3900 NW 25th Street - Miami, Fl 33142

Scan Map
The following car rentals are not located inside the RCC
but are located in close proximity to MIA
* Above companies located in close proximity to MIA

Driving to Miami or the Florida Keys? Beginning February 2011, tolls on Florida's Turnpike - from Exit 1 to Exit 47 in Miami-Dade County - will only be collected electronically with SunPass or with TOLL-BY-PLATE, a system that takes a photo of a vehicle's license plate and mails a bill to the vehicle's registered owner. Cash toll collections will be eliminated on this segment of the Turnpike. With SunPass or TOLL-BY-PLATE, drivers DO NOT STOP to pay tolls. Drivers in rental cars should ask about charging tolls to the credit card used to rent the vehicle. Visit www.floridasturnpike.com or call 1-800-749-PIKE for details.
For additional information, review the FAQs page or visit:
MIA RCC Map Location & Driving Directions (Scan Map: )
Rental Car Center (RCC) Webpage
MIA Mover
Driving Directions
View Map, Driving Directions and Public Transportation Options To / From: (Scan QR Code to transfer information to your smartphone)

Coral Gables

Downtown

Port of Miami

Key Biscayne

South Beach

North Beach

Sunny Isles

Kendall

Key West

Fort Lauderdale Airport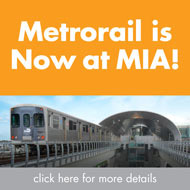 Get App and Go!
Miami-Dade Transit Tracker
Want to know when the next Metrorail train or Kendall Cruiser bus is arriving? Well, there's an iPhone app for that!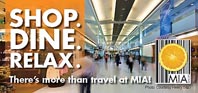 Miami and Beaches App
Miami and Beaches App offers great tips on where to go and what to do in Miami (iPhone and Android).