Customer Service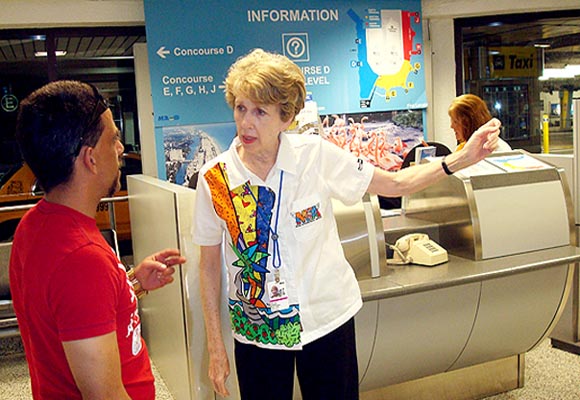 The Miami-Dade Aviation Department is committed to ensuring the very best travel experience for MIA's passengers and visitors. Take a minute to review some of our services below.
Hours: 8:00am to 6:00pm. daily (365 days a year)
Location: , level 4 (location map).
MDAD's Lost and Foundfacility is located North Terminal D, 4th level. You may contact Lost and Found directly by dialing 305-876-7377.

Paging & Information Center (PIC)
The Paging & Information Center provides multilingual paging throughout MIA's terminal and concourses for MIA's traveling public, tenants and users. To request a page, simply pick up any of the white courtesy phones located throughout the terminal. PIC also conveys informational and emergency messages as needed via MDAD's public address system. In addition to paging, PIC also provides information and assistance to the public via:

MIA's public number (305-876-7000)
MIA's direct 1-800-TALK-MIA lines
MIA's approximately 100 white courtesy phones

NOTE: Paging service is available 24 hours per day, 7 days a week.
The Aviation Department established the Airport-Wide Customer Service Reward & Recognition Program (R&R)to recognize and reward airport employees who provide exemplary service to MIA's travelers. The program has proven to be not only a good tool for enhancing unit morale, but also for encouraging everyone at MIA to provide exceptional service to all airport patrons. Anyone employed at MIA is eligible for an R&R nomination and can, in turn, nominate any other employee. Nominate an employee or view year 2007- 2008- 2009- 2010- 2011 - 2012 R&R winners - Contact Us via e-Mail.

Tourist Information Counters




The Aviation Department operates Tourist Information Counters throughout the terminal, including the main counter at Central Terminal E, Level 2, near the airport's hotel. The counter is open from 6 a.m. to 10 p.m. daily, 365 days a year. Services provided include:

Multilingual airport and tourist information
Multilingual interpreting and translation service
Assistance with TDD phone at the Information Center
Resolving customer complaints
Accepting lost items when Lost and Found office is closed

For additional information, please call 305-876-7000.
Tours of MIA are offered to school children, to diversified groups such as organizations for the disabled, professional groups such as architects and engineers, and other groups with special interests. For details visit us, call 305-876-7539 or contact us.
The Ambassador Information Program's mission is to provide information and assistance to the traveling public. Volunteer Customer Service representatives circulate throughout the terminal, seeking out passengers in need of assistance. For an application formor for more information about the program, visit us, call Terminal Operations Division at 305-869-1859 or contact us.

White Courtesy Phones






MIA has over 100 white courtesy phones, located on columns throughout the terminal for the traveling public, tenants and users. The phones connect the user (no need to dial) to a MDAD employee who can provide information, assistance, and Airport-wide paging announcements. This service is available 24 hours a day, 7 days a week.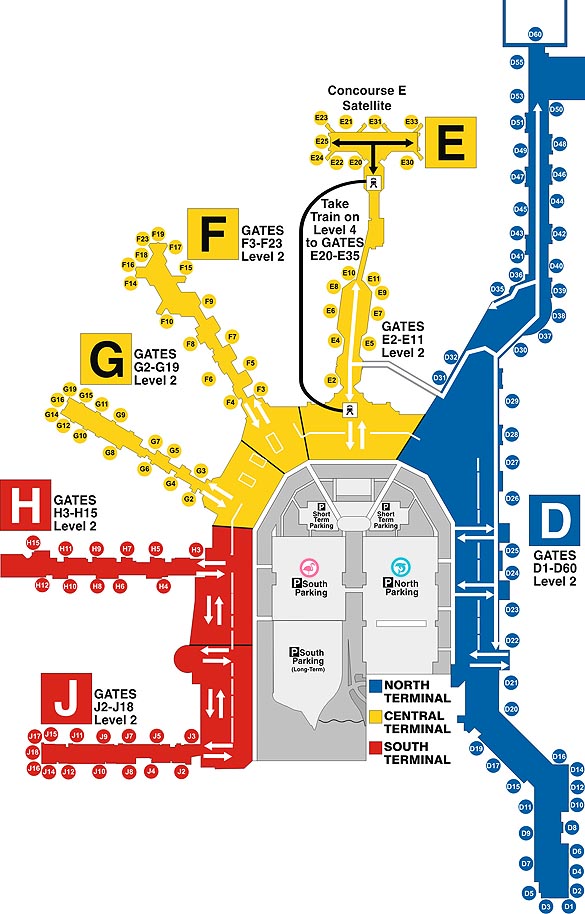 Map skytrain D
Where to Park
Airline Directory