In Miami International Airport's (MIA) J Terminal one of the American artist's, Ken Nintzel, pieces can be seen.
The work reflects the artist's interest in the mystery of the cosmos Nintzel has achieved a stellar metamorphosis and its consequent figurative appearance.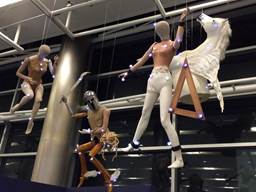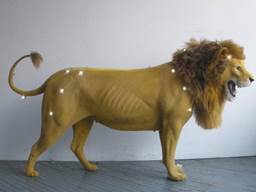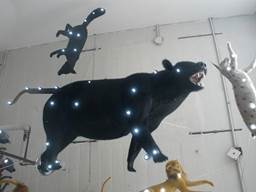 'You Are Here', 2015. Installation detail. 'Leo Major', 2015. Mexied technique. You Are Here', 2015. Installation detail. 'Virgo' (detail), 2015. Courtesy Rubens Riol.
BY RUBENS RIOL
Special/El Nuevo Herald
Since October 2015, the character sculptural installation piece You Are Here by American artist Ken Nintzel (New Jersey, 1968) can be seen Miami International Airport's (MIA) Terminal J. The work consists of a three-dimensional re-creation of the constellations (concern and vigilance of human beings since ancient times in their struggle by unraveling the ultra-celestial space), seen now through the sensitivity of art.
To flesh out the unknown implies a very fertile imagination, although the artist, intrigued by the mystery of the cosmos, had to retrace many references before creating his own Stellarium. The constellations, according to basic astronomy, are nothing more than a conventional grouping of stars, whose position in the night sky is apparently unchanged. We already know that different civilizations have linked them with imaginary lines, forming silhouettes, although there are many versions. This phenomenon explains very well Salvador Dalí from his surrealist paintings through what is known as "the paranoid image"; that amazing mental state that leads us to imagine or make sense of events that do not exist, or at least not in the way that we think.
So we are facing a rewritten and quite stylized universe. Here the space is superb, overwhelming, as it embodies our fantasies and at the same time overcomes them. Nintzel achieved stellar metamorphosis and their consequent figurative appearance through human forms and animals that have their roots in Greco-Roman mythology and ancient beliefs. Hence, each sculpture – made from materials as diverse as wood, wire, plastic, fabric as well as wigs, glass eyes and synthetic fur – have names as exotic as Andromeda, Auriga, Bootes, Cannes Benatici, Caisopiea, Coma Berenices, Corona Borealis, Draco, Hercules, Leo Major, Leo Minor, pound, Lynx, Ursa Major, and Virgo.
Perhaps a similar repertoire places the artist between Ptolemy and analogies of the Zodiac, but we must certainly applaud his initiative. What could tempt some as a stampede of stuffed animals and mannequins on their heads to others are the idea of magic, full of historical allusions, the travel of human superstition in perspective and nearly the final point – although it continues to be subjective – so dense and unlikely scientific speculation. The constellations are like this, why not? Although it seems a whim. I'd rather stay with this idea, the closest I had so far, perhaps the most ingenious.
When we see this sculptural group of lions, bears, dogs, snakes, heroes and heroines illuminated by tiny lights in the darkness of the airport during the night, you have the feeling to be looking at the stars and connecting the dots, this time with the certainty of a well-defined way, without having to put the imagination to fly as far. Nintzel has already done that work for us, in a show that also pursues a didactic purpose, beyond technical excellence and its aesthetic care. Do not lose sight that the mission of the Division of Arts and Cultural Affairs of MIA is to humanize and enrich the environment of the airport through the commission of works of public art, by means of the culture and the environment. That responsibility rests on the shoulders of Dr. Yolanda Sánchez, Director of that department, whose management and sensitivity always helps you find the finest projects, of the best taste, which suite the atmosphere of the space.
Ken Nintzel is a multidisciplinary artist who works in various media, including theatre, installation, performance, sculpture, photography and video. In 2013, You Are Here was presented in The Cosmos by Art and Science Collaborations' 15th Annual International Art Science Exhibition at the New York Hall of Science. "Inspired by my first look at a celestial atlas and detailed illustrations of the constellations in body shape – a collection of wild and domestic animals, reptiles, insects, sea creatures, birds in flight, symbolic objects and mythological beasts – I felt the need of being surrounded by its physical presence," said Nintzel, who has given us a passage for the enjoyment of our ingenuity while putting us in the center of the universe, even if it's fantasy.
Rubens Riol is an art critic, cultural promoter and film expert. He received an Art History degree from the University of Havana in 2009.
'You Are Here', can be seen until April at the Miami International Airport's (MIA) South Terminal J Gallery, Level Four, Mezzanine. 2100 NW 42nd Ave., Miami.