MIA Volunteer Ambassador Program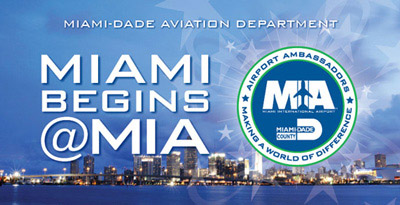 MEET MIA'S VOLUNTEER OF THE YEAR
The Miami experience really does begin at Miami International Airport where millions of passengers arrive each year. You can play a vital role in welcoming visitors to Greater Miami and the beaches as a Volunteer Ambassador..
Must be 21 years or older
Extensive security requirements
Minimum commitment of 4 hours per week, 100 hours per year
Free parking
Free uniforms
Eligibility for airline tickets
Airport discounts
Awards
Flexible schedules
Extensive training

Meet Liz & Casey, MIA's Goodwill Ambassador team
Apply online or download the application form

For additional information contact us by e-mail or by phone at 305-869-1859. Fax your completed application to 305-876-8470.
---
MIA HONORS MILLICENT FRIMPONG WITH VOLUNTEER OF THE YEAR AWARD
Millicent Frimpong was honored as Miami International Airport's Volunteer of the Year at the airport's annual Volunteer Ambassador Recognition Gala on April 10 for assisting passengers every busy Saturday at MIA for 10 years straight while seldom missing a day of work. For winning Volunteer of the Year, Frimpong received a plaque and two tickets from American Airlines to travel anywhere in the continental U.S., the Caribbean, Canada or Mexico.
| | |
| --- | --- |
| | |
At MIA's Volunteer Recognition Gala: Millicent Frimpong and her family with MIA officials, Greater Miami Convention and Visitors Bureau President and CEO Bill Talbert, and American Airlines Vice President Marilyn DeVoe
Frimpong, a native of Ghana and a City of Doral resident, is a former employee of the Civil Aviation Authority in Ghana, where she worked for 10 years. She has continued her love for aviation and customer service at MIA, where she works alongside 74 other volunteer ambassadors. She staffs the arrivals level information counter at Terminal D, and lends passengers a helping hand whenever she sees them in need. With only a few family members in Miami, Frimpong says that, "Everyone she meets and works with at MIA is my family. The best part about giving back is seeing the smiles of appreciation on customers' faces. It gives me a great sense of joy that I make a difference in someone's life."
"We are honored to have Millicent as a member of our volunteer ambassador family," said Miami-Dade Aviation Director Emilio T. González. "She brings with her many years of aviation experience and represents us with a fantastic attitude. With more than 2,500 hours dedicated to helping passengers at MIA, we congratulate her for her exemplary customer service."
MIA's 75 volunteer ambassadors collectively represent more than 30 countries, speak 20 languages and provide more than 14,000 hours of customer service at MIA, which welcomes more than 100,000 passengers daily and more than 116,000 on weekend days.

Press Release

Casey's Webpage

Hi-res Photos for Download
MIA Volunteer Ambassadors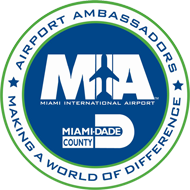 Meet MIA's Winners!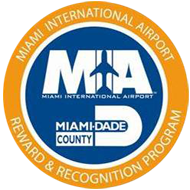 R&R Winners: