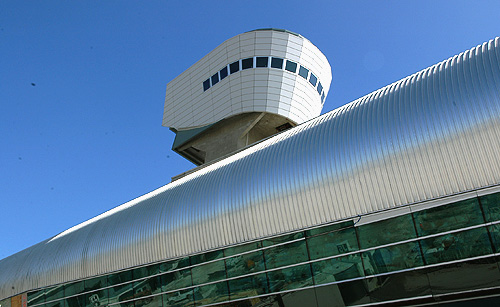 Photo by Miami-Dade Aviation Dpt.

The Aircraft Gate Control Section controls all aircraft gates at MIA and handles gates assignments on a daily flight by flight basis. This section is also tasked with controlling the movement of aircraft traffic on and within the vicinity of the airport terminal apron ramp according to established procedures and policies, in order to prevent conflicts and minimize delays arising from aircraft traffic congestion.
In addition, this section is responsible for maintaining current the Flight Information Display System (FIDS) and ticket counter back wall displays for all passenger flights. MIA has approximately 128 boarding bridge-equipped gates plus 47 remote-parking positions. Aircraft gates and hardstands are assigned in accordance with a written gate assignment policy that gives priority to hub airlines and our existing air carriers.
Gate Control also has an Advance Planning sub-section that handles all airline flight schedule changes, gate planning and the international passenger, twenty-four hour, advance projection functions.
Cargo Assignment controls 44 common use aircraft stands for cargo aircraft and 7 hard-stands.With increasing aircraft sizes and seasonal loads, this operation maintains the flexibility of coordinating unscheduled cargo operations on the airfield.


Supervisor: Dino Leonardi
Airside Operations
Cargo
Business Operations