Traveling with Children and Pets
We want to make sure you have all the information you need so that traveling with your children and pets will be as easy as possible.
While you are at the airport, animal relief areas are located at the arrival level at Concourses D, E, and J. All of MIA relief areas are equipped with waste disposal stations.
---
The Federal Aviation Administration (FAA) strongly recommends you secure your child in a government-approved child safety restraint system (CRS) or device during the flight.
If your child is going to be traveling alone, please contact the airlines for specific requirements. The FAA does not regulate unaccompanied children.
Typically, children under the age of 18 do not have to present identification for domestic U.S. travel. Airlines will accept identification from parents or the responsible adult on behalf of the child. However, each airline determines identification requirements for children. Contact your airline well in advance of your travel date to determine if they have unique policies or procedures for children.
Some older children with physical challenges will need the support and security of a CRS or another device so they can travel safely on an airplane.
Airlines must allow a child who is under the age of 18 to use an approved CRS that is properly labeled and appropriate for the child's weight. Many companies manufacture CRSs approved for use on airplanes that are specifically designed for larger children who are physically challenged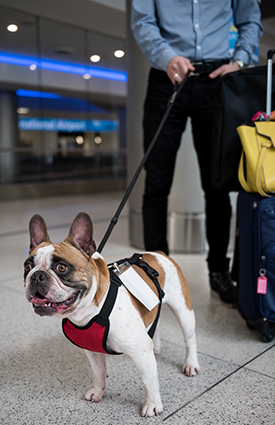 If you're flying with a pet or service animal, get some good advice about:
More Resources for Traveling with Pets
PetTravel.com
Worldwide travel advice for pet owners
Pet friendly hotels
Pet-friendly lodging and services, with more than 40,000 listings
Pet travel documents
Recommended by the United States Department of Agriculture, Canadian Food Inspection Agency, airlines and embassies worldwide.